It's not every day that you can say you know three folks from your community that made it to Mount Everest Base Camp in Nepal.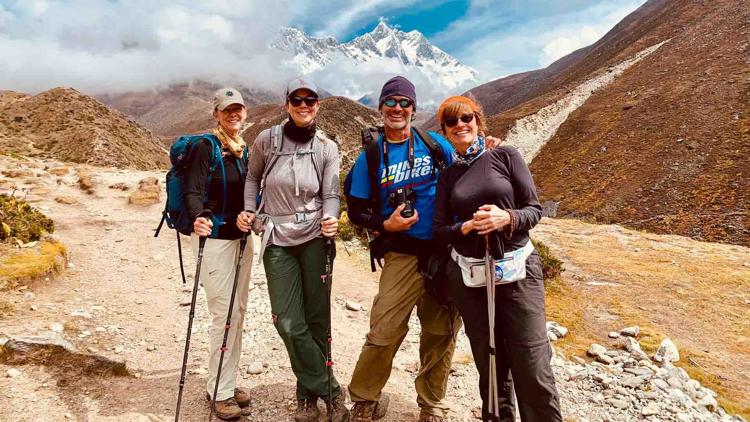 Call it serendipity, call it fate, as Marianne Clyde, Mike King and myself had the trek of a lifetime this past October to the 17,600-foot Base Camp of the majestic Everest herself. 
Truly, it was the hardest thing I'd ever done and the words here will give you just a taste of the awe, wonder and thrill we encountered. 
Climbing-for-a-Cause is what we three, along with professional climber (and sailor) Sara Hastreiter accomplished in order to raise funds and awareness for clean water accessibility. 
Both Marianne and Sara had previously volunteered with World Hope International, which conducted this fundraiser, and until this trek the two had not yet met. Sara is passionate about both water and helping to inspire women around the world — currently she is striving to be the first female to climb the highest summits on 7 continents and sail all 7 seas. 
With all her sailing under her belt, and four summits reached so far, she is aiming high to reach her goal.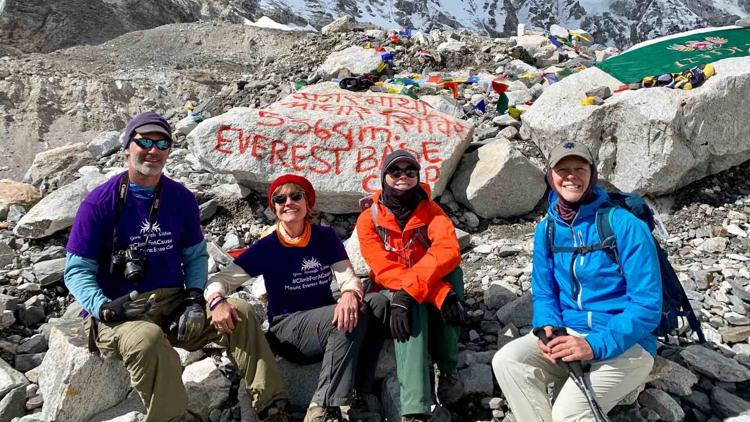 Marianne has helped out globally with WHI several times over the years and knew the importance of the water accessibility fundraiser. 
Both Sara and Marianne were committed to the cause as of early 2019. My adventure-seeking husband Mike and I decided to do a little research before accepting Marianne's invitation to come along for the adventure.
"You want me to climb… where… exactly?" I responded to Marianne's first invite to be part of the fundraiser. 
When she explained it was the Base Camp, not the summit, I still needed to dig a little deeper. As a yoga teacher and personal trainer I too am passionate about drinking clean water, and lots of it. But the bigger motivation to help save lives by contributing to this eye opening event piqued my desire to make this a reality. 
World Hope is a highly acclaimed non-profit, with 92 percent of donations going directly to the cause and only 8 percent to help maintain infrastructure. The more we researched what this commitment entailed, the more we became excited to part of the solution for saving lives. 
We agreed to join the team of the #climbforacause, and also to support Sara's 7-seas-7-summits empowering goal.
Next we just had to raise $10,000 for the cause, as well as prepare our bodies for the big trek ahead. Being a postal carrier in downtown Warrenton, "Mailman Mike," as he is known, is physically fit walking several miles a day on his route. 
Marianne, active all her life, began hiking with local groups on her days of retired living. 
And as for me, I teach many group fitness classes each week, so every Sunday Mike and I hiked in the beautiful Shenandoah National Park. 
We all proceeded to get the word out for fundraising and before we knew it the day had arrived to begin our journey across the globe, on September 28.
The entire trip was 17 days. We flew thousands of miles to get there, climbed many steps up and down many rigorous trails, and reached not only our monetary goals for clean water donations, but finally made it to our destination — Everest Base Camp.
Climbing over suspension bridges, switchback inclines, and intense declines along an amazingly raging river were what our days entailed. We stayed in tea houses nightly, bundled up as the sun set, and lathered up with sunscreen as we began each early morning trail under clear blue skies. 
For seven days we climbed as we faced a decline in oxygen levels and learned how to cope with altitude symptom possibilities. Breathing was deep and emotions ran high as the body does not move easily in high altitudes. Our trekking guide kept an eye on both oxygen levels and heart rates and Sara continued to monitor our energy levels. Sometimes that included eating an occasional Snickers bar! 
No one can tell you what to expect until you are actually there in the majestic Himalayan Mountains. Each of us experienced our own unique adventure, albeit very difficult at times. But I can tell you one thing — we were all connected to a greater good for all and were deeply motivated by the need for clean water globally. 
Grateful to be home safely and willing to take on the next big life changing adventure.