'Sheriff Compton, I need your help'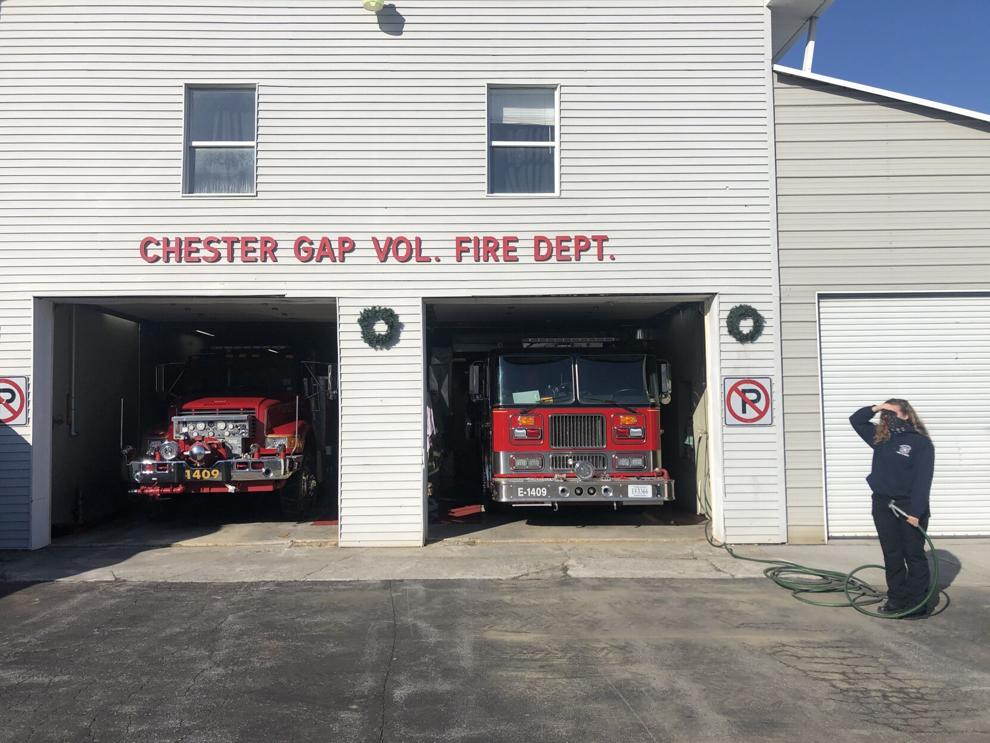 On Tuesday, Feb. 24, Rappahannock Board of Supervisors Chair Debbie Donehey wrote a memorandum to Sheriff Connie Compton that began, "Sheriff Compton, I need your help."
According to the memo, Donehey discovered on Monday that "Chester Gap's First Due now terminates at or around the intersection of Glen Gordon Lane and Route 522."
In layman's terms, "first due" means that a fire company is the first to receive a tone from dispatch to respond to a call. Generally speaking, a fire company is first due within the service territory to which it is the closest responder. If a fire company does not respond to dispatch within five minutes, a second company is called,and the second company is called "second due" — the third is called "third due" and so on. 
Before the system error, Chester Gap's fire company was second due to calls throughout Flint Hill. However, the flaw in the system made it so that Chester Gap was the sixth company to be toned to calls originating from many locations throughout Flint Hill. 
Donehey's memo explained: "For the record, Chester Gap's First Due previously extended to Little Long Mountain Road. Furthermore, Chester Gap is now Second Due to Wakefield Country Day School and Sixth Due from there to the rest of the county. To put these changes in perspective, a call from Settle's Grocery and Garage, or Griffin tavern, both of which are squarely located within the village of Flint Hill, has Chester Gap toned out Sixth Due. Needless to say, this defies common sense. Historically, Chester Gap personnel are first on the scene for calls placed from within the village of Flint Hill, unless members of Company 4 are in their house at the time of dispatch.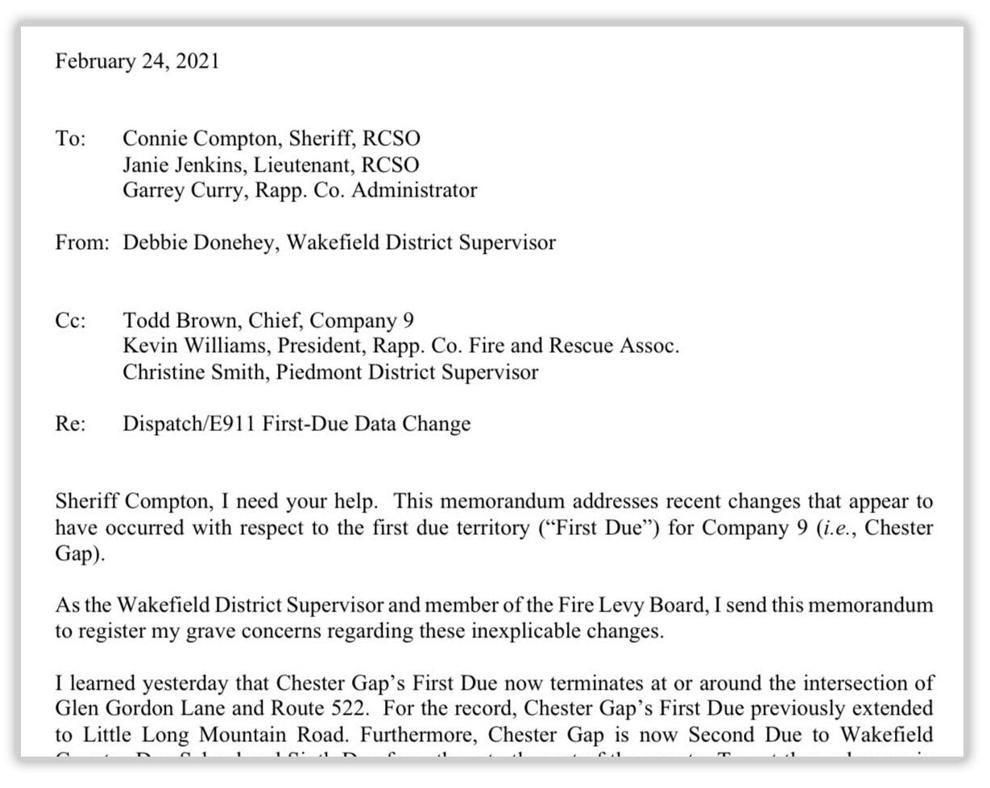 "As another example, a call from Grimsley Road has Chester Gap toned out Fourth Due, which also does not add up, particularly given the current Sixth Due arrangement for Flint Hill-origin calls. To put this in perspective, a call from Grimsley Road would require Chester Gap personnel to travel through their Sixth Due area to arrive at Grimsley Road to meet their Fourth Due obligation there.
"I have also learned that Bean Hollow, Bear Wallow, and other roads in the same vicinity, are currently marked in the dispatch system as Sixth due for Chester Gap personnel to arrive when, prior to these changes to the dispatch system, Chester Gap would have been on scene within fifteen minutes (i.e., assuming a logical and normal First Due configuration for Chester Gap personnel responding to this area, which is in close proximity to Flint Hill and Huntly).
"It appears erroneous dispatch information has been uploaded to the Sheriff's CAD [Computer-Automated Dispatch] system, which has affected Chester Gap most significantly, but the effect of which might not be limited only to this company. Put simply, I am concerned that our outside vendor has uploaded unverified dispatch configurations to the Rappahannock County CAD system with little or no review.
I am seeking your assistance to organize a small group of members from your dispatch team, E911 coordinator, the Fire and Rescue Association, etc., who will take the lead in addressing these critical and time-sensitive issues with our dispatch system, which are summarized below.
"correct the apparent errors in the CAD system as soon as possible. I have highlighted above some of the immediate problems affecting Chester Gap personnel, but am also concerned other companies might be facing similar issues. Our citizens should have confidence in our system.

"restore Warren County as an option in the dispatch system. As you know, we have an automatic-aid agreement with Warren County.

"The group should determine how best to ensure future changes to the dispatch system reflect accurately the geographic areas to which each company will respond, including documentation of  the plan going forward, which should include a change request process, that will be shared with the county's E911 coordinator, each company's chief, our dispatchers, and the county's outside vendor(s)."
In a phone call with the Rappahannock News, Donehey said county officials are still unsure when the CAD system went awry and how long the error has persisted. 
Todd Brown, Chief of Chester Gap Volunteer Fire and Rescue, alerted Donehey that "something was up" on Tuesday, she said. 
---
Sign up for the C-19 Daily Update, a free newsletter delivered to your email inbox every morning.
---
Chester Gap is currently the only company in the county to have full-time paid emergency responders on staff and is thus uniquely capable of providing fast round-the-clock response. In an interview last month, Brown told the Rappahannock News that his fire and rescue personnel typically respond within three minutes of receiving a tone from dispatch.
"Todd [Brown] and Kevin [Williams] had gone in to meet with Sheriff Compton and Lieutenant Jenkins to look at some of the routes to see if something had changed and that's when they noticed that their first due area had been shortened a bit … and after Hittles Mill they become sixth due."
Donehey said she immediately went to the Sheriff's office to meet with Sheriff Compton and Lieutenant Janie Jenkins, Rappahannock County's chief dispatcher to inspect the CAD system herself. 
It is yet unclear whether Chester Gap is the only company affected by the error in the dispatch system. Donehey said that her fellow supervisor Christine Smith contacted Chief Richie Burke at Sperryville Volunteer Fire Department and Chief Todd Summers at Sperryville Volunteer Rescue Squad to figure out whether their service areas have been impacted.
Donehey also said that Kevin Williams, president of the Rappahannock County Fire and Rescue Association, has put together a committee to investigate the error. Firefighter Sean Knick will chair the committee and Lieutenant Jenkins, Sheriff Compton, Dispatcher Sandy Carter, Chief Brown, and county resident Page Glennie will sit on the committee.
"Hopefully the message to the citizens is as soon as we recognized there was a problem, there was immediate action by public safety and immediate action by me to make sure we fix any problem that's out there as quick as possible because we don't want the citizens concerned that they can't trust when they call 9-1-1 that someone will show up," Donehey said.
The Rappahannock News reached out to Sheriff Compton, Chief Brown, Kevin Williams and County Administrator Garrey Curry but none were available to comment before the publication of this story. 
This is a developing story and will be updated as more information becomes available.