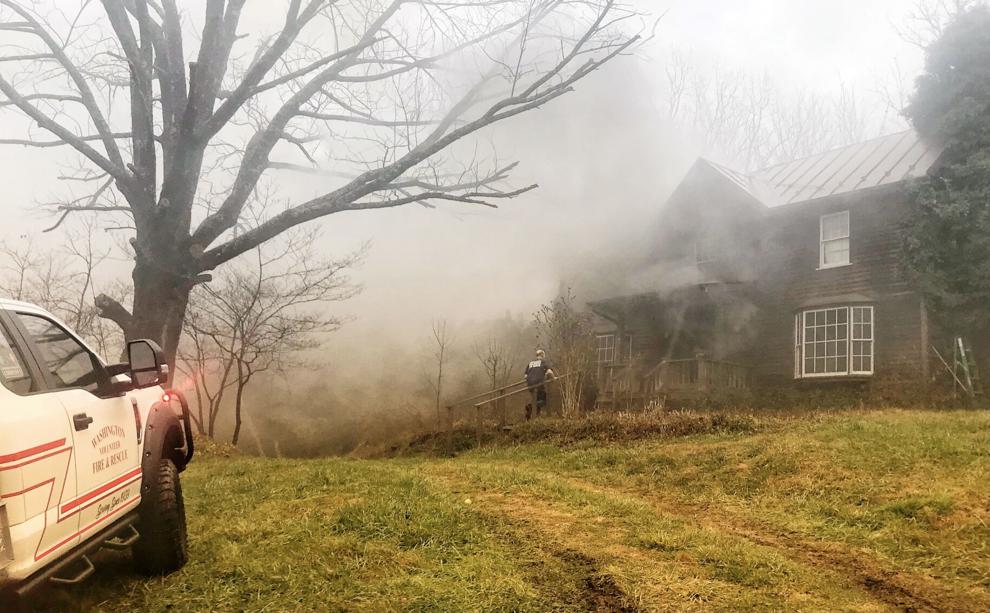 An elderly Rappahannock County woman was killed and her husband suffered burns after a fire broke out in their Keyser Run Road home at 11 a.m. Monday.
The woman was identified as Laurel A. Malik, listed as being in her 70s. She and her husband, Marcus P. Malik, 85, lived at 172 Keyser Run Road.
A member of Washington Volunteer Fire & Rescue, who was the first person to reach the scene of the fire, discovered Mr. Malik standing near the inside entrance to the home, which sits on a steep bank above Keyser Run. Assisted outside to a parked vehicle, the man pleaded to "get my wife, she's inside."
About one hour after the fire was reported, Mrs. Malik's body was removed by firefighters, as smoke still poured from the home.
"Ventilation was initiated as each room was searched allowing firefighters to gain visibility," the Sperryville Volunteer Fire Department posted on their website. "Within minutes the female resident was found huddled in a closet. Unfortunately she was pronounced deceased on the scene."
Rappahannock County Sheriff Connie Compton, who responded to the tragedy, pointed out that it was Mrs. Malik, not her husband, who had called 911 to report the fire.
In a Rappahannock News story from April 2012, Mrs. Malik was singled out among other volunteers for her efforts on behalf of the Rappahannock Food Pantry.
"Volunteer work is the rent you pay for your time on the planet," she said, explaining why she was there every Thursday to help stock shelves and assist customers.
Sperryville firefighters ask residents of the county to take a moment before the approaching holidays and check smoke detectors, while ensuring space heaters, wood stoves, and other heating devices are operated in a safe manner.
"Clear space around these heating devices to minimize risk," the department said.