Stephanie Ridder, a Flint Hill resident for almost 40 years who was appointed in 2014 by Virginia's governor to be chair of the Virginia Outdoors Foundation's Board of Trustees, is aiming to unseat if not perhaps join David Konick on Rappahannock County's Board of Zoning Appeals (BZA).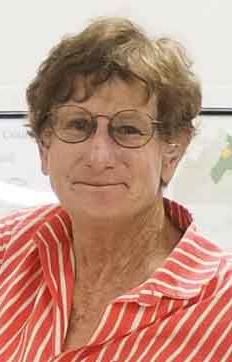 "It's amazing how many people want me to [pursue this judicially-appointed seat]," Ridder told the Rappahannock News Tuesday evening, saying she's been fielding calls of support ever since she made her intentions known.
A graduate of the University of Virginia School of Law, Ridder has worked for the Rappahannock Legal Services Corporation in Fredericksburg and then in Culpeper representing low-income Virginians. While teaching at the George Washington University Law School, she has served on the boards of the Virginia Women Attorneys Association, Virginians Against Domestic Violence, and the Piedmont Environmental Council. She's also been chair of the Child Care and Learning Center in Washington.
In a letter dated Tuesday, Nov. 26, addressed to 20th Judicial Circuit Court Chief Judge Stephen E. Sincavage in Loudoun County, Ridder wrote: 
"I am writing to request appointment to the Rappahannock County Board of Zoning Appeals. I have been a member of the Virginia Bar since 1977 and have resided and been a property owner in Rappahannock County since 1980. The issues pertaining to land use and zoning are of critical importance to Rappahannock County, especially as the development of nearby Clevenger's Corner is becoming more of a reality.
"I have served on the boards of numerous County and State organizations over the last 35 years but of particular relevance to the Rappahannock BZA are my service as Chair of the Virginia Outdoors Foundation, as a trustee of the Virginia Outdoors Foundation, as a board member of the Piedmont Environmental Council, as a board member of the Krebser Fund (an advisory board to the PEC representing Rappahannock County), and a board member of the Virginia Working Landscapes. 
"Through service on these boards I have come to understand the need to balance  requirements for open space, agriculture, housing, utilities, transportation, clean water,  clean air and wildlife," she told the judge. "I think I reflect the desires of the citizens of Rappahannock in my commitment to keeping Rappahannock as rural as possible while providing for the needs of the broader community, including younger people, the elderly, and low to moderate income citizens.
"Although there has been no notice, it is my understanding that Mr. Konick is coming to the end of his term and that there is an opportunity to be appointed to the Rappahannock County Board of Zoning Appeals. I would like to submit this letter as my application for appointment to the Rappahannock BZA.
"I have not had the opportunity to have my fingerprints taken but I do have a financial disclosure form filed with the State of Virginia. I am currently serving as Secretary to the Rappahannock County Recreational Facilities Authority but would resign from this position if appointed to the BZA."
(Regarding fingerprints, Virginia Code states that no person shall be appointed or reappointed to a particular county board, such as the BZA, until they have submitted their fingerprints "to be used for the conduct of a national criminal records search and a Virginia criminal history records search.")
Reached Wednesday, Konick told this newspaper: "I know and respect Steph Ridder, but I really wasn't aware she had any interest, background or experience in zoning that would qualify her for a seat on the BZA. The decision, as you know, is up to the Circuit Court, and as a member of the Board whose possible reappointment is pending before the Court, I do not think it is really appropriate for me to comment publicly on who should or should not be chosen."
That said, Konick was a bit confused by Ridder mentioning him by name to judge, given her address in the county.
"Perhaps Steph Ridder is seeking to fill the vacancy of the current Wakefield District Representative — Jennifer Matthews —which comes up in January 2020,  inasmuch as it is my understanding that she will not seek reappointment," he suggested to the News.
It's not been the smoothest of terms on the BZA for Konick, who to his credit can otherwise recite Rappahannock County code in his sleep. Last year, Rappahannock Circuit Court Judge Jeffrey W. Parker assured one of several Rappahannock citizens who had complained of the BZA member's conduct that he expressed his "concerns to Mr. Konick in a separate letter." 
The judge, who since retired, took no further action.
Seven members of the public then stepped forward during the September 2018 Rappahannock Board of Supervisors meeting to reveal their personal experiences and/or displeasure with Konick, a private attorney who represents the Stonewall-Jackson district.
After listening to the testimony, some of it quite graphic, BOS Chair Roger Welch stated: "I've been appalled by… the attitude and personality of this one individual that everybody's afraid of. We shouldn't be afraid of him."
The chairman added: "We got a guy running around out here cussing everybody out... We don't like it and we're not going to let you represent us as a fixture of Rappahannock County just because you're David Konick."
Konick's term on the board expires December 4. 
Until then, numerous residents of Rappahannock have been approached in an email campaign to write letters in support of Ridder to send to the judge, highlighting as suggested Konick's "crude comments… inappropriate actions…  multiple costly frivolous suits he has filed against the county and the BZA… how he spreads information, how he badgers and misleads… etc."
Among other responsibilities, BZA members decide on requests for variances from specific requirements of the county zoning ordinance. The BZA also considers appeals of decisions made by the zoning administrator regarding zoning ordinance interpretations.