A new generation is trying to keep farming alive in Rappahannock
For every farmer under the age of 35 in Rappahannock County, there are six over 65. That breakdown from the latest Census of Agriculture is no doubt skewed by the influx of retirees turned "farmers," yet it reflects a sobering reality: the pipeline of young farmers is dwindling.
The prohibitive cost of land is obviously a big disincentive. So is the prospect of long hours of demanding labor to eke out a living. In 2017, more than 80 percent of the county's farms generated less than $25,000 in revenue; only 6 percent topped $100,000. But there are those bucking the trend. They're committed to agriculture, even if it means working another job or managing a farm they don't own. Here's how a handful of them feel about farming in Rappahannock.
---
Jenna Brownell
Jenna and her partner, Blake Brown, manage Whippoorwill Farm, which covers more than 700 acres outside the Town of Washington. The farm produces beef and pork and a wide range of fruits and vegetables, which are supplied to eight restaurants in the region. It also now has a small store. Prior to coming to Whippoorwill three years ago, Jenna, 33, was Farmer in Residence at the Inn at Little Washington.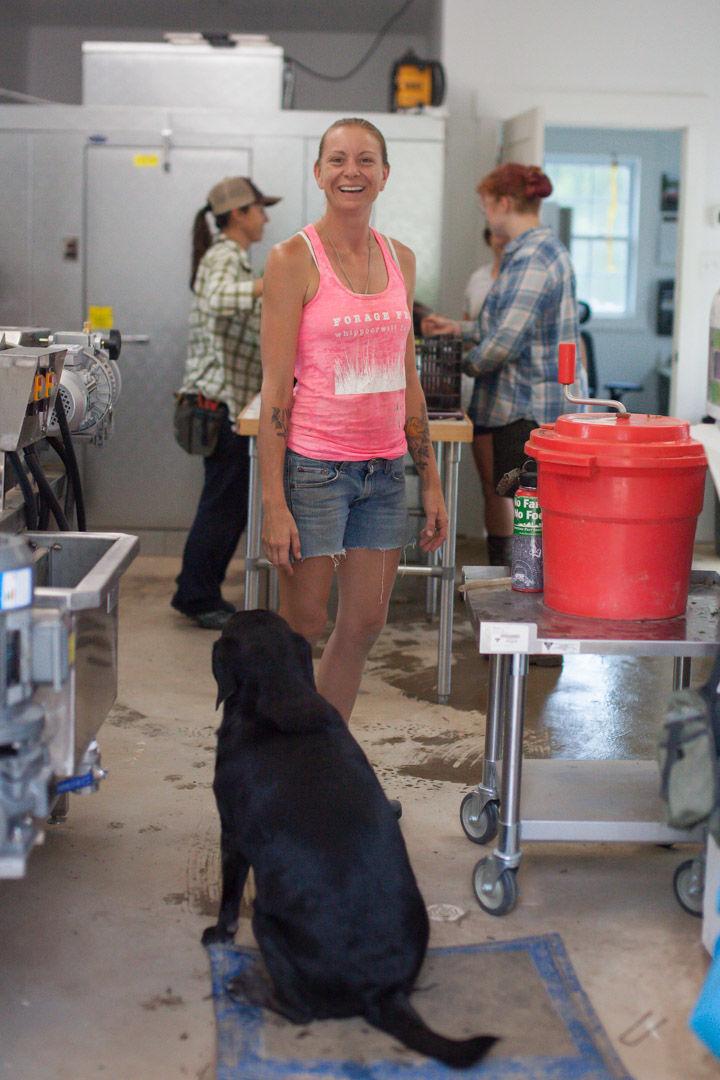 Why farming? "I grew up on my grandparents' dairy farm in Loudoun. And I just idolized my grandad and my dad. I just wanted to get on the tractor and get in with the animals. So, at an early age I developed a connection to living by the land, living by the weather, living by the season. Once you have the dirt bug, you're stuck with it."
What non-farmers may not appreciate: "I don't think people realize the amount of knowledge it requires. And how much love and care and effort are put into it. There's so much physical and emotional energy that goes into the food that people are consuming. When people think of a farmer, they don't think of a soil scientist or someone highly knowledgeable about local ecology and biology. Everyone just thinks of an old man with a pitchfork and overalls. I have to make all of this harmonious within my local environment. That is pure science. People think I'm out here in a sundress sprinkling seeds. That's nowhere near what a regular day is like." 
The challenge: "Last year was the toughest year. I just watched my work and my plants float away, time and again. One of the most challenging things is accepting that powerlessness. Learning not to hate it but abide by it. Even the littlest things can make the biggest difference. You get your tomatoes in two weeks late, and you pay for it all season. The physical aspect is also very challenging. I live with chronic pain. It takes a toll. Everything I do on the farm is supposed to be sustainable. But my actions with myself are not sustainable."
How farming is changing in Rappahannock: "I think there will continue to be a growing desire for organic food. Maybe someday there may be something better than organic. I also think the fad of eating local will continue to grow. Restaurants are setting the example and if restaurants do it, people are going to be into it. And I hope there are more opportunities, specifically in Rappahannock, for the orchards to try some different methods, even if it was just two fewer sprayings a year. We're now raising fruit out here and we're not spraying it. It ain't that pretty, but it tastes awesome. I hope people here will continue to support the local farms. The farmers need the locals and the locals need the farmers." 
What I like about farming in Rappahannock: "Farmers in Rappahannock will refer customers to other farmers. That's hard to find in other businesses where people are competing. And here people are more appreciative of what you do because we're in farming country or maybe they've grown up on a farm. My favorite part of farming in Rappahannock is the lifestyle that's induced from living here. This is what it was like growing up in Loudoun 30 years ago. It's beautiful and it's quiet. And you can drive your tractor down to the gas station. I belong in the slow-paced life. I've had some serious gypsy years. This is really the first place I know I want to stay."
Advice to a newbie: "If I were talking to my younger self, I would tell myself to slow down. Find and manifest sustainability in yourself and that will be expressed through your work. If you want to do this the rest of your life, you have to manage yourself and not let this manage you." 
---
Duane Morey
Five mornings a week Duane Morey, 40, works as a physical therapist at Mountainside Physical Therapy. Then he heads home to be a farmer. He and his wife Laura inherited 200 acres in Gid Brown Hollow from her father, the late Dick McNear. They also lease nearby land owned by Laura's sister Jennifer. Currently, he manages a herd of about 60 cows. His only previous farming experience was working on a tobacco farm near Appomattox, back when he was a teenager.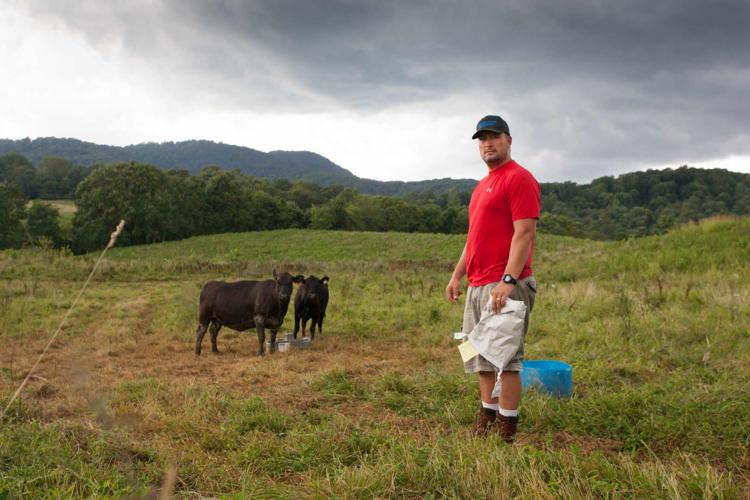 Why farming?: "It would be so much easier if I was in an 8 to 5 job in an air-conditioned office. No calls like, 'Hey, your cows broke through the fence and there's 10 of them out on the road.' But I like the animals. I'd much rather hang out in the middle of my herd of cows than in the middle of D.C. Or say you have a field that needs fencing. And you take a couple of weeks when you really bust your hump. It's 90 degrees. You hate it while you're doing it. But you look back when you're done and you think, 'This looks fantastic.'"
What non-farmers may not appreciate: "The hours involved.I don't think people know how many hours it takes every day to run a farm. It takes a lot of hours. I don't get to see my family a lot. I can't always do the things with them that are fun. There are things that have to happen certain times of the year — weed control, pregnancy checks, vaccines, fly control. Those things drive your calendar. Everything in your life is planned around the farm. And if you're not prepared to make it the priority, you shouldn't get into it. It's just going to make you bitter."
The challenge: "Cows are expensive and it's not easy to expand, especially with the market the way it is now. When you sell calves for the same price they were selling for 20 years ago, it makes it a little difficult. It's super hard financially to get into farming if you don't have a family farm or you can't get into some type of agreement with somebody who wants you to run their farm. And, there's the cost of running a farm. A roll of hay used to cost $20. Now it costs $50. The cost of machinery. A bailer used to cost $25,000. Now it's $45,000. Labor. You used to be able to get somebody to come out for $10 an hour. Now it's $20 minimum. There's not a lot of wiggle room financially. Maybe you didn't do something with your cows at the right time and they got sick. Now you have a $5,000 vet bill. You make one mistake and it can ruin your whole year." 
How farming is changing in Rappahannock: "Rappahannock is in a unique spot. We have a lot of farmers over the age of 60. Over the next 10 to 20 years, a lot of land here is going to become available, hopefully for some kind of lease arrangements where the owner wants to see his land taken care of the way that he's taken care of it for the last 50 years. I think there's going to be a lot of land here that's going to be primed for other people to come in." 
What I like about farming here: "You can't get some of these views anywhere else on the planet. I get to see them every day. The land here is productive. We have great soil, as long as it's taken care of. Then there's the people. Everyone is ready to help. A couple of years ago, our bailer broke down and we had 25 acres of hay on the ground. I called up a couple of buddies and one of them was able to help. A lot of places you're not going to find that."
Advice to a newbie: "The advice I would give someone coming into farming, is to do your research, talk to a lot of people in the area and write out a good business plan. Your business plan may go through 20 iterations. It may evolve into something different over the next five years. But you can make it work if you work hard. You'd better be prepared to work hard. Also, find a mentor. Find somebody who's been in the county and been doing it for a while. At Mountainside, I'm in a room for physical therapy for some farmers for 45 minutes three days a week. It is a prime opportunity to pick their brains."
---
Stacey Carlberg 
For the past five years, Stacey, 39, and husband, Casey Gustowarow, have been managing The Farm at Sunnyside in Harris Hollow, where they met in 2010. She had previously been a farming intern for two years at Waterpenny Farm in Sperryville. They sell their produce at farmers markets in Dupont Circle in D.C., Falls Church and at the Rappahannock Farmer's Market at Pen Druid Brewery.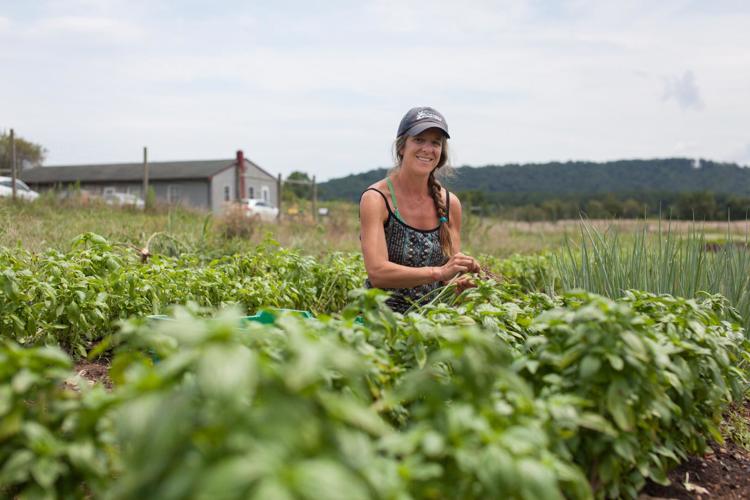 Why farming?: "With farming, you have really tangible results. You have clear rewards. You can put something like radishes in the ground and you can start picking them three weeks later. Also, if you're running a farm, you get to wear a lot of hats. I'm not just planting and picking. I'm managing employees, hiring employees, doing accounting. And there's so much problem-solving. There's a lot of thinking on your feet." 
What non-farmers may not appreciate: "I'm not sure our customers know how many hats we do wear — that the people selling it to you are the same people who did everything to get it to you. I think people sometimes have an idyllic view of farming, that you just make a weed bed look pretty, and then you have a crop. But there's so much planning that goes into it, planning that we're adjusting every year, based on last year's results or how our markets may be changing. We can have a new crop coming in every week. Every week can be different." 
The challenge: "A farmer who's been a mentor would always say, 'Weather, workers and weeds.' We're fortunate to have housing on the farm here for employees and that gives us an edge in keeping labor. Creating a workplace where people want to be, but also being able to push them to realize the efficiency we need. A year like 2018 was full of challenges. It was super wet. We had to keep asking ourselves: 'How are we going to save this crop?'" 
How farming is changing in Rappahannock: "I feel optimistic about some of the things I see happening here. There are other models where landowners want to partner with younger farmers and help grow the farming community. And I feel optimistic about being part of the farmer's market at Pen Druid. It's been pretty consistent for us, and our shift to that felt like a nice way to reach this community. We have talked about trying to make our schedules more flexible so we can connect more with others in the community. That's not an easy thing to do when you're out farming."
What I like about farming here: "Well, looking out on the mountains isn't too bad. This piece of land is nestled up right next to the park, and makes a nice atmosphere to farm in. You have the bears coming in, and the groundhogs and the deer. But we get to think about how our farming practices affect that and vice versa. Rappahannock is in a good location to have a successful farm business. You're close to Northern Virginia. You're close to D.C. You're close to Charlottesville. Being close to those population centers gives you an advantage." 
Advice to a farming newbie: "We always tell our interns to work on the same farm for more than a year or two years. You can have totally different weather years, a totally different group of co-workers, a totally different vibe. Being on the same land can show you how much it can vary year to year. If you can deal with that unpredictability and the variations from year to year, that's a good sign."
---
Stuart Bailey
A recent graduate of Rappahannock County High School, Stuart, 18, hopes to be able to keep his hand in farming. But he also will start taking courses this fall to be certified as an electrician. He's spent the summer on a job at Laurel Hill Farm in Castleton, working with his girlfriend, Katie Sharp.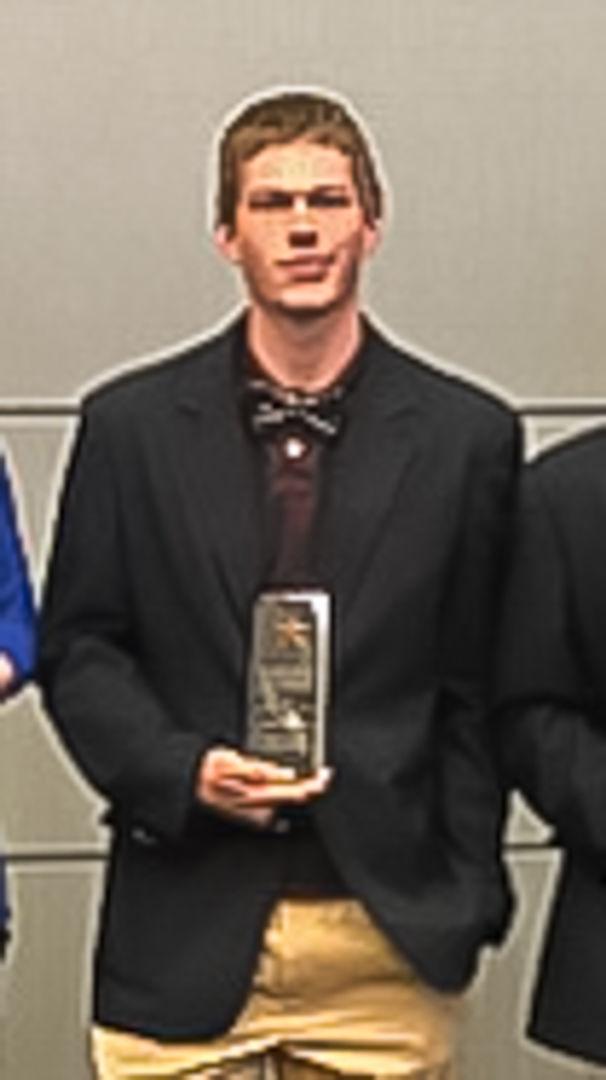 Why farming?: "I like nature. I like watching things grow. I like being able to walk home at the end of the day and realize you've accomplished something. You didn't play video games all day. You go out and bush hog a whole field and you can look and know you did something. When you're done with video games, what do you have left?"
What non-farmers may not appreciate: "There's a whole lot more to it than just driving a tractor. Most people don't realize you've got to be a little bit of everything. You're not just putting a couple of seeds in the ground. You're gonna have to figure out why your planter's not working. How are you going to get it fixed? John Deere's closed. What are you going to do now?"
The challenge: "Most of farming is a big gamble. It's like those tomatoes out there. I was a little scared to put them in so early. But we put them in and it's really paying off. Time is another challenge. There aren't enough hours in the day. It's really time, money and good weather. If you don't have those three, you don't have much." 
How farming is changing in Rappahannock: "My feeling is that if you can't keep going bigger, you can't survive. A lot of farms are factories now. What I would like to do — you know, do a hundred or two hundred acres, is probably not going to be feasible because the cost is just too high. Land's going to get more expensive and people aren't going to be able to go out and buy 100 acres. It's something I'd like to do forever on a small scale. But it's not something I think I can make a career of." 
What I like about farming here: "It's the people around here. It's a very homey feeling. This part of the county (Castleton) doesn't really cater to the tourists. It feels very wholesome here. In Sperryville, you can spend $15 on a sandwich. I can't do that. But for someone from Washington, D.C., that's no big deal. Here, you can go over to the little store and it costs $7. I can spend $7 on a sandwich." 
Advice to a farming newbie: "Don't go into debt. That's one mistake I made. At one point I had way too many pigs. My boar went over to the lady pigs and he had a ball. Three months and three weeks later, I had about 50 pigs. Couldn't sell them. One thing I wish I had tried to do was get more grants. I never applied. A certain part of me wanted to keep other people out of what I was doing. If you have grants, you have people come and inspect what you're doing. I wasn't too into that at the time. But looking back ... ."
---
Kristen Jenkins
Kristen, 19, has been minding the animals at her family's farm in Woodville since she was a young girl. Her devotion to them hasn't faded a bit. For the past four years, she's received a cow for Christmas. She and her husband, Colton, are 4-H leaders of Rappahannock's Junior Livestock Club. Last year, however, she earned her certification in phlebotomy at Lord Fairfax Community College, and said she intends to continue her education after the birth of her daughter, due in September.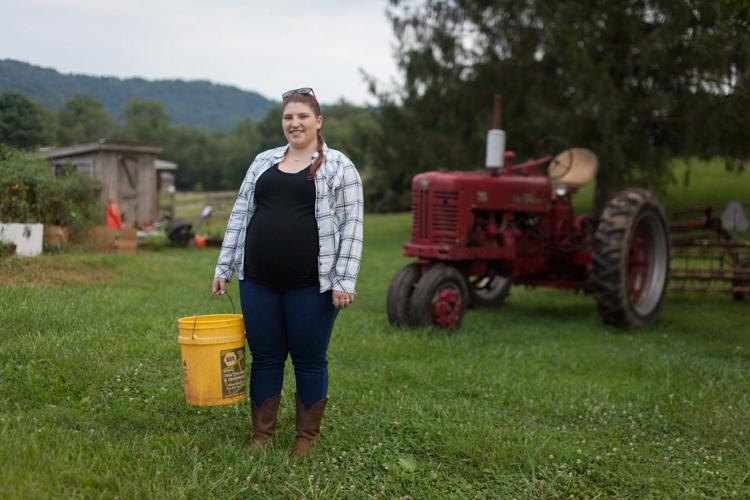 Why farming?: "The memory I have from when I was little was sitting on a fence post and counting cows. My father and his father would be working the cows and my grandfather told me my number one job was to count cows. I think I was four years old. They said I couldn't get down off the fence because I couldn't lose count. And since then it's just been one animal after another appears, and I fell in love with them. The cows have a sweet personality. It doesn't matter if they have a baby by their side, they'll come up to me and say hi. Cows are nosy. They want to see what's going on. But I've never had a problem with them. One thing I've learned about myself is how dedicated I am to the cows. Making sure they're all okay. Like after a storm, going out and making sure none of them were struck by lightning."
What non-farmers may not appreciate: "It's a lot of work, especially if you have a beef cow that you're getting ready to ship off to market. It's a lot of work to get all the feed to them, having all their vaccinations. Everybody thinks you get a cow and just put them out in the field. But they need shots every year. They need this, they need that." 
The challenge: "For me, it's getting rid of an animal. Then there are things like all the rain last year. We almost didn't have enough hay to get through the winter. Or you can have an animal go down within 12 hours. You checked them the night before, and then the next morning it's down."
How farming is changing in Rappahannock: "There's no money in it. You definitely need a full-time or part-time job to farm and keep it going. But I think the biggest thing is that there will be nobody else to take over when the parents or grandparents aren't able to do it anymore. So, they'll either have to sell everything off or they're going to have to pay somebody to take care of it.
"The 4-H Club went and visited a robotics dairy farm in Culpeper last year, and the robot that milked the cows cost $200,000. It was definitely strange to see. It was crazy. Honestly, though, I think it's where things are going to go to because it's a problem with getting labor."
What I like about farming in Rappahannock: "It's so peaceful out here. And, in a farming community most farmers know other farmers."
Advice to a newbie: "Go for it, but start small. Don't overdo it. All you need is three cows and a bull."
---
Randy Rieland's stories are underwritten by Foothills Forum, a non-partisan nonprofit funded by those in the community to provide in-depth news coverage of issues important to Rappahannock County. You can learn more about Foothills Forum and view its award-winning journalism at http://foothills-forum.org.