The 'Little Apple' faces both challenges and opportunities as residents look toward the village's future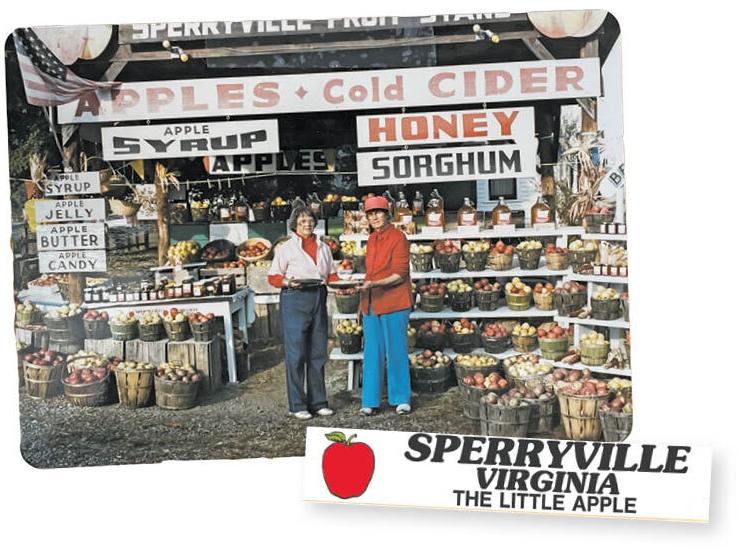 An intersection of two or more roads.

A point at which a crucial decision must be made which will have far-reaching consequences.
Oxford English Dictionary
Since its founding in 1820, Sperryville has been a crossroads village. In its early years, it was a place where newly arrived settlers built their homes and shops, and travelers paused to refresh themselves. Union and Confederate troops crisscrossed the area during the Civil War.
In the 19th and and early 20th centuries, the village evolved into a prosperous community boasting general stores, distilleries, hotels, local eateries, apple processing operations, wheelwrights, blacksmiths, a doctor, and a dentist. With the opening of Shenandoah National Park (SNP) in 1936, the village experienced another growth spurt responding to the rising number of tourists, motels, restaurants, and roadside stands that had begun to spring up along what is now U.S. Highway 211, approaching the park. 
"When I first moved here 37 years ago there were a lot more local people living in the village," said Tom Junk, a former Rappahannock County planning commissioner. "Folks could run a tab at the grocery store and get items delivered. Sperryville used to be called 'Little Apple,' but today we are probably going through another chapter in the village's history."
Indeed, as other residents and visitors attest, Sperryville — population 342 — is evolving, with a different vibe. The general stores, lunchrooms, gas stations and apple operations have been replaced with boutique jewelry shops, art galleries, bed and breakfasts, breweries, upscale restaurants and bars, even a full-service gym. 
Strong interest in the village's future has been generated by the Sperryville Community Association (SCA), a nonprofit formed in 2019 by a group of local business owners and community members. The SCA sponsored a survey and study released this summer that asked residents and visitors about the village's future. SCA president Kerry Sutten, proprietor of the coffee shop Before & After, noted key takeaways from the survey included the need for more business establishments, community-building social activities, and traffic and pedestrian safety. 
Recent SCA sponsored community events include a summer concert series and the Sperryville Bicentennial Plus One, a street celebration that turned out hundreds of longtime community residents and newcomers.
But major challenges — and opportunities — lie ahead as the village and its residents seek to define its future. 
---
Planning…

The pandemic drove demand for rural property close to the Washington, D.C., metro area. "With low housing inventory and interest rates, I see that strong demand continuing, even in a post-pandemic environment," said Rick Kohler, a local Realtor and Planning Commission member. "Once we increase broadband coverage, I think interest in living here will only grow."
If apparent demand for rural real estate continues, will an influx of new residents, or changes in the zoning laws to accommodate growth, alter the character and culture of the community?
The high-profile decision in July by the Board of Supervisors to deny rezoning of the Mt. Airy Field, LLC parcel is the latest such turn of events. Builder Tom Taylor and his wife Cheryl sought to rezone 35 acres on Woodward Road from five-acre to two-acre residential zoning that would accommodate construction of 13 single family homes. Taylor's application, the first major proposal for the village following the 2020 update of the county's Comprehensive Plan, sparked a robust debate about future development before it was halted by a 4-1 vote.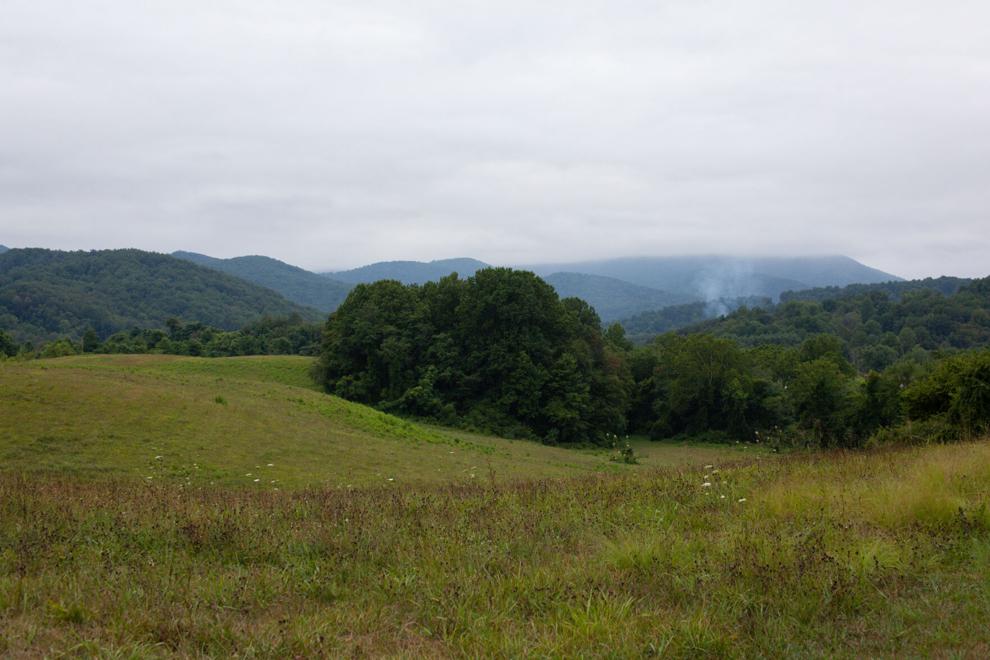 "It would have been such a bad example for the BOS to approve the rezoning request without meaningful proffers," said Sally Haynes, organizer of the Sperryville Coalition Against Rezoning. "Why wouldn't everyone then come in and request rezoning based on their 'vision' instead of what the community benefit would be?"  
"The Comprehensive Plan talks again and again about preserving the rural nature and open spaces of the county," said Bobette Swindler, a fourth-generation village resident and owner of Beech Spring Gift Shop. "You take that away and we are Culpeper and Warrenton. We need some development here, but not a suburb," she said.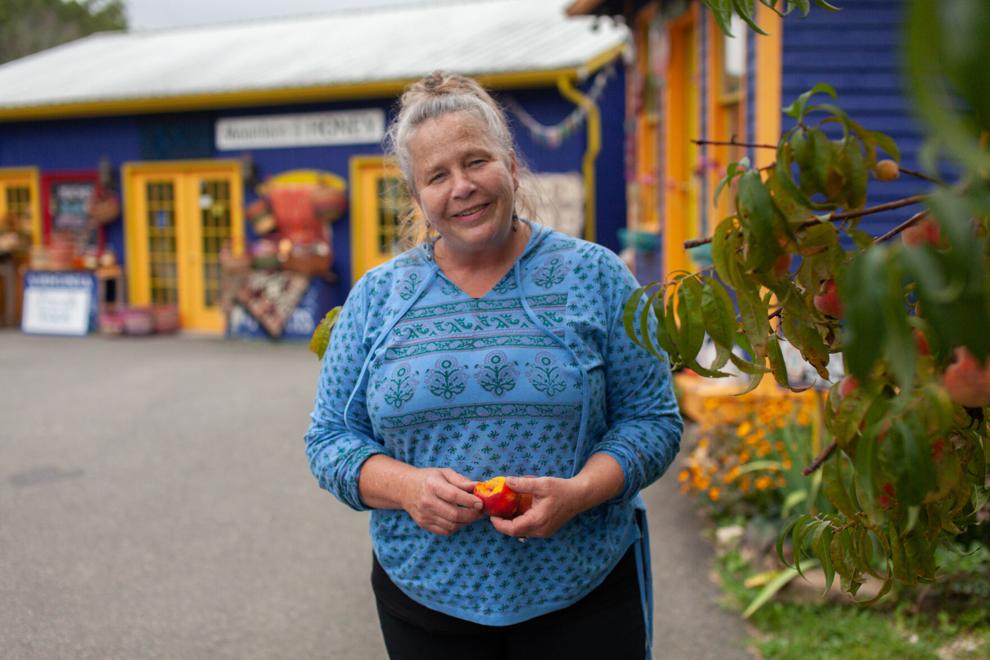 Christine Smith, running for re-election to the Piedmont District BOS seat, foresees the village looking much the same over the next five years. "It will continue to be a vibrant and thriving village, filled with many homes and diverse businesses and likely look much like it does now," she said. Smith acknowledged that possible changes to a handful of properties may impact the village greatly, including Glassworks Gallery, River District Arts, nearby Eldon Farms, as well as other properties on Main Street. But, she said, "I hope people are still sitting on their porches in the evening, waving at their neighbors."
---
…And Zoning
According to the Commissioner of Revenue's office, some 60 lots in and around Sperryville of five acres or less have the potential to be developed for residential homes. Zoning rules would limit development to one home per parcel, but would not set restrictions for building size or height. Eighty-seven commercial parcels along U.S. 211 from the village to the national park boundary could accommodate businesses ranging from fast food outlets to gas stations to hotels.
The Mt. Airy rezoning request sparked strong interest in the county's zoning ordinance and planning process. More than 400 county residents and visitors, including 151 from Sperryville, signed a petition opposing the rezoning. "When we circulated that petition," said Haynes, "we found a lot of people were concerned about development. I feel we only scraped the surface, and if we worked harder, I'm sure we would have gotten more signatures."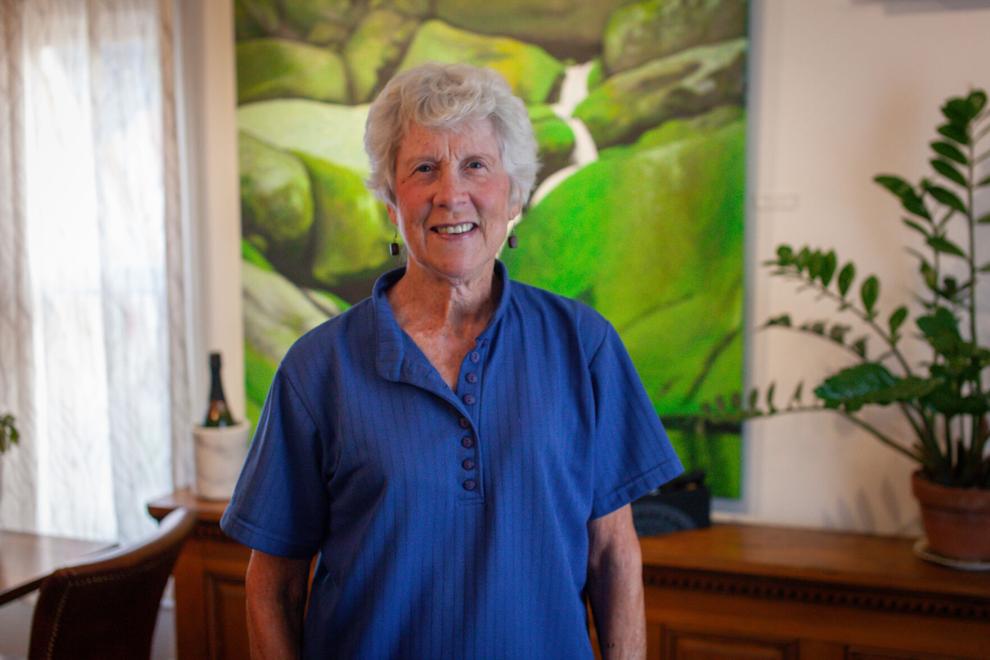 "There are a whole lot of [zoned] Rural Residential lots around the village area that could be developed for single-family homes," said Diane Bruce, who served as county and circuit court clerk for 33 years and was a leader in the effort to halt the Mt. Airy rezoning. "We should absolutely revisit the subdivision zoning ordinance. Future growth isn't just a Sperryville issue, it's a countywide issue."  
In an email sent to the Board of Supervisors last month, Bruce wrote, "The future is at stake andthecounty needs to bring itself into the 21st Century by establishing a Planning Department with educated/trained staff that can write, create, prepare, review and make recommendations to our various boards, commissions and authorities so they can each make informed, defensible decisions."  
James Hoben, a Sperryville resident since 1977 and retired community planner, also wrote to the board stating that the Comprehensive Plan "provides general guidelines for scenic and agricultural lands and mentions general principles for our few urbanized areas. It is not particularly specific for unincorporated communities such as Flint Hill, Amissville or Sperryville." He called for development of a "concept" plan for Sperryville that would "include goals for housing type, densities and possibly prices, plus other important community land uses." 
Keir Whitson, BOS member and chair of the Planning Commission, is supportive of bringing on legal and planning experts who can assist the planning board with revisions to the zoning ordinance, zoning maps and comprehensive plan. "We can do a better job from the long-term planning perspective perhaps with the help of outside consultants who can help us articulate what exactly we are trying to do and [answer] what does growth in around the villages really mean," Whitson said. 
"It doesn't matter if you've lived in the county a long time or are a newcomer," he continued. "We all know that our land use policy is what makes Rappahannock County a unique place. If you accept that, we shouldn't be 'B-teaming' with our planning and zoning work. As lay people on the various boards and commissions, we do our best to figure things out, but we should have the best that we can afford to advise us on how we can protect what we have here."
---
Infrastructure
The Sperryville wastewater system sewage pipe stretches from the national park boundary east to about a quarter mile past the village area. Collector pipes run up the hollows along U.S. 211. The treatment plant is located at its discharge point just above the confluence of the south and north branches of the Thornton River. As the main sewer pipe extends west and east of the treatment plant, it shrinks from four inches diameter to one-and-a-half inches. 
Built 36 years ago and designed to treat 55,000 gallons of liquid waste a day, the system has plenty of capacity to handle its current 200-plus customer base, according to Pamela Parker, the plant's operator. "We treat on average about 25,000 gallons a day, but during heavy rain events that number goes up due to water infiltrating the system," said Parker. "During really heavy rainfall events, the plant exceeds its capacity and wastewater is discharged directly into the (Thornton) river, but only a few times a year."
"If the highway commercial district along U.S. 211 toward the park were heavily developed, it's hard to see how the existing Sperryville sewer system could support it," said Mary Katherine Ishee, Sperryville resident and member of the Planning Commission.
The Rappahannock County Water and Sewer Authority, which oversees the plant's operation, hired a contractor to study the sources of water infiltration as well as costs associated with a major overhaul of the aging facility.
The supply of drinking water is a concern.
"There is definitely a water quantity problem in Sperryville," said Junk. "When I was on the commission, we did water quantity studies in the area. We sit on bedrock and you have to drill deep, in some cases up to 1,000 feet, and fracture the rock to find water. I can tell you drilling 13 wells on the Mt. Airy property would have an effect on people here," he said. 
A 1996 groundwater evaluation study prepared for the Planning Commission confirmed: "Difficulties obtaining adequate well yields occur in areas where the bedrock contains minimal water-bearing fractures, such as near the center of Sperryville." If groundwater withdrawals increase in the future, the study continued, especially at high withdrawal rates, limited groundwater storage and the "poorly developed fracture network" over much of the area "will increase the likelihood of widespread impacts to water levels in existing wells."
And then there's traffic, along the highways and on the village's narrow historic Main Street.
Sperryville residents' long-time concerns about traffic and pedestrian safety were reaffirmed by SCA's community survey. 
According to the Virginia Department of Transportation (VDOT), the total traffic count along major highways in and around Sperryville is over 2.6 million vehicles annually. That breaks down to 1,387,800 vehicles on U.S. 211 between the town of Washington and Sperryville; 657,000 vehicles on U.S. 522 between the Culpeper County line and Sperryville, and 620,000 vehicles on U.S. 211 between Sperryville and the SNP.
As reported in the Aug. 12 edition of this paper, VDOT completed a traffic speed study in July along the U.S. 211 corridor from the intersection with Sperryville Pike (U.S. 522) 2.9 miles west toward the park. The study was requested by the BOS and looked at the possibility of reducing the current speed limit from 45 m.p.h. to 35 m.p.h. and evaluating removal of the passing zones near the park.
Data was collected at three locations along the corridor. Although there were 27 crashes over a five-year period, speeding contributed to only five. The study concluded the speed limit should not be lowered to 35 m.p.h. because monitored vehicle speeds did not exceed the threshold set by the Federal Highway Administration. Also recommended: Keeping the passing zones.
Supervisor Smith expressed concern about the VDOT report earlier this month at a BOS meeting. "I think that there are going to be a lot of unhappy people. They want drivers to slow down through Sperryville up to the park. It's a dangerous area," she said. 
Although VDOT does not have an established process to appeal the decision, Smith and other supervisors remained concerned about traffic, especially during the fall foliage season, and expressed interest in looking for ways to have the decision revisited. Whitson suggested, as an interim measure, stationing electronic "reader boards" during foliage season urging drivers to slow down. VDOT traffic engineer Troy Austin expressed support for the signs. 
Foothills Forum is an independent, community-supported nonprofit tackling the need for in-depth research and reporting on Rappahannock County issues.
The group has an agreement with Rappahannock Media, owner of the Rappahannock News, to present this series and other award-winning reporting projects. More at foothills-forum.org.
"At the end of the day, every village or town has its challenges. Being on U.S. 522, and U.S. 211 and a gateway to SNP creates some unique traffic challenges for Sperryville, and at the same time contributes to the busy and bustling community," said Smith. 
"Sperryville's Main Street is very narrow so there is not a lot of wiggle room for additional pedestrian and traffic safety measures," said Mark Nesbit, VDOT's residency engineer in Warrenton. He said VDOT would continue to explore options with Smith and others to improve conditions in the village.
Ishee is concerned that COVID has increased the number of visitors to the SNP and the county, and that such pressure will "threaten to strain our small, winding rural roads and could ruin the charm of our villages and rural areas. This should make us doubly cautious about any zoning changes that could put new pressures on our roads." 
---
Business & tourism
In 2020, 1.666 million visitors came to Shenandoah National Park. Park authorities estimate about 30 percent, or 500,000 of them, arrived through the Thornton Gap entrance, just seven miles west of the village. Overall, the SNP estimates visitors spent $96.7 million and created 1,190 local jobs in communities near the park. 
"We gain huge economic and other benefits from our proximity to the SNP," said Ishee. "Finding ways to maintain the rural charm of the route from Sperryville to the Park should be a very high priority, as well as protecting all county viewsheds leading to, and from, the SNP." 
A 2010 study by the National Parks and Conservation Association on SNP gateway communities stated:"Shenandoah National Park and its neighboring communities share a landscape. The surrounding communities and countryside are as essential to the park and the 'park experience' as the park is to the character of this region."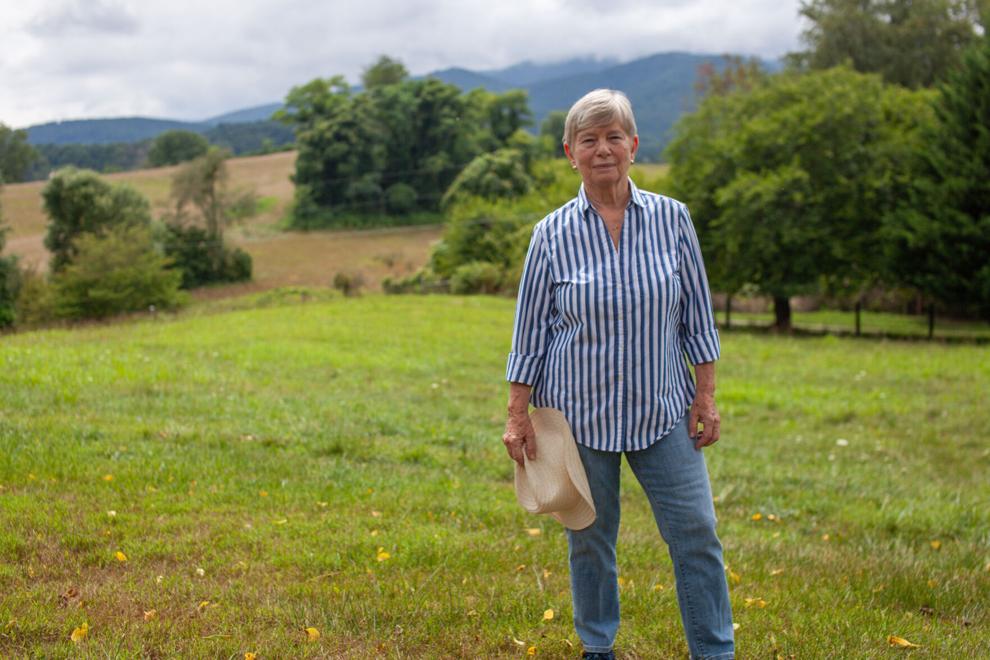 What does it mean to be the neighbor of a national park? "For Sperryville, we are just more than good neighbors, we are 'kissing cousins,' said Patti Peterson, a village resident, former university president and board member of Shenandoah National Park Trust. "We share the same natural ecosystems, wildlife habitat, and forests, and have to think about almost everything we do. It doesn't mean we don't respect growth and change; the question is how we do it." In the balance, she asked: "Do we want to remain an attractive, well-planned environmental magnet as opposed to a helter-skelter development that will not honor the principles stated in the Comprehensive Plan?"
Among its 234 countywide members, the nonprofit Businesses of Rappahannock says 62 of them — 26 percent — are located in Sperryville. Many line Main Street, like the newly sold Three Blacksmiths. Others cluster near the Old Schoolhouse and in the River District complex. To the east sits the new Pen Druid brewery along U.S. 522. To the west, park visitors pass such establishments as Off the Grid, Rugged Mountain Creations, Central Coffee Roasters and Sperryville Trading Post.
---
The village's future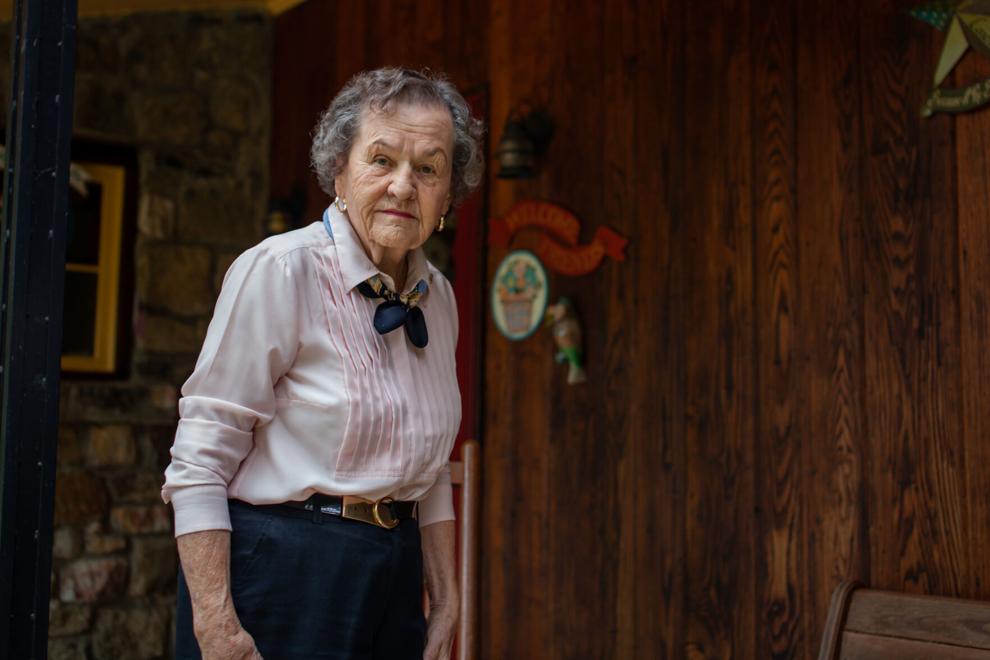 "In the past five years a lot of new folks have moved into the village area," said Aileen Johnson, 92, whose family roots go back several generations. "Now that everything seems to cater to weekenders and tourists, it's just too expensive for the locals. I don't want to be critical of anyone, but I would like to see an affordable restaurant where a family could take their kids for a hot dog and hamburger," she said.
"Gentrification, that's the word," said Barbara Adolfi, a long-time resident and former Sperryville columnist for the Rappahannock News.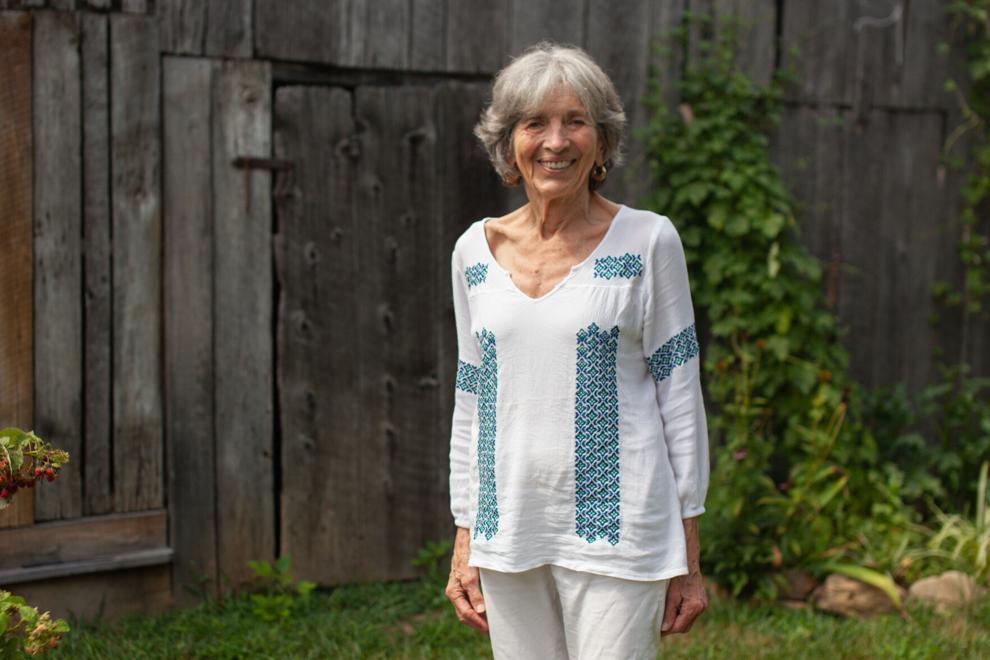 "There used to be men who would stand around the coffee pot at the Corner Store and talk every morning," she recalled. "That doesn't happen anymore because there is no place for a lot of old timers to go for an affordable lunch or a cup of coffee. It is sad to see this happening but the hard truth is that nobody is going to put a business on Main Street that isn't highly profitable. Not only is the cost of property high, but any business must be able to survive the vicissitudes of seasonal income," she said.
"I wouldn't call it gentrification so much as it is change," said Martin Woodard, owner of Thornton River Art gallery, who moved to Sperryville with his wife, Cheri, in 1976 to start Faith Mountain herb and antique shop. "When we first arrived, there was only one other business on Main Street. The village has grown and changed since then and that growth has accelerated in the last five years. This place has always attracted people with creative ideas and energy." 
As an indicator of growing affluence in Sperryville and the county, Compass Capital Investments of Fincastle, Virginia, recently opened a branch office in the village. "We opened … to provide an opportunity to make a positive impact on the community and help residents from all walks of life with financial planning and investing." said Brian Taylor, who was raised in the Sperryville area, but now lives in Troutville, Virginia. "Rappahannock is a fairly wealthy county, whether it's money that has been there or money that has moved into the county," he said. 
Taylor, whose family goes back eight generations in the county, said he hoped that the increasing affluence in the county would not "squeeze out" longtime residents. "There are a lot of folks I went to school with and others who would love to live here but can't afford it. I hope we can become a more diverse community by helping local folks who are just starting their careers, retirees and newcomers," he said.
Robert "Archer" Chapman, a SCA leader and businessman, moved to Sperryville five years ago from Washington, D.C. He owns Main Street's Happy Camper outfitter store and has redeveloped several properties in the village area. "A lot of people in D.C. are talking about Sperryville; it's on the lips of a lot of Realtors and buyers," he said.
 "I wouldn't want this place to be like Middleburg," said Chapman. "It would be good to see a few more stores and activities for the local folks and tourists, but without destroying the culture and the existing structures ... here." 
Junk, who once ran an antiques business in the village, noted the importance of business owners who live in the community. "This place has thrived because many of the people who own businesses here live here. They have skin in the game and that is wonderful. That is how Sperryville started out," he said.
---
What was the Sperryville Gateway Project?
Twenty-three years ago, a group of Sperryville and county residents assembled, according to the July 22, 1998, Rappahannock News, and "wrote a preliminary plan for growth in a way they want it — to make Sperryville a place where the quality of life is valued, protected and nurtured." 
The result was the "Sperryville Gateway Project." Endorsed by the county Board of Supervisors the following year, the project focused on improving traffic and pedestrian safety and enhancing the village's historic district as a "gateway" to Shenandoah National Park (SNP).
The project's objectives were similar to those being discussed by today's village residents, notably in the results of the survey conducted by the Sperryville Community Association (SCA):
Maintain the rural character, scenic and historic values of Sperryville and the county.

Preserve and enhance the village's historic district.

Provide a safe, pedestrian-friendly environment.

Connect the village with the commercial area along U.S. Highway 211.

Grow the local economy by enhancing tourism.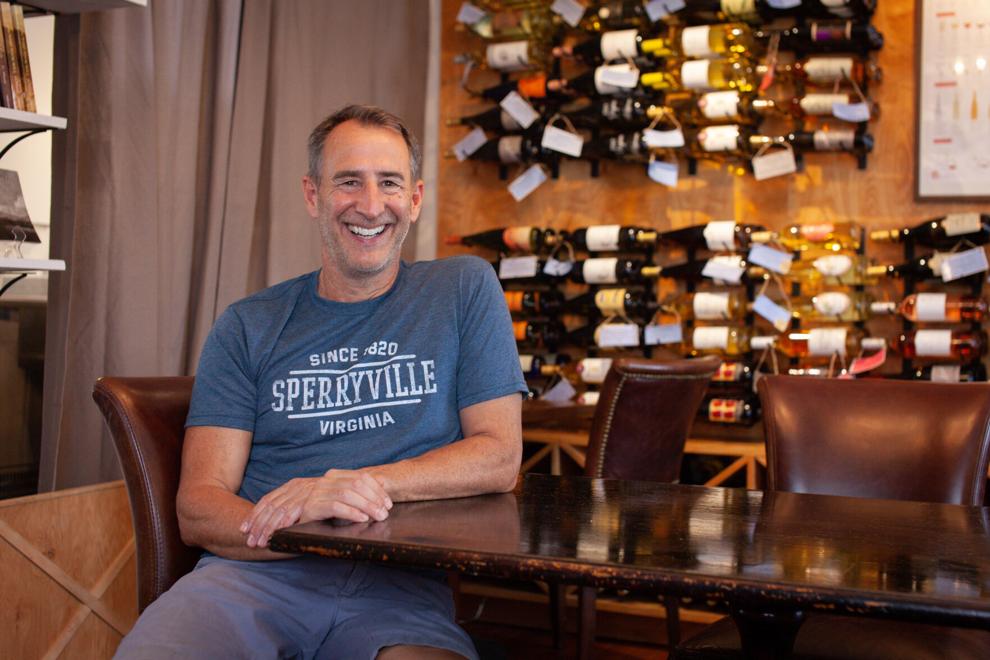 "Many of the project's objectives, like pedestrian safety, trails and bike paths, and improving tourism are things that were mentioned in SCA's recent survey," said Kerry Sutten, SCA president. "We look forward to working on these issues in the future."
The project was planned in two phases. The first called for construction of a footbridge over the Thornton River connecting the village to the Old Schoolhouse commercial area; lowering and resurfacing Main Street; burying utility lines, installing new signage, lighting, and plantings; and laying the groundwork for exhibits on Sperryville's history as a transportation hub. The second phase envisioned construction of a bicycle and pedestrian path connecting the village west to the commercial area along U.S. 211 and ending at the park.
The pedestrian bridge, sidewalks and road resurfacing were completed with state and local funds at a cost of $225,000, according to project chairman, Tom Junk. The bike path and other projects were left to another day.
---