Measure seeks to 'Reject Local Firearm Regulatory Authority' 
Asks space be made available at elementary school for potential crowd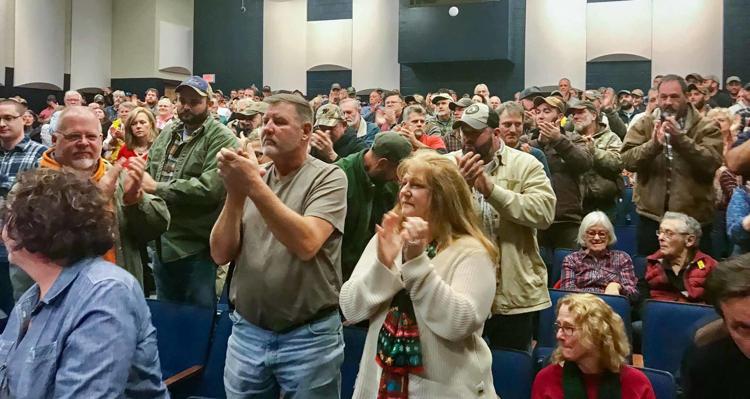 The Rappahannock County Elementary School gymnasium/cafeteria could potentially be crowded with gun rights supporters for Monday's regular meeting of the Board of Supervisors after BOS Chair Christine Smith this week requested yet another Second Amendment resolution be added to the board's agenda.
County Administrator Garrey W. Curry told the Rappahannock News on Wednesday morning that he received a request from Smith this past Sunday evening to add a proposed resolution titled, "Rejecting Local Firearm Regulatory Authority," to the August 3 calendar for consideration by the board.
In forwarding the resolution to Curry, the chair wrote: "Please ask the school if there is an opportunity to expand the space and seating if needed."
"All I can tell you is that I didn't know anything about [the resolution being offered] until it was sent by the chair and asked to be placed on the agenda," the administrator said.
Given the current spike of COVID-19 cases in Rappahannock County, Curry said anybody attending the meeting will be "required" by state executive order 63 to wear a mask or other face covering. A request will be made to have the Rappahannock County Sheriff's Office in attendance at the meeting, as is standard procedure.
Reached late Wednesday morning and asked about the timing of the resolution, Smith told this newspaper that unidentified "people" had brought the proposed measure to her attention "in person" and by "email." 
The chair said she sought further information from the pro-gun lobby Virginia Citizens Defense League, which has warned that as of July 1 towns, cities and counties like Rappahannock "can strip you of our rights by passing gun control that forbids you from carrying [licensed weapons] in local government buildings, parks, reaction and community centers, and at permitted events and adjacent streets!"
Smith told the News that up to a "half-dozen other localities" in Virginia recently approved similar gun measures as this one, including Franklin, Amherst and Pittsylvania counties.
The chair said the reason for the resolution is "very simple" — it tells "visitors" to Rappahannock County that "if they are traveling and have firearms in their possession" that are legal and licensed then "you have reciprocity. That's all it boils down to."
The resolution offered by Smith, who represents the Sperryville region of the county, reads in part:
WHEREAS in acknowledgment of its deep commitment to the rights of all citizens of, and visitors to, Rappahannock County to keep and bear arms, Rappahannock County Board of Supervisors previously declared Rappahannock County to be a 'Second Amendment Sanctuary;' and, 
WHEREAS certain legislation has been passed in the Virginia General Assembly that allows localities to, by ordinance, ban otherwise lawfully possessed and transported firearms from certain public spaces, causing law-abiding citizens to be exposed to a patchwork of local ordinances as they travel throughout the Commonwealth; and, 
WHEREAS the Rappahannock County Board of Supervisors acknowledges the significant economic contribution made to our community by tourists and visitors and does not wish to discourage travel to Rappahannock County; and, 
WHEREAS Rappahannock County wishes to welcome all law-abiding citizens who wish to live in, visit, or otherwise participate in the economy of our community, including those citizens and visitors who choose to legally carry a firearm for personal protection; and, 
WHEREAS the Rappahannock County Board of Supervisors does not wish to infringe on the rights of the citizens of, or visitors to, Rappahannock County to keep and bear arms; and, 
WHEREAS the Rappahannock County Board of Supervisors wishes to express its continued opposition to any law that would unconstitutionally restrict the rights of the citizens of, and visitors to, Rappahannock County to keep and bear arms. 
NOW, THEREFORE, BE IT RESOLVED by the Board of Supervisors of Rappahannock County Virginia That the Rappahannock Board of Supervisors hereby declares Rappahannock County, Virginia shall not exercise any authority granted to it by § 15.2-915(E) of the Code of Virginia to regulate or prohibit the otherwise legal purchase, possession, or transfer of firearms or ammunition. 
Following contentious voting this past December, the BOS declared Rappahannock County a Second Amendment Sanctuary. Arguably the largest crowd ever to attend a monthly meeting of the board, several believed to be from outside the county, made their voices heard in demanding that Rappahannock's heritage and way of life be preserved when it comes to gun ownership.
All said and done they succeeded, insisting in no uncertain — and even raucous — terms that the panel of five elected board members approve the sanctuary resolution. The final vote was 3 in favor, 1 opposed, 1 abstention.
In doing so at the time, Rappahannock joined 23 other counties in Virginia — Culpeper supervisors overwhelming passed a similar measure six days before— that have become 2A sanctuaries, reinforcing legal law-abiding ownership of firearms under a perceived intrusion on gun rights by a newly-elected Democratic majority in Richmond.
"As I look around the room, I've been coming to Board of Supervisors meetings since about 1978, and this is the biggest crowd I ever saw," said one speaker who followed dozens to the microphone to speak loud and clear in favor of the measure. Many of the several hundred people in attendance wore camouflage gear and hunter's orange to the meeting, although as one proudly pointed out later "these are my everyday clothes."
Few in the overflow crowd that packed the Rappahannock High School auditorium encouraged supervisors to vote against the mainly symbolic measure, and those who did were loudly booed or shouted down. 
Outgoing Hampton district Supervisor John Lesinski, who described himself as a U.S. Marine Corps veteran, gun owner, hunter, and concealed weapon permit holder, turned out to be the lone BOS member voting against the resolution, calling it "overreaching" to a chorus of boos and spattering of insults from the audience.
Hawthorne district Supervisor Chris Parrish preferred that the panel approve a watered-down sanctuary measure, holding up one passed by officials in New Kent County east of Richmond. Portions of his arguments were similarly drowned out by the often unruly crowd.
"Show some guts!" yelled one man sitting near the front.
As it was, outgoing Chair Roger Welch joined Piedmont Supervisor Smith and Ron Frazier of the Jackson district voting in favor of the measure, but not until certain language — including that the BOS would "instruct local law enforcement" — was flagged and struck from the final resolution. 
Both Rappahannock County Sheriff Connie Compton and Commonwealth's Attorney Art Goff had made their concerns about the language known beforehand to Smith.
Watch Monday's Board of Supervisors meeting live or on-demand at rappnews.com/video
---
Click here to sign up for the C-19 Daily Update, a free newsletter delivered to your email inbox every morning.