'The people in the county have been just phenomenal'
"I'm going to miss the mountains," says Flint Hill resident Jennifer Matthews, "because from our house, we just look right up into the Blue Ridge Skyline Drive."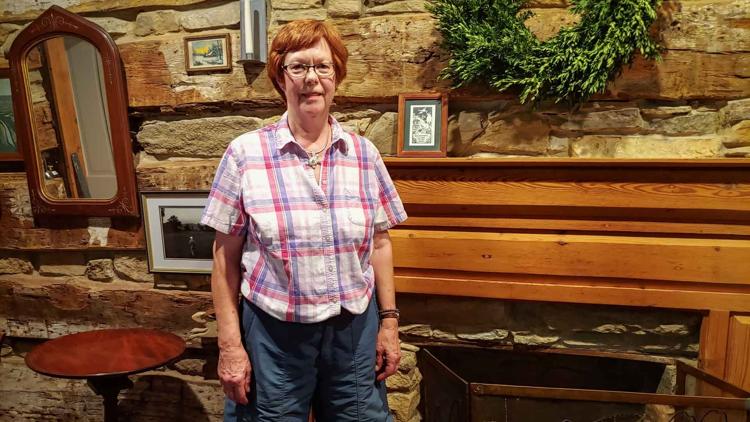 In fact the mountains form the backdrop to Jennifer's wide back yard, where she says her family used to play croquet and badminton.
After 34 years of living in the early-19th century house on Route 522, known as Althea Terrace, Jennifer and her husband Dwight Matthews are moving to Gloucester in Tidewater Virginia, to be closer to the water and to Dwight's family.
How they came to acquire Althea Terrace is a story of timing and coincidence. In 1936, Jennifer's Aunt Maxine married Frank Cary of Flint Hill and they bought the property on the main thoroughfare through the village.
"That brought my blood connection to the county," Jennifer says. After Frank's death in 1961, Maxine stayed until 1964 when she sold the house and moved to the Shenandoah Valley. Having vacationed over the years as a child with Maxine and Frank and her cousins, Jennifer grew fond of Flint Hill.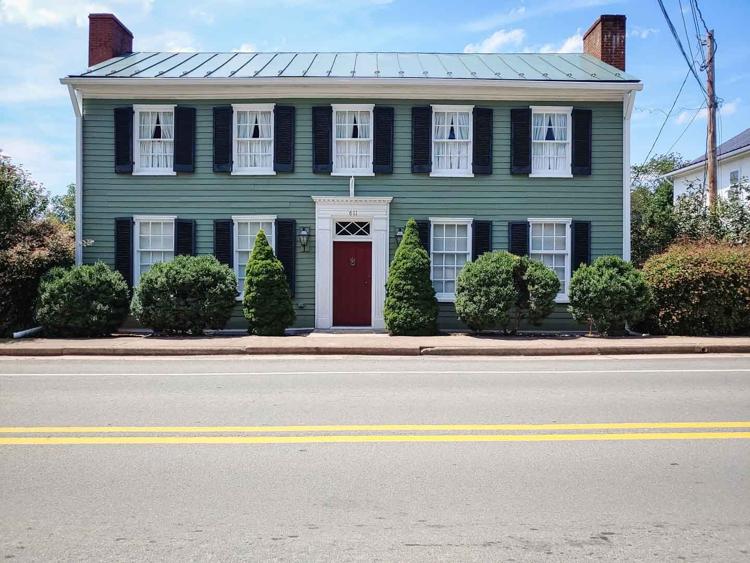 So, in 1986, back in the US after years in Germany where Dwight, an architect, was the facilities manager for the Department of Defense Independent Schools, he, Jennifer and her mother were driving through Rappahannock County and decided to drive past the old house. 
"And it was for sale," says Jennifer. "That was June. We bought it and moved in September 5, 1986." 
Jennifer had earned two degrees in nursing before marrying Dwight. As she tells the story, she had just finished her Master's thesis and was hoping to relax with her mother at a family friend's house on the Eastern Shore when their hostess — Josephine — decided Jennifer needed more to do than sit around with the old people.
"'I think I'll call Dwight,'" Jennifer recalls Jo saying. "Dwight and I dated briefly while I was in high school and he was at Virginia Tech. I hadn't seen him in seven years. Dwight came over, but the evening grew awkward when Jo showed slides of Jennifer with a former boyfriend.
Dwight left early. "I said, 'I'm going to walk you to your car and make sure that you get in and turn the thing on and go. And so we went out there. And then about three o'clock in the morning, I got back to the house," she says. That was Memorial Day weekend of 1976; they married the following March.
Jennifer devoted her career to nursing and research. A Clinical Nurse Specialist in Adult Health (A-CNS), she was appointed Professor Emerita at Shenandoah University in Winchester Virginia in April 2019 after teaching there for many years. She earned her PhD in Nursing Administration and Policy from George Mason University (1996); a Masters in Nursing from Virginia Commonwealth University (1976); and a Masters in Business Management from Troy State University in Alabama (1985). Jennifer has worked at the national level for the American Nurses Association and continues policy work with that organization. In 2011, she was inducted as a Fellow into the American Academy of Nursing.
In Germany with Dwight, she worked for a physician/researcher pioneering new cardiovascular drugs.
Jennifer was appointed to the Rappahannock County Board of Zoning Appeals in the early 1990s. From about 2003 to 2006, she was the BZA rep to the county Planning Commission. "I was there for much of the pre-work, town halls, and publication of the 2004 comprehensive plan. I am listed as one of the contributors in the 2004 comprehensive plan," she says. Her term was up in February of this year and she asked not to be reappointed.
These days, in front of the house, you can see a small enclosed trailer hitched to Dwight's pickup truck. He fills the trailer and makes a trip down to their Gloucester house a couple of times a week. He's been stripping carpet there with his brother Dennis and laying hardwood floors. Dwight and Jennifer's daughter Whitney moved from Charlottesville to help, and their son Dorian lives close by.
So, yes, when they move she'll miss the mountains, and also the people.
"People here in the county have just been phenomenal," she says. "The church communities come together at Lent and Easter and Thanksgiving to have a common service. That's great. The people here in the county recognize a person's word, for what they could contribute when and how they live their lives."
---
Click here to sign up for the C-19 Daily Update, a free newsletter delivered to your email inbox every morning.