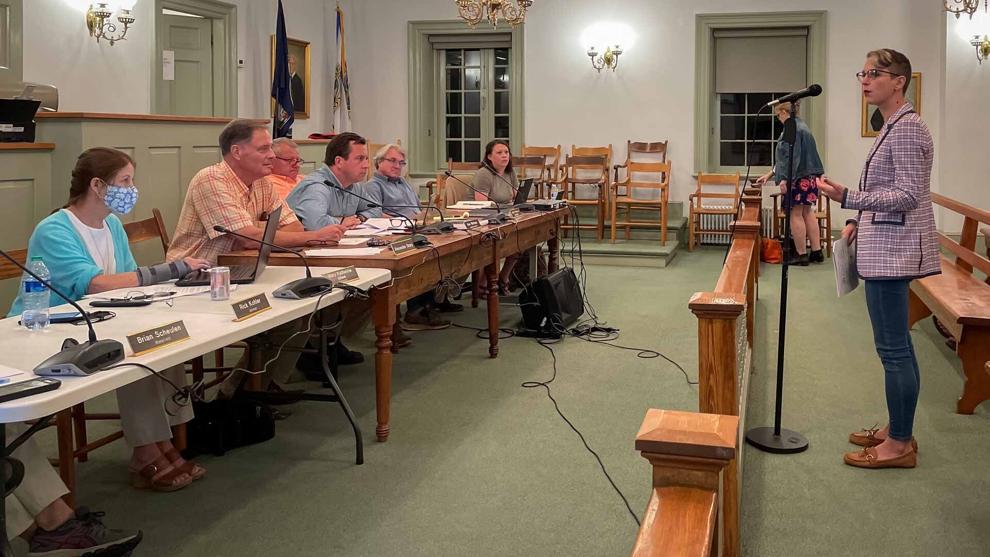 The Rappahannock County Planning Commission moved swiftly through five applications for special use permits at its Sept. 15 meeting, deciding to hold public hearings in October on a request to operate a dog kennel and dog training business in Amissville and another to operate a tourist home in Chester Gap.
Charlotte Wagner, who has been in the kennel and dog training business in Warrenton and hopes to relocate it to Amissville, wants to build two metal pole barns for an office and training arena with a fenced-in exercise yard.
Her property is at the intersection of Forest Grove and Richmond Roads. The 11.6 acre lot is zoned agricultural. The business would be open from 10 a.m. to 7 p.m. Monday through Friday and 10 a.m. to 3 p.m. on Saturday, Wagner said in her application. The commission unanimously agreed that a public hearing should be held on Wagner's application.
Wagner's property will be open to those who come at scheduled times. She expects traffic flow to average 20 cars per day. There will be a parking lot for 12 vehicles. The new buildings will be shielded by trees and vegetation. Neither dog breeding nor boarding will occur on the property, she said.
Wagner had the support of three residents who spoke in favor of her application during the public comment portion of the meeting. Commission member Mary Katherine Ishee, Piedmont District, called it "a good application" that should go to a public hearing. Commission member Gary Light, Stonewall-Hawthorne District, said details provided about the proposal at the hearing should allay any concerns that may exist.
A public hearing will also be held in October on an application from Lissa Hubbard to use an existing rental home on Headwaters Road in Chester Gap as a tourist home. The applicant or a representative wasn't  present at the meeting to speak about the request. The application filed with the county states that the building has two bedrooms and two bathrooms and is in good working order. 
The health department noted no objection to its use as a tourist home so long as food isn't served, which would make it a bed and breakfast. A county staff review called for a four-person limit on occupancy.
Two requests to operate tourist homes and one to use an accessory dwelling as a residence were also forwarded to the county board of zoning appeals (BZA) with recommendations for approval, though over the "no" vote each time by Ishee.
The applications forwarded to the BZA with a recommendation to approve, including a request from James Jenkins to use a three-bedroom residence on Yancy Road in Woodville as a tourist home and a request from Wayne Waller to use a three-bedroom residence on Old Hollow Road in Sperryville for the same purpose.
The application to use an accessory dwelling on Jericho Road in Flint Hill as a residence was sent to the BZA with a recommendation of approval over Ishee's no vote and an abstention by Sharp because of a conflict of interest. The Flint Hill applicant, Clare Turner, plans to live in the accessory while her son and daughter in law live in the main house.
Ishee said all applications should be subject to a public hearing rather than fast-tracking seemingly non-controversial applications to the BZA with a recommendation to approve or reject.
"We should consider changing the ordinance from a preliminary review to straight to a public hearing," Ishee said. The board's current way of holding preliminary reviews "doesn't notify the public very well that [an application] could be moved ahead without a public hearing, so they don't necessarily show up. We don't always know what complaints there are without input from the public."
In support, Alex Sharp, BZA representative to the planning commission, said he doesn't think it's appropriate to make recommendations to the BZA without a public hearing.
Light said he agreed with Ishee and Sharp. Al Henry, of Hampton District, countered: "if it's not broken, don't fix it." He supported continuing to fast-track "no brainer" applications.
Planning Commission Chairman Keir Whitson, of Hampton District, suggested other jurisdictions could be contacted to see how they handle such matters. He said the commission's consultant, the Berkley Group, could be tasked with that assignment.
---
---