'We're bound by the taxpayers to determine how money is spent'
In a three-to-one vote the Rappahannock County Board of Supervisors on Monday rejected Jackson Supervisor Ron Frazier's demand that the county pay his substantial legal bills in connection with a 2016 lawsuit.
The suit was brought by county farmer Marian Bragg, who charges that the Board of Supervisors violated Virginia's Freedom of Information Act (FOIA) by going into closed sessions on several occasions — without public notice — to discuss the hiring of a county attorney in 2016. The case, which goes to trial in February, is known as Bragg 1 to distinguish it from a second petition Bragg filed in October 2018, which charged the BOS with violating FOIA again, this time during selection of the county administrator.
In the lead-up to Bragg 1, Bragg's attorney David Konick offered the supervisors a deal — any supervisor who admitted to violating FOIA in the closed meetings would be exempt from Bragg's lawsuit. Ron Frazier was the only supervisor who admitted guilt. Frazier is a close associate of Konick and certain county officials have speculated him to be the source of the information of what went on in the closed door sessions.  
FOIA allows closed sessions for certain limited purposes, such as to discuss personnel matters or contract negotiations. Participants are barred from revealing details of the meetings to the public. Frazier — and Bragg — allege that the supervisors' discussion of hiring a county attorney strayed from a strict interpretation of FOIA.  
Because Frazier took Konick's offer and thus is not a defendant in the lawsuit, County Attorney Art Goff maintains that Frazier is not entitled to have his legal representation paid for by the county. The other supervisors named — Hampton's John Lesinski, Stonewall-Hawthorne's Chris Parrish, and former Piedmont supervisor Mike Biniek — are represented by Goff. Current Piedmont supervisor Christine Smith was not a supervisor at the time of the alleged violations, so is not named in the suits.
In the meantime, Frazier, in response to subpoenas issued by Goff, sought his own legal counsel, Tysons Corner firm Offit Kurman. So far the firm's bills total $19,365. The itemized bills go on for several pages of charges for services from February through May. However, the descriptions of the services rendered for all of the charges are blacked out, to "protect attorney-client privilege," explained Theodora Stringham, one of Frazier's attorneys.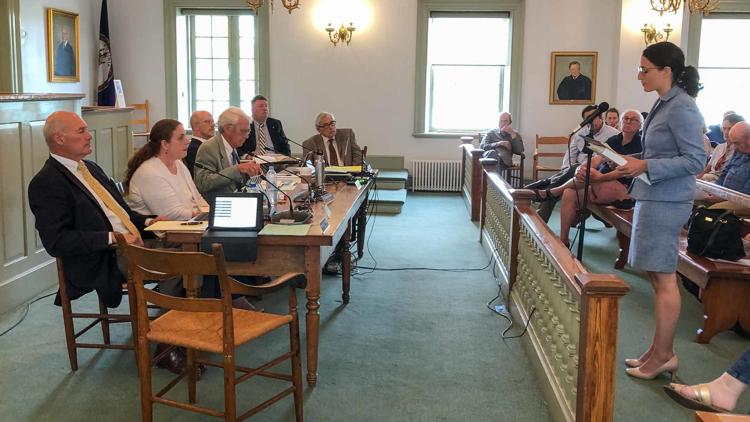 Stringham, whose billing rate is $350 an hour, attended Monday's meeting to argue the case for the county paying Frazier's legal bills.
"The Board of Supervisors is a named party [in Bragg 1]," Stringham said, "and Mr. Frazier is a member of the Board of Supervisors."
Click here to see video of the meeting.