Mayor Catlin: 'What's more important is that we have retained a community hub'
After a long and hard fought battle, the Town of Washington has preserved its centuries-old post office that at one point was destined for a new highway location.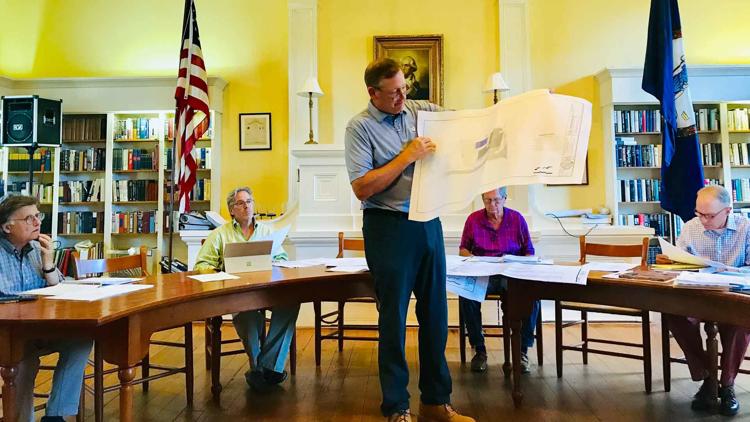 Rather than issuing any formal statement regarding its decision to reverse course for a second time and keep the circa 1804 post office within the county seat boundaries, the U.S. Postal Service simply allowed developer Tim Tedrick of Mid Atlantic Postal Properties to appear at Washington Town Hall one evening last week with new post office site plans in hand.
Following a 35-minute presentation to Washington Mayor Fred Catlin, former Mayor John Fox Sullivan and other town officials, the Architectural Review Board chaired by Butch Zindel gave thumbs-up to a project that will see a new brick veneer post office constructed within town limits along Leggett Lane.
"Excited that we were able to keep the post office in the community and relieved that this process is over," Mayor Catlin told the Rappahannock News this week.
"The post office will be brick, it will be attractive. . . . What's more important is that we have retained a community hub in town," the mayor said, noting that Washington already lost its bank and library to highway locations.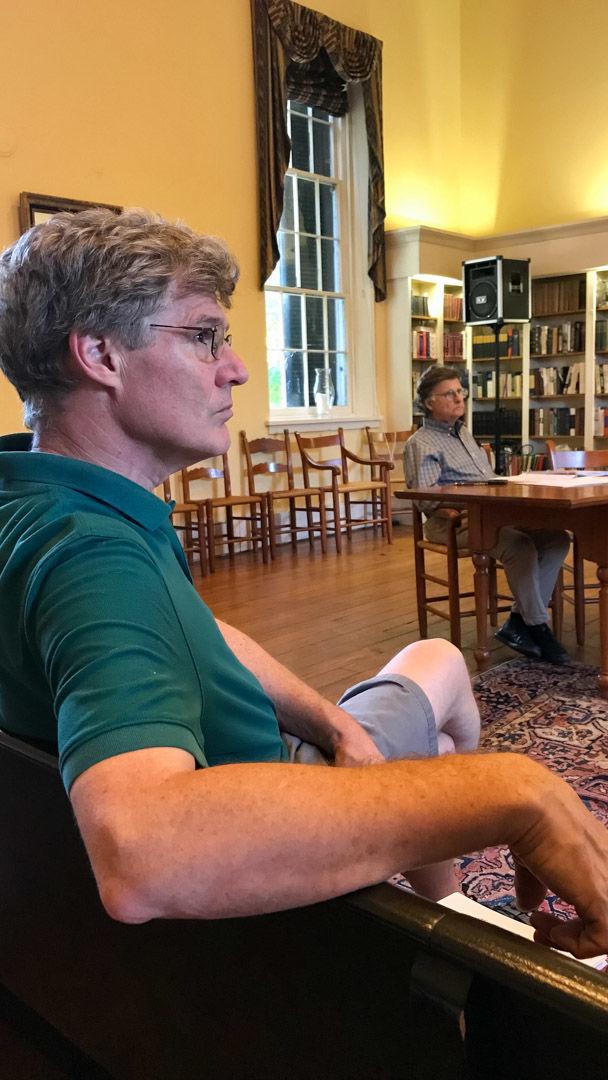 Zindel agreed: "The bank moved out of town, which had an effect, and if the post office moved out it would have just really, really hurt the town."
It was two years ago that the post office announced it would be moving out of its leased Main Street location — ensuring local residents and elected officials alike that it had every intention of occupying another suitable building within the town — and almost a year since it was revealed by a third party that instead of staying in Washington postal officials had suddenly decided to build a post office on an empty lot off Highway 211 almost midway between Washington and Sperryville. 
To say the town was caught off guard by the abrupt change in plans — and virtual silence from postal officials about their intentions — would be an understatement. Catlin and Sullivan wrote an op-ed published in this newspaper calling the entire site selection process "opaque and non-transparent," detecting "behind-the-scenes-machinations" they didn't fully understand.
The Rappahannock News later discovered among several thousand pages of documents obtained under the Freedom of Information Act that a top U.S. Postal Board official in Washington, D.C. had personally inserted herself into the site selection, prompted by an influential Rappahannock resident — a former chairman of the U.S. Postal Service's governing body — who was lobbying for a highway location.
Soon after this newspaper reported its findings, senior U.S. Postal Service officials in Washington, D.C. put the tiny post office — which opened the same year Thomas Jefferson was first elected president — onto their agenda, ultimately deciding to keep it in the historic town. 
"An 'endless' process which finally has 'ended' with the decision to stay in town," said a visibly pleased Sullivan after studying the new architectural drawings for the first time.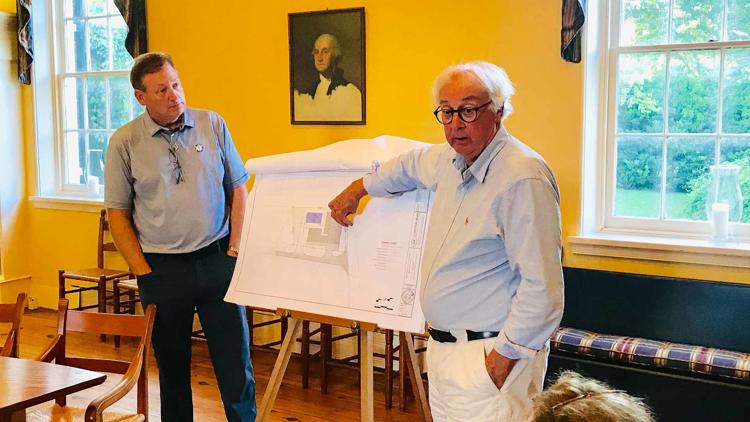 "Keeping the post office in town has been one huge piece of unfinished business during my time as mayor and I am over the top happy," added the former mayor, who left office in December. "Everybody wins. A new building appropriate for post office needs, as well as satisfying the expressed desire of its users to keep it in town where it has been for 215 years."
Tedrick announced to town officials last Wednesday evening that "we'll start moving dirt" for the new building on "September 1" with a projected completion date "sixty days" later.
"We're under pressure," the veteran post office developer reminded town officials, given the current post office lease on Main Street will soon expire. 
U.S. Postal spokesman Tom Ouellette in Washington, D.C., told this newspaper yesterday: "Retail service will be available at nearby post offices during the period between the closure of the current location, scheduled for the middle of September, until the new post office is completed and operational ready. Mail deliveries will not change."
Ouellette added that people with PO boxes will be informed where they can pick up their mail.
The new post office building will front Leggett Lane near its intersection with Warren Avenue, a main entrance to the town, preserving existing "wetlands" to the south of the structure. Given previous complaints from citizens about a lack of parking at the current location, "the post office has made us put the maximum amount of parking spaces for a 2,000-square-foot building, which is 22, so there will be plenty of parking for everyone," Tedrick observed. 
"You will notice in the general standard postal design they like to use the hardiplank," the developer added, referring to a combination of cellulose fibers and cementitious materials, "but I have informed them that the ARB will not accept that and they are going with the ultimate wall, which is brick all the way around. So you're getting a completely brick veneer building."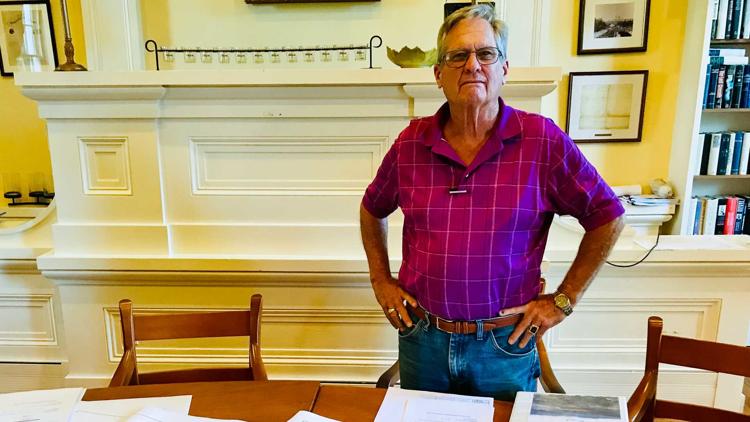 He said the new building's exterior will include "fully handicap accessible" parking and sidewalks, directional surface-mounted lighting to allow for safety while keeping with the nearby county park's "dark skies" designation, green landscaping, a flagpole, and perhaps as proposed by Sullivan an informational kiosk similar to the one found today outside the current post office. Modern postal signage will also be kept at a bare minimum, as is presently the case at the Main Street location.
Among the building's interior features, also fully handicap accessible, will be 30 percent more post office boxes than found in the current facility, with natural lighting in both the customer and mail sorting areas.
Sullivan praised Tedrick at the end of his presentation, reminding those in attendance that despite continuous "roadblocks" thrown up in every direction he personally worked side-by-side with the town "at coming up with solutions so that we could keep the post office here."