Sallie Morgan is Rappahannock News Citizen of the Year 2020 
Every community has unsung heroes, Nancy and Dick Raines point out, tireless people who "quietly do the behind-the-scenes work," yet aren't hesitant when needs arise to "stand up on the stage." 
"It's rare that one person embodies both: tireless behind-the-scenes worker and inspirational public person," says the Rappahannock couple. "Sallie Morgan is one of those rare individuals."
Worthy praise that is seconded by dozens of Rappahannock County residents — and from all corners of the community. The Rappahannock News would be remiss in not joining the resounding chorus, albeit going one important step further — hereby proclaiming Sallie Morgan as Rappahannock News Citizen of the Year 2020.
"I'd say she's Citizen of the Last 3 Decades, let alone Year!" insists Lynn Dolnick.
Which certainly could be the case were 2020 not the arduous, nightmarish year it's been in Rappahannock County, a rural community held hostage by an unfathomable pandemic that continues to inflict an incalculable toll. COVID-19's full impact on these hills and hollows won't be realized for years to come, which makes Morgan's tremendous inroads here, past and present, all the more crucial. 
Up until 2011, when she was appointed executive director of the Mental Health Association of Fauquier/Rappahannock, "the organization was not well known in the community, ran no programs, had virtually no support from grantmaking organizations or individual donors, and had little capacity for creation of any substantial change," recalls Brittany Dwyer, the association's community education and outreach coordinator.
Now, according to Dwyer, who is a native of Rappahannock County, "Sallie Morgan has grown the Mental Health Association to be a prominent leader in the Fauquier and Rappahannock communities."
"Under her leadership, our organization has successfully trained almost two-thousand people in Mental Health First Aid and hundreds more in other education programs," she says. "We have secured partnerships with local schools, worked with them to implement prevention programs to benefit youth, and recently watched Rappahannock County Public Schools hire their first social worker."
Morgan has injected even more into the schools, reveals RCPS Superintendent Dr. Shannon Grimsley. In addition to a social worker, Morgan has helped bring in a behavior interventionist and "community providers willing to work collaboratively with the school to provide essential services not available within the community.
"Sallie has exemplified a beacon of hope and persistence for underrepresented groups and struggling families in our community," praises Grimsley. "Without her leadership, RCPS would not have been able to come so far in so few years to become the trauma-informed school district it now is."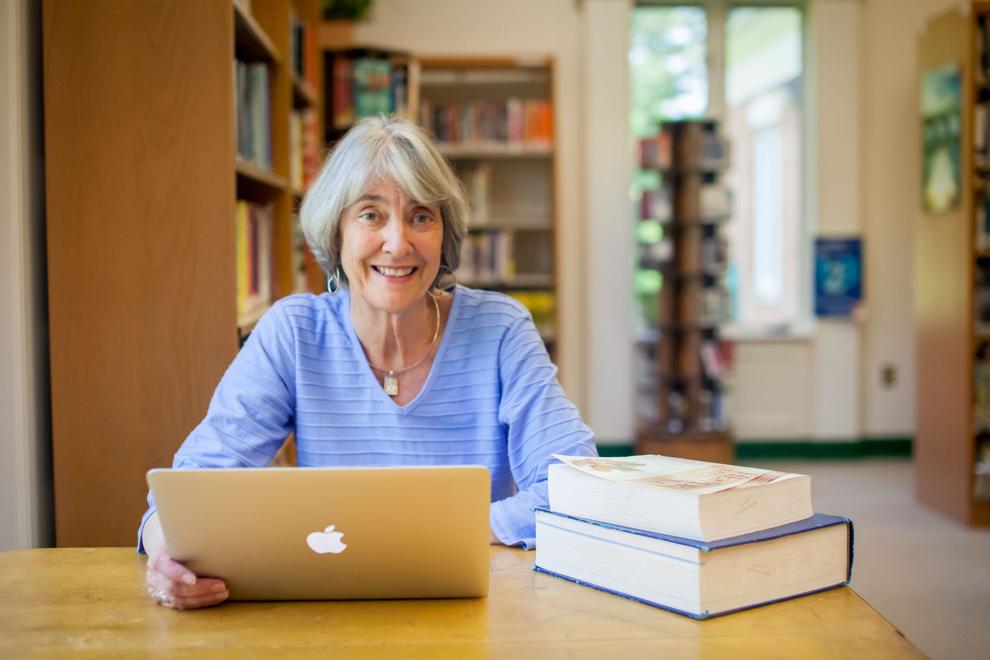 The superintendent recalls 2014 in particular and the special grant project she and Morgan tackled together that led to RCPS becoming the "first school district in Virginia" to provide training for all staff to become Youth Mental Health First Aid certified. To this day the certification is a requirement for anybody who wishes to work within the school system.
Former longtime Rappahannock County Administrator John W. McCarthy acknowledges that the "last three decades have been replete with instances where I was serially bullied by Sallie into assisting her with one good work, bold initiative or opportunity," however in "every instance, my instinct was to resist, and in every instance, my failure was complete."
Morgan, as was witnessed by McCarthy, "has given voice to those who lacked one, cared for those who were suffering, and was relentlessly positive in her every effort, lifting up all of those who have had the extraordinarily good fortune to come into her orbit.
"You can have no more worthy candidate," he says, citing among her other pursuits Morgan's tenure as director of the Area Agency on Aging, her founding of Aging Together, her steadfast support of the Rappahannock Association for the Arts and Community and in particular the series No Ordinary Person, and a new "venture" with the PATH Foundation.
"Her only incompetencies," adds the former administrator, "include the failure to hold a grudge, unwillingness to ascribe ill-will to those who manifestly offer it, and carrying the contagion of belief in the wonderful nature of her community."
Gid Brown beginnings
Sallie Morgan and her husband Tod, came to Rappahannock County when the couple was in their mid-twenties — she hired to create an Area Agency on Aging for the region. That was 1976. 
"We bought an old farmhouse in Gid Brown Hollow with no indoor plumbing, purchased a book titled 'How to Build Your Own Bathroom,' and made this our home place," she recalls. "Our daughter Lainie was born here and went through RCPS, graduating as valedictorian of the class of 2000. She went on to join the Peace Corps, complete graduate work in public health at Johns Hopkins, and work in various public health settings. She is currently living in and raising her family in Arlington.
"Tod has been a partner and supporter in almost everything I've done professionally and as a volunteer, and has had his own significant impact in the county," Morgan continues. "He and [the late] Linda Dietel co-chaired the committee that built the CCLC building, and he does behind the scenes work for RAAC — from keeping our books to working with the Art Tour — and various other organizations."
Linda's husband Bill Dietel and daughter Betsy say Morgan's "wisdom and personal assistance … has earned the respect and admiration of hundreds of her fellow citizens.
"The community at large is a better, more humane place to live and raise a family because of Sallie's concern for the wellbeing of her fellow citizens," they weigh in. "She is an exemplar of what one dedicated, thoughtful, creative person can do with their talents to help others."
No ordinary person indeed
For 35 years Morgan worked for Rappahannock-Rapidan Community Services, supervising mental health, intellectual disability and aging services in the five-county area that includes Rappahannock. The past 10 years she led the Mental Health Association and expanded its scope to cover this county.
In addition to mental health advocacy, she has chaired the Rappahannock Behavioral Health Roundtable; partnered with Rappahannock schools to implement the PRIDE survey (administered in 2019 to 238 students in grades 7-12, the results were eye-opening); founded the Rappahannock Senior Center; founded the Aging Together partnership; was a founding member of RAAC (a repeat past president, today she is treasurer and chair of the theater committee); and she was among the original group who worked to set up Rapp at Home. Amazingly, the list goes on.
Hal Hunter recalls the tribute paid to Morgan on occasion of her being named recipient of the distinguished "5 over 50" award — the signature event of Aging Together — when she was credited for "creating a scaffolded network of services and assistance for those struggling with issues related to aging."
Hunter also credits Morgan as being a "key figure in the vibrant theater life" of Rappahannock County. From 1997 to 2006 she served on the board of Julie Portman's Ki Theatre, which produced plays, readings and performances in a decommissioned church in the heart of Little Washington (it became the RAAC Community Theatre in 2008.)
"In 1997, inspired by Portman's popular 'Life Stories' writing workshops, Morgan helped create and coordinate the popular No Ordinary Person storytelling series, where people from the county tell autobiographical stories that range from the heartfelt to the hilarious," recalls Hunter. "Morgan has herself performed six personal stories and continues to co-direct the NOP program and to coach new storytellers."
Portman, an Obie-award winning playwright, actress, director, singer, teacher and storyteller who is no longer with us, founded Ki Theatre in 1986, was its artistic director for 22 years, and creator of the Life Stories Workshop Process, which empowers people to become the "author of their lives."
"After Julie passed," remembers her husband, Paul Reisler, "and RAAC took over the theatre and programs, [Morgan] continued to be central to the arts in Rappahannock."
Reisler's relationship with Morgan, however, runs far deeper and way more personal. "She was instrumental in helping us get Julie's sister, Mary Jo, out of the mental hospital where she had been for 35 years and into assisted living in Charlottesville, where she is to this day," he reveals. "This was a monumental change in Mary Jo's life."
Actor and writer Joyce Abell joined with Morgan in launching No Ordinary Person, recalling how the pair "first talked about storytelling for an audience." That was more than twenty years ago.
"We believed that many in our diverse Rappahannock community had moving, unusual and even funny stories to tell," Abell explains. "Sallie has remarkable outreach in our community and was particularly good at encouraging many people who might not otherwise participate. She solicited stories, edited them and helped people tell them on stage …
"Thanks in large part to Sallie, No Ordinary Person has become a community event."
"When I learned that she was to be my 'mentor' for No Ordinary Person, I should have been intimidated," says Joyce Wenger, who has worked alongside Morgan on projects for the PATH Foundation to Aging Together, "but wasn't because she is just a caring and kind person. She treated the activity of working together as a friend helping a friend."
Barbara and Matthew Black, she chair of RAAC's Claudia Mitchell Arts Fund and he president of its board, together state: "Whether it's organizing an event, presenting a treasurer's report, weighing in on a contentious issue, coaching a volunteer actor, manning a ticket table or leading an important community discussion, Sallie consistently does it with these admirable qualities — attention to detail, sensitivity to everyone involved, command of the facts, gentle humor, grace and humility."
For several decades Susan and Peter Hornbostel have worked with Morgan at the RAAC theater and remain impressed with her being "always effective, gentle, and soft spoken, making sure that everyone, both performers and audience, had a wonderful time. Sallie was largely responsible for the continuing life of the theater for all these years."
Susan Dranitzke adds its "very hard to think of RAAC and all its contributions to the community without thinking of how instrumental Sallie has been in all its activities," from working tirelessly to write successful grants to being prime organizer of the association's Soup and Soul winter gatherings that further introduce local artists — painters, sculptors, potters, photographers, musicians, poets, dancers and writers — to the Rappahannock community.
Given her endless volunteering and creating, or helping produce plays, lectures, concerts and art tours, Morgan deserves "a round of applause just by standing up to introduce the event," argues Bette and Mike Mahoney.
"Sallie has enormous energy, and rarely says 'no' to a request, which means she is a very busy lady," point out Mary and Barney O'Meara, who have known Morgan for nearly fifty years. "Everything she does, she does well."
Eve Brooks describes Morgan in telling words: "Deeply intelligent. Kind. Thoughtful, Creative. Supportive. Collaborative. Community builder. Doer." 
Unseen impacts of a pandemic
Morgan retired from the Mental Health Association in mid-November, replaced at the helm by longtime mental health professional Renee Norden of Warrenton, but to this day she pitches in with the planning, including facilitating the Rappahannock Behavioral Health Roundtable.
And while her eyesight sadly is failing she remains an active member of the RAAC board, filling the positions of treasurer and chair of the Community Theatre Committee, while she also organizes Soup and Soul and co-directs No Ordinary Person.
In fact, you still find her as chair of the Services Committee for Rapp at Home, chair of the Rappahannock Aging Together Team, serving on the PATH grants committee and PATH Community Advisory Committee, and she gives her all to the RCPS Equity Team.
But her main concern presently surrounds the myriad stresses caused by COVID-19, triggering what Morgan calls a "shadow pandemic" in mental health, especially for tiny communities like Rappahannock where services are limited and outreach is difficult.
"Almost everyone has experienced some increased level of stress, and in this area we've clearly seen increased levels of anxiety and depression in children and adults alike, as well as increased substance use concerns," she says. 
"I am particularly concerned about the impact of the disruptions on young people because we know from the PRIDE survey that middle and high school students were already experiencing concerning levels of anxiety even before the pandemic. Since the pandemic, family stress, remote learning pressures, and loss of normal activities have impacted children of all ages."
Still, Morgan is optimistic in these evaluations, and she does see light at the end of the tunnel. But it's going to be a rocky road reaching it.
"The good news is that this community has come together to address mental health concerns, including plans to provide individual therapy through the schools and to offer Mental Health First Aid classes for students," she says. "Programs sponsored by a broad partnership of organizations, like the summer camp programs offered to young people who had been isolated for months, and the Wonderful Wednesday program for students this fall, have been among the numerous efforts to support and take pressure off of local families."
At the same time, Morgan warns: "We do expect the mental health impacts of the pandemic to continue and perhaps even intensify in the coming months. For some the impact will be short-term; for others there will be long term effects from the trauma created by COVID and its aftermath. But it is important to know that there is help available. Many mental health providers are now offering remote therapy, and there are options as well for those who may not have insurance or resources to pay for care. Support groups and training in resilience are also being offered on-line."
(She encourages Rappahannock residents and families who are struggling to reach out to the Mental Health Association, through Brittany Dwyer at bdwyer@mhafc1.org or else call 540-341-8732). 
It is such instances of humanity, care and dignity that impress Gwen and Ralph Bates the most about Morgan, taking the lead in saluting her "tireless commitment to social, aging, mental health, and cultural issues that have greatly benefitted Rappahannock and the region."
As for being named Rappahannock County Citizen of the Year 2020, Morgan's reaction as expected is to put others first: "I can easily think of dozens of people I'd put before me on a list of candidates for this honor, especially when thinking about all the folks who've stepped up to respond to local needs over the past year," she reflects.
"That said, it truly is heartwarming to know that people think you've made a difference. I love this community and have felt enriched by and supported by the many wonderful people I've come to know here. So it is pleasing to think that I've been able to contribute something of value to others in the county in return."
---
---