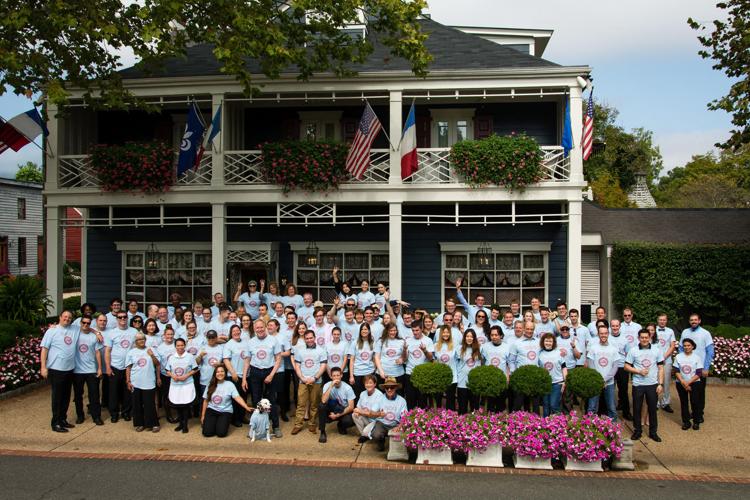 "We are once again thrilled to be recognized by Michelin, the world's most trusted authority in gastronomy."
So Inn at Little Washington chef and owner Patrick O'Connell told the Rappahannock News this afternoon, after learning that his much celebrated restaurant, known the world over, has retained its coveted Three Michelin Stars, the highest recognition offered by the distinguished Michelin Guide.
"I am delighted to see our team's collective hard work and dedication acknowledged," O'Connell told this newspaper. "We look forward to continuing to provide our guests a visit worth a special journey."
The chef also thanked the Rappahannock County community "for their friendship and support." Last year, the Inn celebrated 40 years in the Town of Washington at the corner of Main Street and Warren Avenue. 
Word of the Inn keeping its rare three stars recognition, awarded for the first time last year with much fanfare, coincided with today's release of the Michelin Guide Washington, D.C. 2020, recognizing 18 starred establishments, four of which are new. 
"Our inspectors are especially impressed by the range and diversity of cuisine in Washington, D.C., which reflects Washington's culture as a global crossroads for governments and travelers," said Gwendal Poullennec, international director of the Michelin Guide. 
"Of the four new one-star restaurants recognized in the 2020 guide, two are contemporary, one Middle Eastern and one Japanese, all offering rich and unique dining experiences and high-quality cooking."
Without further ado:
Three Stars: The Inn at Little Washington
Two Stars: Minibar, Pineapple and Pearls
One Star: Bresca, The Dabney, Fiola, Gravitas (new), Kinship, Komi, Little Pearl (new), Masseria, Maydan (new), Metier, Plume, Rose's Luxury, Sushi Nakazawa (new), Sushi Taro, Tail Up Goat.