'The old structure is on the brink of an exciting new chapter in its almost 250-year history'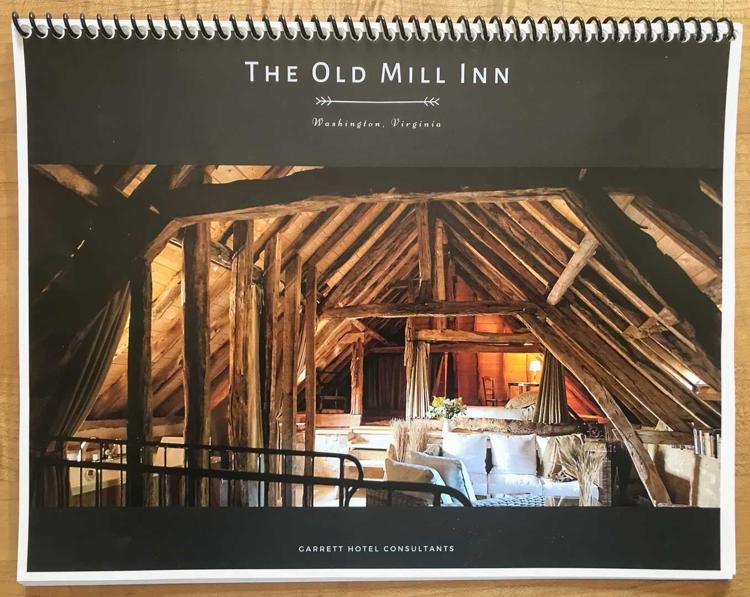 The iconic 18th century grist mill on the edge of Little Washington, which ground wheat and corn for a thriving frontier settlement that would eventually become Rappahannock County, is gearing up to breathe new life as "The Old Mill Inn."
Phase one of a two-phased master plan would have the proposed "four-star destination inn" opening more expeditiously, its focus on renovating the historic mill into a seven-room Airbnb-style bed and breakfast managed with a low overhead.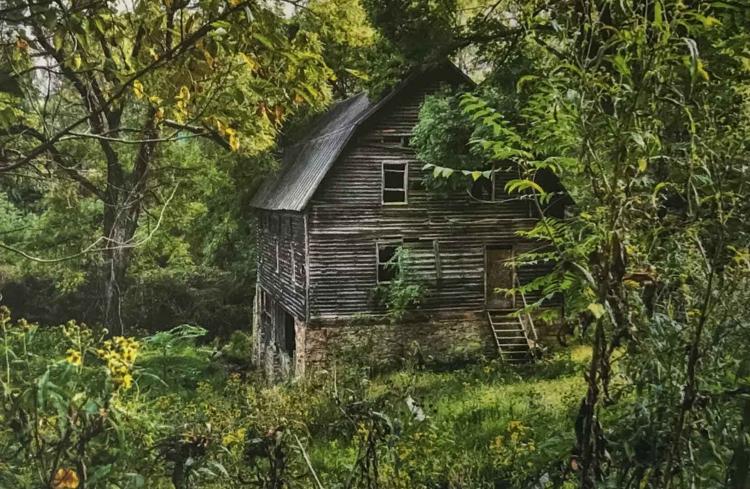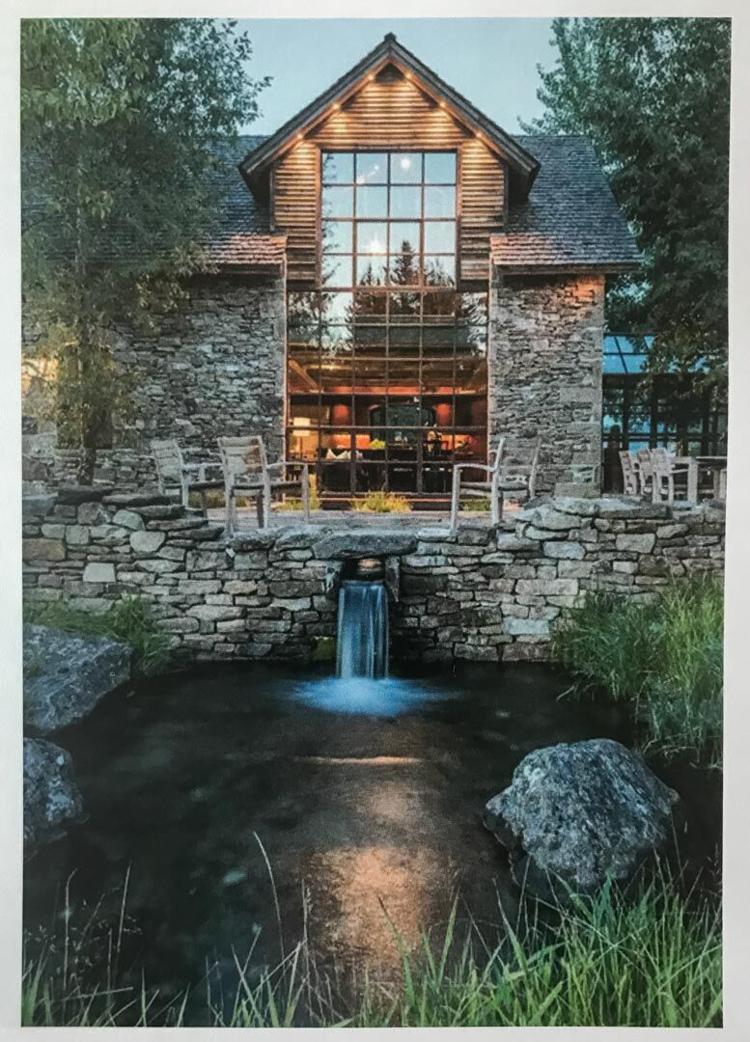 Phase two would bring an additional 10-16 guest rooms, restaurant, outdoor dining plaza, and various other site amenities to a newly constructed "expanded inn" on the western edge of the four-acre property divided by the Rush River and bounded by Route 211, Warren Avenue (Business 211) and Old Mill Road.
Additional proposed features for the eastern end of the property would include riverside picnicking, a multipurpose events cabin, and vineyard.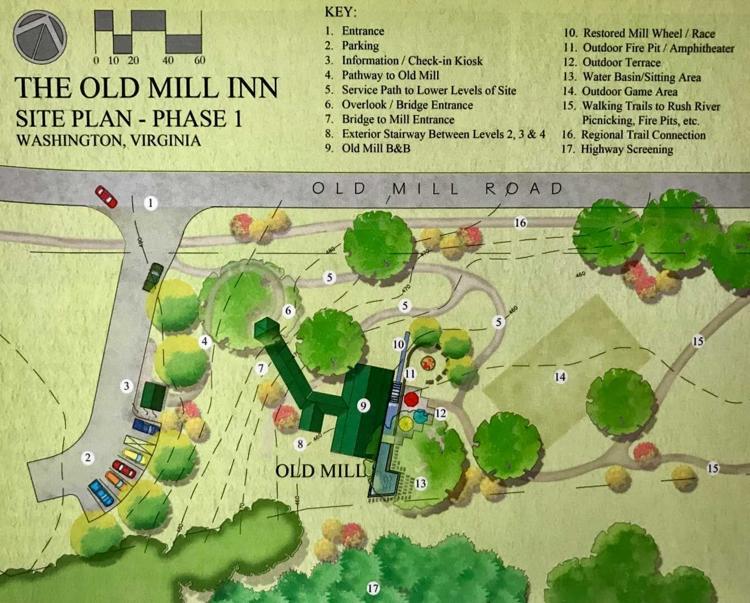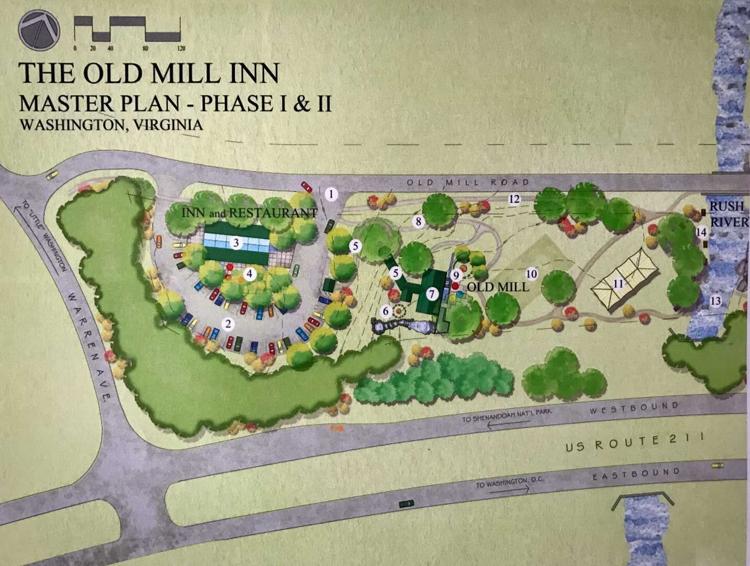 "It's a very special piece of property, frankly, there's a lot of history there," said longtime mill owner Barry Starke, a semi-retired landscape architect and urban planner who in the course of his career actually focused more on "rural planning and parks."
"It's just awesome in there — huge timbers," Starke told the Rappahannock News on Tuesday. "I bought the property almost 40 years ago without any particular use in mind and as I'm getting older I'm beginning to focus [on] it."
The Remington resident, who lives on the banks of the Rappahannock River, is joined in the unique project by Scott Carver, a northern Virginia building contractor who has a home in Luray. According to Starke, Carver was driving along Lee Highway and saw where he'd put the property up for sale.
"We scratched our heads thinking what we could do with the mill and basically came up with the idea of a bed and breakfast," he said. "We ended up hiring these folks — the Garrett company up in [Charlotte] Vermont — and they came down and looked at it and thought it was a great idea."
Garrett Hotel Consultants is well known for having created world-class smaller scale boutique hotels and resorts, as well as re-conceptualizing existing hotel properties. Better yet for the Washington mill and surrounding Rappahannock County, the company specializes in the preservation and adaptive reuse of high distinctive and historic properties.
"Though the mill wheel hasn't turned for a century, the old structure is on the brink of an exciting new chapter in its almost 250-year history, and will soon undergo a thoughtful renovation and adaptive reuse to become a chic and comfortable 17 to 22-room inn," the consultants write in their concept proposal.
The firm calls the old mill, which is listed on both the Virginia Landmarks Register and the National Register of Historic Places, "a rare and intact survivor . . . from a long-ago and far away time" and visualize "a lodging with a style, ambiance and cachet unlike any other in the region."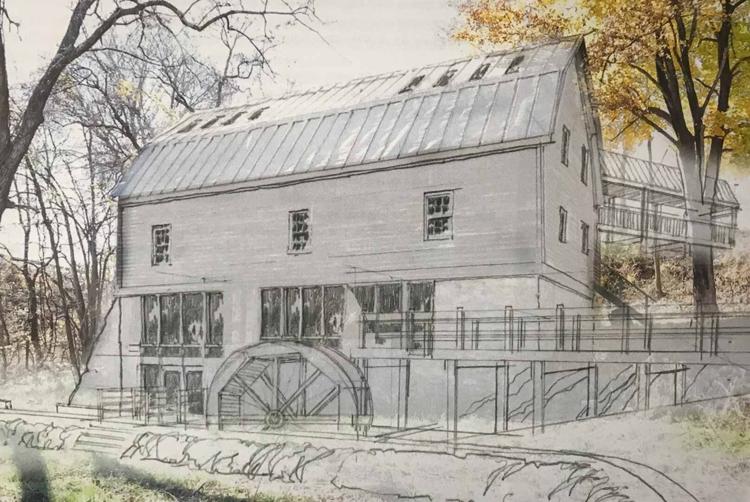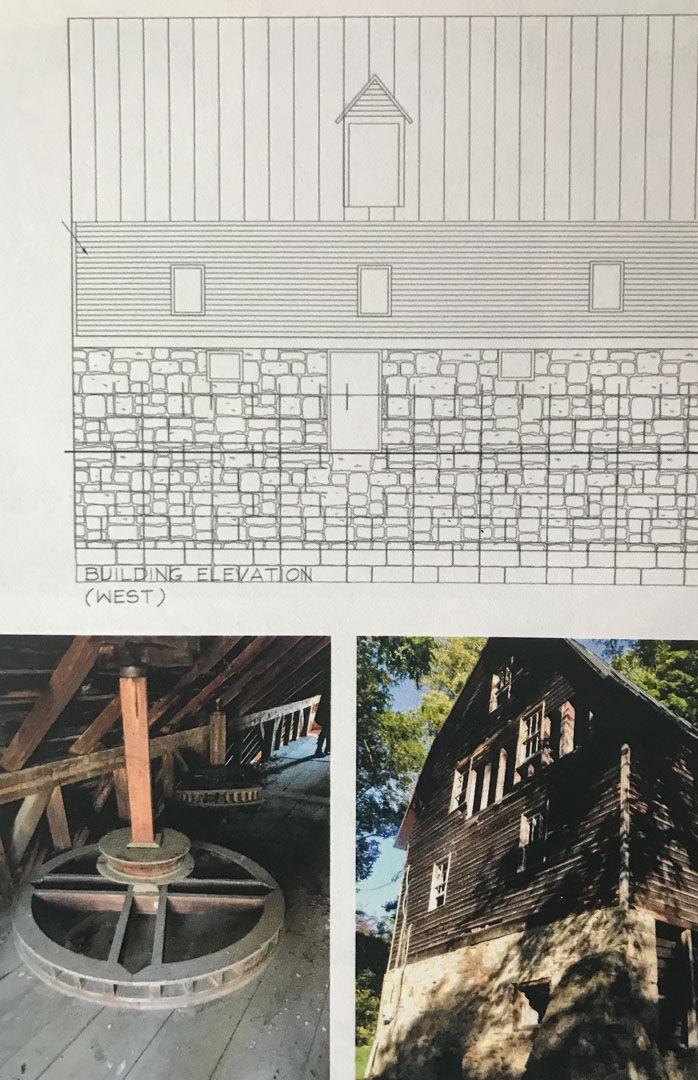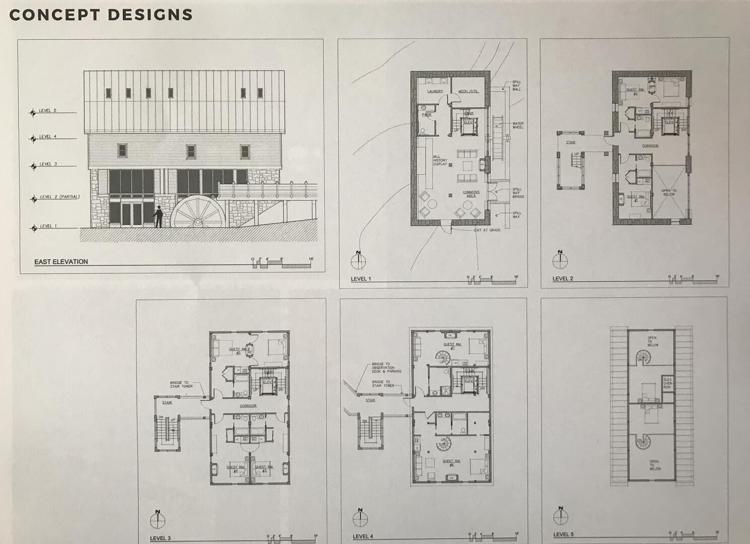 Starke told this newspaper that he and others involved in the project met six or so weeks ago with Washington Mayor Fred Catlin on the proposal, which hinges on a county-to-town boundary line adjustment in order to access the town's sewer system.
"That actually is going to set the timetable," Starke said of the proposed renovation.
Starke praised Garrett for having "really done a great job imaging what this could look like," referring to a transformation of the mill constructed sometime before 1777, with subsequent additions in the 1840s and 1860s. It remained in operation until the early 20th century, then fell into disrepair.
The consultants point out that "local lore" relates that during the Civil War the mill served during periodic "soldier truces" as a neutral site for Union and Confederate soldiers to trade for coffee, tobacco, newspapers and other supplies.
"Nearly a century later, much of the mill's metal components and machinery were scrapped, melted down, and recycled to support WWII munitions manufacturing," they write in the proposal. "However, mill stones, gears and antique wooden components are still strewn around the inside of the building, some remaining in their original locations."
The consultants say that the mill's current metal roof has amazingly kept the original timber-frame structure of the upper three levels of the five-level mill, and the rubble stone foundations and lower levels "in surprisingly good condition."
The mill's "bones are good, and its massive post-and-beam structure stands strong."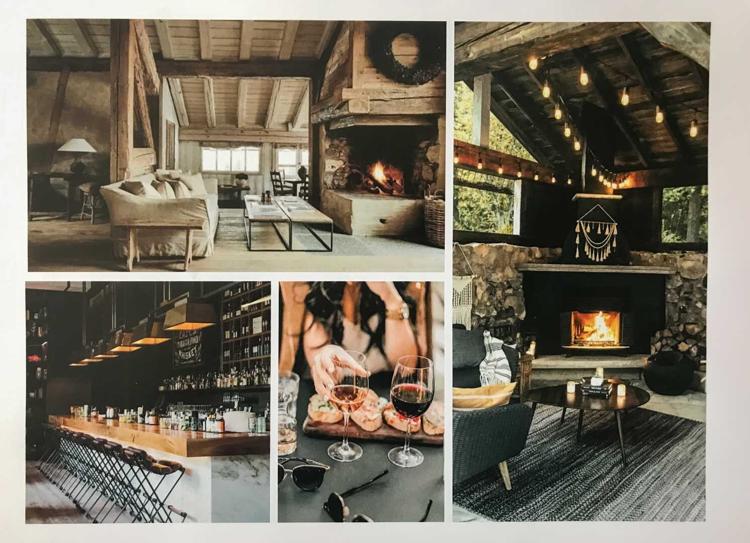 Whereas the old mill sits above a 100-year floodplain, the hotel company says the building, grounds and new construction would all be designed to limit and contain damage in the event of a major weather event. "All equipment and machinery will be located well above flood waters," it states.
All said and done, Garrett proposes that the mill's "robust rubblestone-walled first two floors, wood clapboard siding, and gambrel roof will be preserved, and the mill transformed into an eminently appealing chic, rustic-modern getaway.
"The grounds will be beautifully landscaped and augmented with appealing site features. There will be nothing like it in the Shenandoah Valley or Blue Ridge foothills — no lodging as attractive, welcoming, or frankly, cool."
Starke said Tuesday that the COVID-19 pandemic "has kind of slowed things down a bit, the hospitality industry especially. But it hasn't dimmed our vision at all."
---
Click here to sign up for the C-19 Daily Update, a free newsletter delivered to your email inbox every morning.