Plans for 700+ new homes off of Rt. 211, near Rappahannock line
'We are definitely building Clevenger's. This is not a pipe dream'
Clevenger's Village, a modern suburban residential and shopping complex proposed for the front doorstep of Rappahannock County, is a major step closer to reality.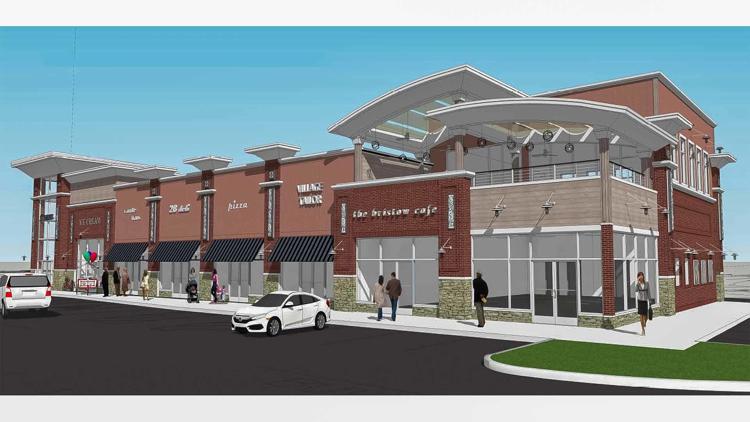 The Culpeper County Board of Supervisors has voted 6-1 to approve a request by developer Emad Saadeh of Saadeh Financial of Northern Virginia to amend proffers for the large commercial and residential development at the intersection of routes 211 and 229.
The 774 dwelling unit plan, which will sit on 1,700 acres and include 12 apartments and eight affordable housing units, will surround a 144,000 square-foot commercial shopping and dining district known as "village commercial," as well a 120-space "employment" commuter lot.
Two 25 acre school sites and a recreational complex are also included in the proffer. The county already owns a water treatment plant, a sewer treatment plant, an elevated potable water storage tank and a network of water lines on the planned development site. 
"We are very excited about the project," Saadeh said. "We did not make the investment and time to buy it and sit on it. The biggest compliment for this project is our background and the strength of our background in commercial development. We also recognize that we are not residential developers so we picked the best of the best builders, who have a presence in Culpeper County to join us and be part of our team."
Saadeh Partners, LLC has developed among other properties Gainesville Commerce — a mix of national brand retail tenants, local businesses, and industrial warehouse space — in Gainesville, Dulles Industrial near Dulles Airport, and the Heritage Center along the Prince William Parkway.
Development of the wooded Clevenger's Corner site has been discussed ever since it was rezoned in 2005. The Clevenger's Village project was originally purchased by Centex Homes in 2005, but due to economic reasons the site was never developed. Centex then sold to Pulte Homes in 2014, and Saadeh Partners bought Clevenger's Village in August 2018. 
West Fairfax District Supervisor Gary Deal questioned what the drainage system would be for the residential aspect of the development, being told it was entirely curb and gutter, while East Fairfax Supervisor Steve Walker questioned if there were parcels reserved for civic use — citing a possible library. Saadeh confirmed that was still part of the project.
The supervisors also questioned other proffers, including recreation. BCedar Mountain District Supervisor Jack Frazier said with more than 700 homes being planned that the recreation aspect needs more attention. Saadeh replied that two soccer fields and two baseball diamonds were contained in the plans.
During the public hearing portion of the meeting, Little Fork Volunteer Fire Department Chief Doug Monaco said his company supports the amended proffers.
"I've covered this area for 25 years and we're in desperate need of a [fire] building," he said. "This would be a big help for us in paying a mortgage on a building."
Deal said that if Monaco supports this, then he applauds the developer for getting the volunteer fire department to buy in.
Along those lines, Saadeh presented an estimate of what the county could expect in tax revenue once the project begins in 2021. Clevenger's is expected to be developed from 2021 until 2029, with a total commercial tax revenue of $3.4 million, according to Saadeh. In personal property tax, the project is expected to bring in $1.1 million and $1.6 million in real estate tax over the life of the construction project. 
During the meeting last Wednesday, Culpeper County Planner Sam McLearen explained the proffers would include minor realignment of a number of residential building lots and deletion of some interior road work — mostly the realignment of Old Bridge Road. Saadeh explained to the supervisors that the reasons for the amended proffers were mainly to eliminate stream and wetland crossings. 
The amendments would apply only the residential parcels owned by Saadeh Financial. The group, which is based in Northern Virginia, now owns all the residential portions of the project and has a contract to purchase designated commercial areas of the development. Two other property owners, Newwales, LC and KMT, LLC, are also involved in the current PUD (planned unit development) and are not subject to this proffer amendment request.
Saadeh said Richmond American and Lennar will build 55, 70 and 80-foot lots in the development in varying styles, while 704 acres will be dedicated to Culpeper County for a land trust.
Jack Gallagher, President of Richmond American, spoke to the board and assured them that this project was viable.
"This meets the demands of what we're seeing in the market today," he said. 
Frazier, the only supervisor to vote against the amended proffers, said he felt it was "real premature" to approve the amendments. 
"We are definitely building Clevenger's," Saadeh insisted. "This is not a pipe dream."