Rappahannock residents Hal Hunter, Gary Aichele and Kees Dutilh collaborated to orchestrate an unprecedented community event this past weekend: Habitat for Humanity/Neighbors Helping Neighbors.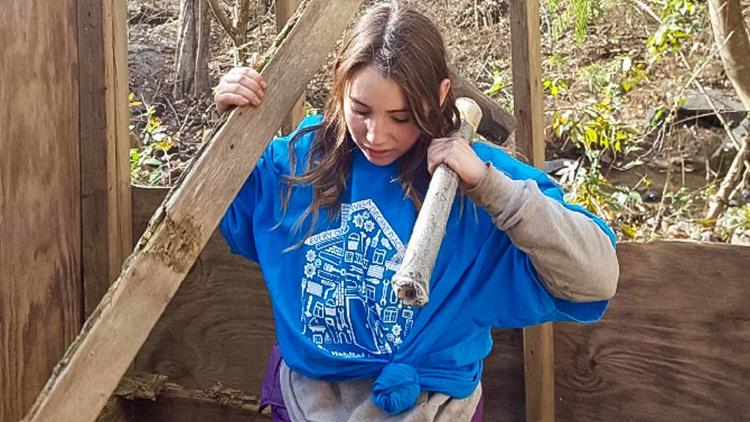 "The number of volunteers who participated in Neighbors Helping Neighbors last Saturday was extraordinary: 75 students and adults working outside for several hours on a cold morning, helping their neighbors," said Hunter.
"After organizing all our lists, we had 75 volunteers with an estimated 395 hours worked. Amazing!," reacted Chris Murphy, Administrator/Volunteer Coordinator for Fauquier Habitat For Humanity.
One volunteer noted that 75 people represents 1 percent of the Rappahannock County population.
Volunteers came from three schools: Belle Meade Montessori School, Rappahannock County Public Schools, and Wakefield Country Day School. Several churches, including Amissville United Methodist, Trinity Episcopal, Washington Baptist and a strong contingent of Reynolds Memorial Baptist Church members also were represented.
Unaffiliated citizens also showed up to help, many with their own tools. 
The event was sponsored by Habitat for Humanity with the assistance of a half dozen nonprofits: Rapp at Home, Rappahannock Benevolent Fund, the National Honor Society, and the Lions Club, also represented by Leo groups at Wakefield and RCHS.
"I discovered that Culpeper had been doing their version of Neighbors Helping Neighbors for ten years, in honor of a teenager named Kelsey, who was killed in a bicycle accident," said Hunter. "The event was called Kelsey's Big Give. 
"A woman in Madison who had volunteered with Kelsey's Big Give said, 'We can do that in Madison!' And she did, earlier this year, when the weather was nice. It was called Madison Day. So I said, 'We can do this in Rappahannock!'
"We selected eight projects for our first Neighbors Helping Neighbors Day, chosen from 19 nominations. A key moment occurred when I discovered that Kees Dutilh, who lives in Sperryville, had served for many years on the board of a group called Rebuilding Together, a national organization that uses the same model. Kees said he would advise, but not get in the trenches. It turns out that Kees didn't just get in the trenches, he shoveled them out with his own hands. We couldn't have done it without him." 
Darryl Nehar of Fauquier Habitat for Humanity shared that he'd received a call from Hunter, who set up a meeting with Kees, the two traversed the county, discussed the needs of the area, and a synergy of commitment to the community was born. 
"Given that Rappahannock is part of Fauquier's Habitat for Humanity's service area, this project enabled us to re-enter the county, having built two homes here in the last 25 years," said Nehar. "We wanted this day to be an entrance for us as rehabilitation and repair of homes is central to our mission. 
"Indeed, we have a program in place to be launched in January 2020 to start making critical home repairs in Rappahannock County. We will create a local Rappahannock advisory committee to navigate these waters. Examples of the repairs that took place this past Saturday included construction of a handicapped ramp and moving another wheelchair ramp to a new location, installation of insulation and new siding, cleaning yards of debris and leaves, enforcing deck stairs and railings, weed whacking, mowing, cleaning gutters, removing dead branches and so much more."
Along with individual home repairs, Neighbors Helping Neighbors volunteers also installed native Virginia plants, trees and signs along the first section of the Sperryville River Walk Trail. By including one community project the organizers hope to lay the foundation for future projects that will continue to strengthen relationships and promote unity in the county. 
Apart from everybody who got their hands dirty, extra thanks were offered by organizers to Aichele, who helped with planning, recruitment and implementation; Chris Doxzen, who handled planning, publicity and recruitment; Mike Cannon who provided supplies; Off the Grid for preparing breakfast sandwiches; and to Reynolds Memorial Baptist Church volunteers for making lunches.