This past week, Magnolia Vineyards of Amissville graciously hosted the Rappahannock Ladies Lunch Bunch and for many of us it was a first time visit. What a treat. They've added a new tasting room, enabling them to host large numbers. It's spacious, glistening with sunshine streaming through the oversized windows, offering 360 degree sumptuous mountain views, a landscape devoid of any sign of neighboring houses, nor farms, nor silos, what a perfect view shed to capture the Blue Ridge in all it's soft swollen glory. 
To the delight of all, especially the Rappahannock Food Pantry's Mimi Forbes in attendance, the Marchiones have a wishing well snuggled on the hillside, lying within feet of the tasting room, framed by lush green grapevines, a tablet inscribed reading that all funds collected from the well are donated to the Food Pantry.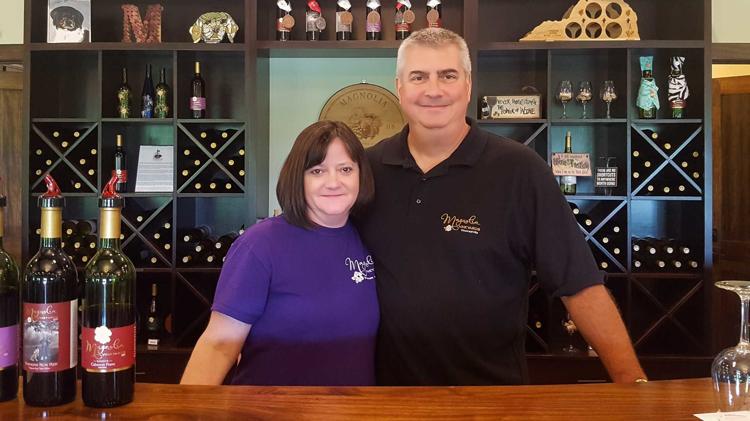 Tina and Glenn tell that their love for all things earthy, Italian and wine literally runs in their blood, with both being able to trace their roots back to the Olde Country.
They met through work (doing IT consulting in Charleston, S.C.) and discovered their mutual interest in wine early on during their first date, shared a bottle of Fat Bastard Chardonnay (selected because they found the name funny) and discussed wine and many other topics late into the night. The bottle from that wine remains enshrined in their china cabinet and despite their passion for red wines they share a bottle of this same Chardonnay every year on the anniversary of that first date.
In 2008 they purchased a 25 acre plot in Amissville and within several years they expanded, purchasing an additional adjacent 25 acre tract, expanded the vines another 3 acres and now have 7 of the 50 acres under vine (with Cabernet Franc, Cabernet Sauvignon, Petit Verdot, Sangiovese, Viognier and Merlot planted). 
The new tasting room opened to the general public this past spring and Glenn tells that when selecting the site, Tina took one look from the tippity top of the hillside and he laughs saying it was a slam dunk decision to choose just that spot. He could tell by her wordless smile. They strive to integrate Olde World hospitality and charm with a casual, laid back and relaxing modern day atmosphere with interior seating for 45 exterior picnic tables and porch seating for another 40 or so and, of course, plenty of open ground for picnickers.
They offer cheese pairings with wine tastings and a variety of light fare for sale. The tasting room (200 Viewtown Road) is open all year long Friday through Sunday 11:30-5:30, plus Holiday Mondays. From March through November the tasting room is additionally open Thursdays and Mondays 11:30-5:30 and for bottle sales all other times by appointment (please call in advance for availability).
The Magnolia Wines Wishing Well is a greatly appreciated addition to the funds collected on behalf of the Food Pantry. Our pantry offers myriad programs including a Pantry Backpack Program. This newspaper has reported about the stunning childhood poverty rate in this tiny county, with 135 children currently relying on the pantry for healthy meals on weekends. Overall, 19 percent of the county's children — 10 percent of county residents — "live in poverty, the highest poverty rate in the Northern Piedmont."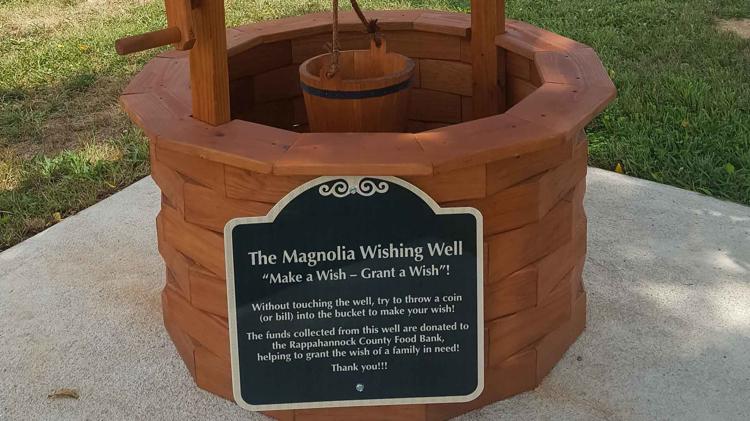 "Thirty-seven percent of our children are food-insecure, yet ineligible for federal assistance," the pantry points out. Then there is the Rappahannock community as a whole that benefits from the pantry. Last year, 253 households — totaling 734 individuals — relied on the facility to put food on the table. Over half were seniors and children.
According to the pantry's Noel Lang, "The best way to make donations to the BackPack Program is with cash. I have to purchase items in individual serving sizes. Of course if someone donates food that is too large for BP, it goes over to the pantry."
The new school year is fast approaching and the pantry is in need of donated highlighters, erasers, calculators, notebooks, 1, 2 and 3 binders, pencil pouches, red, black and blue pens, 5 subject notebooks, and wide ruled packs of paper.
Also the regular needs are appreciated: olive and other oils, mayonnaise, jelly, ketchup and mustard.
The pantry is located in Sperryville at 11763 Lee Highway. Hours of operation are Tuesdays and Thursdays — 9 a.m. to 11:30 a.m. (drop-off), Noon to 4 p.m. (pick-up); Saturdays — 9 a.m. to 10 a.m. (drop-off), 10 a.m. to 2 p.m. (pick-up).