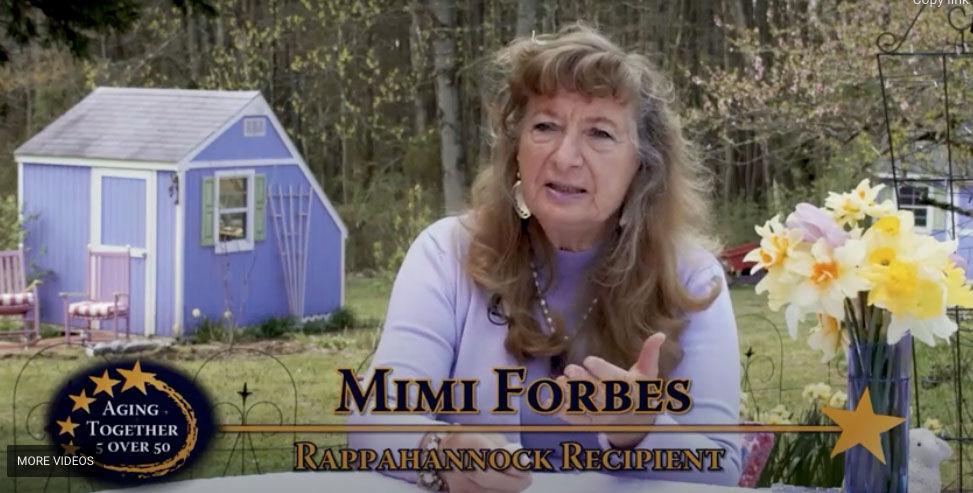 A person does not have to be young to make a positive contribution to society. That was abundantly clear during Aging Together's eighth annual 5 Over 50 virtual ceremony in which older adults were recognized for their efforts to make their communities better places to live. 
The 5 Over 50 event recognizes one individual from each of the five counties in Aging Together's service area (Culpeper, Fauquier, Madison, Orange and Rappahannock) who have gone above and beyond in giving back to his or her community. 
The event was fittingly held in May, Older Americans Month, and this year carried the theme of "strength in community." 
It is a value embodied by every one of this year's 5 Over 50 honorees — Mimi Forbes in Rappahannock, Donalda Lovelace in Orange, Delano "Dink" Kreis in Madison, Liz Danielson in Fauquier and Frank Bossio in Culpeper. Aging Together Chair Lisa Peacock said all five made differences in their communities while showing strength and making the world a better place. 
"The heartbeat of Rappahannock" 
While Mimi Forbes' formal title is director of the Rappahannock Food Pantry, she is also known as "the heartbeat of Rappahannock County." 
Crystal Hale, an Aging Together board member, explained the nickname was born from Forbes' loving attitude and willingness to always ensure everyone is taken care of in Rappahannock.
"She has such a great, positive impact," she said. 
And Forbes enjoys expressing her care for others, as she is also known as "the mad hugger." While the food pantry continued feeding residents throughout the pandemic, Forbes said it has been difficult "to not be able to hug people when they need it." 
---
---
Danny Wilson, Forbes' neighbor and a volunteer at the pantry, described her as a unique person with excellent people skills and "a big, warm heart." He explained Forbes has an uncanny ability to connect with everyone no matter their situation or income bracket. 
"She tends to view them as people," Wilson said. "Folks that may be a little bit ostracized for some reason or another by society are embraced by Mimi … I think it's just part of who she is but I think it's part of her spiritual practice as well." 
While Forbes is very proud to be selected as a 5 Over 50 recipient, she said: "Well, you know, it's my job … It's a job that I really love to do and it's nice to be awarded for doing it," she said. 
Bette Mahoney, the founding Rappahannock Pantry Board president, said Forbes has performed outstandingly in the job she so dearly loves. No matter what resources she has or lacks, Mahoney said Forbes always manages the pantry with "charm, enthusiasm and a willingness to work with what she had or what she could get." 
"Serving the clients was always her primary goal. Over the years, she continued to serve them while also managing the resources through periods of crisis as well during the better times," Mahoney said. 
Patty Hardee of Rapp at Home agreed, describing Forbes as "a dynamo." 
"Her sunny disposition, empathy and managerial skills are an unbeatable combination," Hardee said. 
Culpeper is 'blessed' to have Frank Bossio 
When Frank Bossio was Culpeper County's administrator, a disgruntled farmer decided to tie a dead cow to a fence in the county administration building's parking lot. 
Instead of expressing anger over the unique situation when queried by a reporter, Bossio quipped that some citizens pay their taxes with money while others stray pay with beef. 
Sue Hansohn introduced Bossio during the 5 Over 50 ceremony and applauded his sense of humor. But it certainly is not that attribute alone that led to him being recognized by Aging Together. More so, he was honored for his long-standing dedication to helping local youth understand the importance of education and the training options available. 
Even when he was busy with the duties of a county administrator, Hansohn explained that Bossio found time to devote to Culpeper's youth. He is a long-time member of Career Partners and has mentored numerous students through the program as they prepared for the E Squared competition. Additionally, he has been involved with the 5th grade STEM program, New Pathways Tech, the Service Academy Board and the American Association of Airport Executives. 
"I think we're just really blessed to have him in our community," Hansohn said. 
Bossio said his primary interest is ensuring young people have the opportunity to receive a quality education that includes hands-on training so they understand how things work. A Navy veteran, he is also a member of the Young Eagles program that introduces children to the wonders of aviation during rides in a small plane. 
Through these efforts, Hansohn said Bossio has inspired younger residents to have a forward-thinking and "go get" attitude that has led to lasting results. 
Bossio's advice to younger folks is that all success essentially boils down to "building relationships and knowing what the right question to ask is." He also encourages the youth to always be inquisitive and learn new things.