On Valentine's Day, a group of "Rappers at Home" lifted their voices in song, accompanied by Hal Hunter at the ivories of the Steinway at the Washington Schoolhouse, what was billed as a Valentine's Day Sing-a-Long and Happy Hour.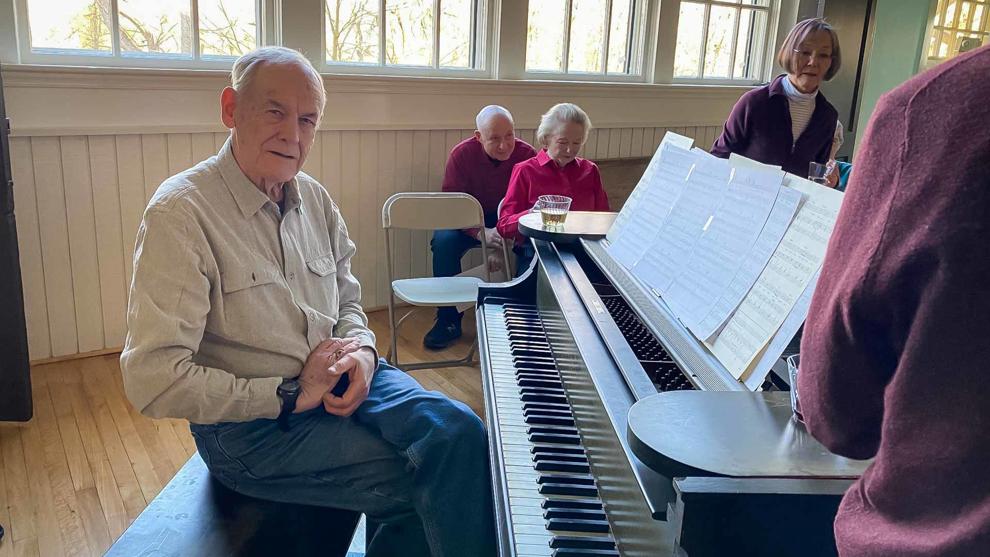 Danny Wilson MC'd while Hal was at the piano, and later sat down and played himself. Music selections included classic love songs such as "My Funny Valentine," "Young at Heart," and "True Love."
At the happy hour following the sing-a-long, Kathy Eggers, Rapp at Home Activities Committee Chairman, said: "It's important for older folks, especially those who live alone, to have social interaction on a regular basis. Because Rappahannock County is so rural, neighbors are far apart, and social isolation and loneliness can be a problem for many of us."
Rapp at Home is a non-profit 501(c)(3) member organization of friends and neighbors — age 50 and over — who join to have fun, keep active, and help each other stay safe and comfortable in their homes. It is a member of the Village to Village Network that has local "villages" all over the U.S. 
Along with social events, Rapp at Home volunteers offer a helping hand with rides for medical appointments, prescription and grocery pick-ups, simple in-home tasks, and even emergency pet care.
Although only five years old, Rapp at Home has nearly 200 members — making it one of the largest rural villages in the country. It offers a variety of activities and will help arrange rides for those who are not able to drive. 
Regular activities include a Life Stories writing group; happy hours; a book club; speakers; cultural activities; monthly conversations on topics related to aging; workshops on health, exercise, and fitness classes; and help with respite care and friendly check-ins from volunteers. 
Last week, in addition to the Valentine's Day Sing-a-Long and Happy Hour, members gathered at Central Coffee Roasters to hear Maggie Rogers talk about all things coffee. This Wednesday a poetry reading by three Rappahannock poets was scheduled. 
At the sing-a-long, creative license was opted for a couple of the love songs. The popular 1965 Beatles tune was modified to fit the participants, most of whom were well past sixty-four: "Will you still need me? Will you still feed me when I'm ninety-four?"
For more information, please check out the web site www.rappathome.org or call 540-937-4663. Anyone 50 or older who is interested is encouraged to make contact, even if you cannot afford membership fees.