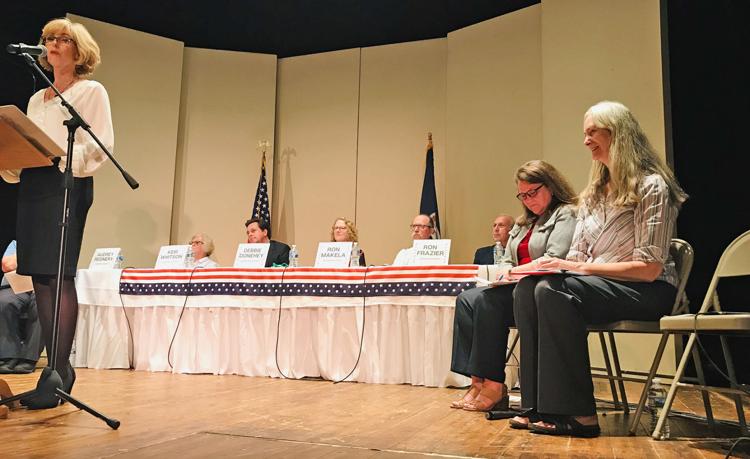 Nine of the 13 declared candidates for open seats in the Rappahannock County government took to the stage of the Little Washington Theatre Saturday night for what mostly was a refreshing dose of civil discourse for once.
---
Watch the forum
---
On hand were Rappahannock County Supervisor Ron Frazier and his challenger, Ron Makela, representing the Jackson district; Audrey Regnery and Keir Whitson, who are vying for a Hampton district BOS seat being vacated by U.S. congressional candidate John Lesinski; BOS candidate Debbie Donehey, who is running unopposed for the Wakefield seat of retiring Chair Roger Welch; incumbent Treasurer Debra Knick, who is running unopposed; Revenue Commissioner Mary Graham; and from the School Board longtime chairman Wes Mills of the Jackson district, and Lucy "Pud" Maeyer of the Hampton district.
Sending regrets beforehand were Sheriff Connie Compton; Lavonne Adkins, who is challenging Graham for Revenue Commissioner; and School Board member Chris Ubben of the Wakefield district. County Attorney Art Goff, who had confirmed his attendance in advance, was a no show.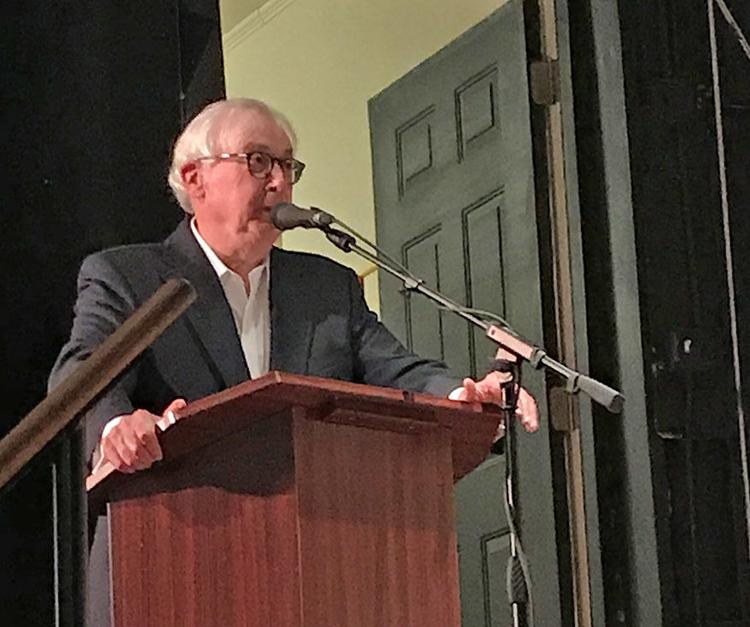 In his questioning, forum moderator John Fox Sullivan stuck to major issues facing the county, including for the schools "declining enrollment" and "safety" concerns, purposely skipping past, as he noted, the criminal arrest in recent weeks of Rappahannock County Elementary School Principal Ben Temple, which board members are not permitted to discuss anyway.
He quizzed Treasurer Knick on the substantial strides she's taken in her office, including inroads with delinquent tax payments and collections, bringing the office up to 21st century speed and efficiency, and how to generate additional county tax revenue, including tourism. Revenue Commissioner Graham, when it came her turn, similarly expanded on major computer upgrades to her office, coupled with analyzing and crunching numbers for the first time that in the future will assist BOS members in better understanding the current financial makeup of the county.
The entire board of supervisors not up for reelection were in attendance to observe the forum, including outgoing Chairman Welch, who after being introduced by Sullivan was given a standing ovation by the crowded audience.
To the five BOS candidates, who were seated behind a single table, Sullivan asked a series of questions, including to what degree "growth" should occur in the county; to what extent there should be "digital access" in Rappahannock; and problems with updating the long-overdue Comprehensive Plan, not to mention zoning and other county ordinances deemed "outdated." 
There were questions about "infrastructure," and preserving — or not — the county's several historic office buildings known as Courthouse Row, all needing significant restoration if not extensive repairs. And the county's wastewater systems, some in better shape than others, were also a topic of discussion. 
Sullivan finally turned the "elephant in the room" — or more than one elephant, it turned out.
There are the numerous pending lawsuits against the county government, including for alleged FOIA and COIA violations. And an increasing "lack of civility" not only among certain BOS members but other appointed office holders when conducting the county's business.
And while Goff wasn't in attendance, the five BOS candidates were asked either "yes or no" whether if elected would support his wearing his two current hats — county attorney and commonwealth's attorney. Their answers to these and the other questions may or may not surprise readers.
About 30 minutes was set aside for questions from the audience, one surrounding "accountability,"  another what the candidates would most like to "achieve" if elected. Each of half-dozen-plus questions generated thoughtful responses from the candidates.
The Rappahannock News, which co-sponsored the forum with Businesses of Rappahannock, will soon bring readers an in-depth story on everything the candidates had to say.