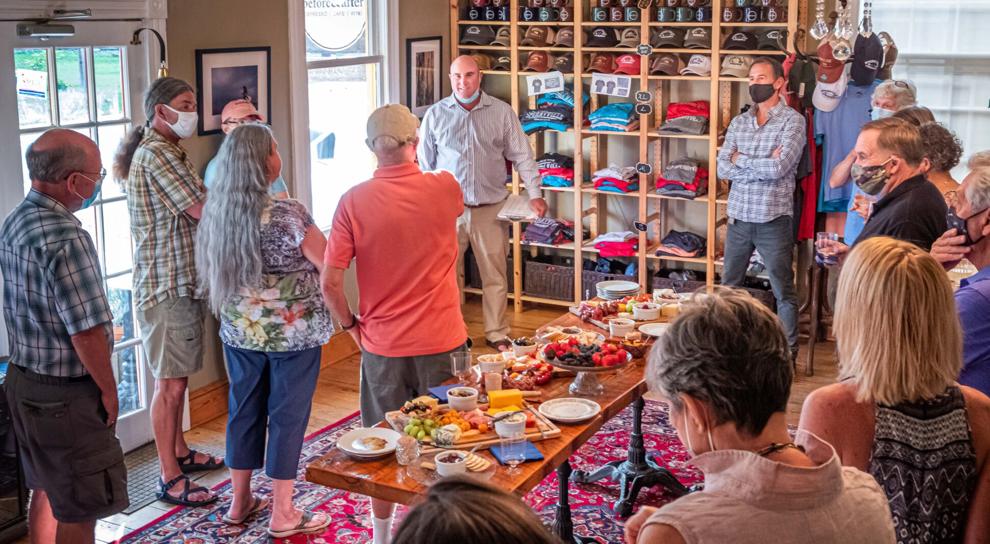 At a meet-and-greet last Friday at Sperryville's Before and After, folks questioned and listened as Piedmont District supervisor candidate Cliff Miller addressed the big issues facing the little village that is the gateway to Shenandoah National Park.
Miller talked one-on-one and to the group – a combined audience that likely topped 50 over the two hours of masked mingling. Some stayed the duration; some stayed long enough to ask their questions and grab a bite. (The masks slipped down every now and again for the impressive finger food buffet of charcuterie, fresh bread and fresh fruit – strawberries so juicy, they had to be eaten with a napkin in hand.) 
Host Kerry Sutten, owner of the cafe, introduced Miller as coming from a family "that just gets things done." Now at the forefront of environmentally sound farmland and open space management to protect and enhance natural resources, the Millers have always "seen the value of building community," Sutten said. In addition to essentially donating the land for the village's treatment plant that stopped raw sewage from being flushed into the Thornton River, the family helped establish the popular River Walk trail, and he noted that they were the last-minute enablers of the inaugural Sperryfest, providing parking on both sides of the highway for the unexpectedly successful event. "Cliff Miller cares where this community goes in the future," Sutten concluded.
---
---
In his opening remarks, Miller said he didn't see constituents — instead he saw "friends and neighbors" that he would look to for consensus in guiding his votes as supervisor. "I'm someone who likes to problem solve. I want to hear other people's perspectives and find a solution that works for everyone," he said. 
Miller agreed "100 percent" with lowering the speed limit through the village and acknowledged that with a third brewery opening, driving safety issues are likely to bubble up more and more. He also noted that it would take dogged persistence from local government to push VDOT to take action, and as the Piedmont supervisor, he promised to be that "squeaky wheel." 
On the question of official boundaries for Rappahannock's five villages and the complaint that Sperryville's proposed boundary looks "gerrymandered," he maintained that  "drawing a line on a map is not the way to do it," echoing the sentiments of other speakers that it's time for professional planning expertise to set village boundaries and update the county's zoning and subdivision ordinances. "Maps scare a lot of people. So much needs to be taken into consideration," he added. For instance, Sperryville's sewage treatment system – "where do we need to be in 10, 20 years?" As a supervisor, Miller said he would encourage setting aside time to address "the big picture and long-term challenges ... I want this county to be a place where young families can live." 
To a question on Sperryville's stretch of highway commercial zoning to the park's boundary with its long list of by-right uses and large and small lots, all entitled to sewer hook-ups, Miller replied: "I'll have to learn more about that."
He voiced opposition to calls for taking down old trees and old houses in the village and called for the preservation of Sperryville's historic character, important in attracting tourists and their dollars. And he applauded the adaptive reuse and repurposing of old structures by "young people doing exciting things." 
And, of course, that contentious "Welcome to Sperryville" mural on the Happy Camper Equipment Co. came up, as it was noted that the incumbent Piedmont supervisor, while chairman of the board for one year and vice chairman of the planning commission for two, had failed to address the issue of art in public places. "This is an arts community," Miller replied, saying that as supervisor, he would try to remedy the omission with policy. "It's absurd to construe that mural as advertising."
In closing, Miller invited his listeners to visit his web site. Newly live last weekend, it will set out what Cliff Miller stands for and give residents an opportunity for two-way communication, he concluded.