Meese: 'I've been a great fan, a great admirer of local government for a long time'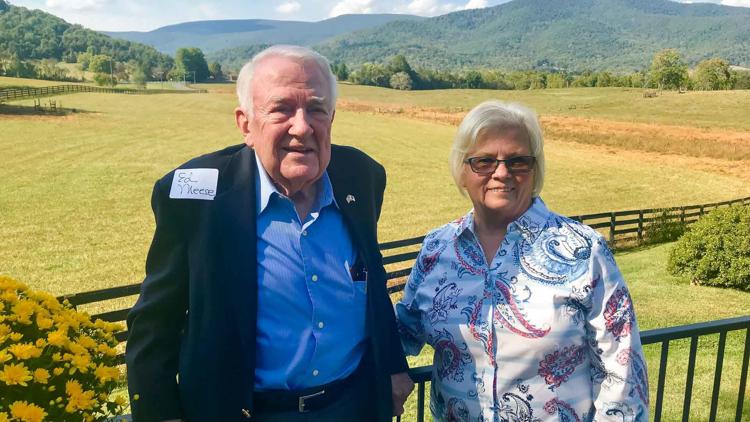 He was the 75th Attorney General of the United States under Ronald Reagan, and prior to that White House Counselor to the President. But hearing Edwin Meese III speak so enthusiastically — and knowledgeably — about the importance of local government in our lives, you'd think he himself was a candidate for the Rappahannock County Board of Supervisors.
"I've been a great fan, a great admirer of local government for a long time," Meese told a Sunday gathering of supporters of Audrey Regnery for Hampton district supervisor. "It's been my privilege over a lengthy period of time to have worked with government in almost every level.
"I worked initially for a small city of 10,000 people, just a little bit larger than what this county's population is," he recalled. "I worked in county government as a lawyer. I worked in state government in the state of California... And then I worked in the federal government. I can tell you that there's no place that means more to people than local government.
"And that's why I admire very much what Audrey is doing running for the board of supervisors here."
Meese, 87, who also found time during his illustrious career to serve 34 years in the U.S. Army, retiring as a colonel in 1984, acknowledged that he and his wife, Ursula, longtime friends of the Regnerys, are "not real Virginians."
"I understand you have to be here at least 100 years before you're considered real Virginians, but we've been here since 1981, so that's pretty good… we almost half qualify!" he joked. "But we also qualify because we love this part of the commonwealth, as you all do. We're not too far away — we have our lake house at Lake of the Woods, which is off highway 3 almost halfway between Fredericksburg and Culpeper… So I was very honored when Audrey asked if I would come out and talk with you a little bit today."
Speaking specifically of Rappahannock, Meese said it is abundantly clear that citizens here want to preserve their "quality of life," although this day and age that doesn't come cheap.
"You have to have integrity, initiative, and imagination to do everything possible on the board of supervisors… The money is scarce, you all know that," he said. "Economics, education and safety are the [three] mainstays for the quality of life in a place like this.
"I know with your schools here you have a relatively small number of students [approximately 800 today, down from 1200]. But they [Rappahannock public schools] also require everything that a much larger county might require: they need the overhead, they need the maintenance… adequate facilities, adequate teachers, adequate principals, and the other things that provide a good education…
"[V]olunteer fire efforts are extremely important," Meese continued. "Right now… in the commonwealth of Virginia a real effort is being made in order to improve the conditions and the operations of the volunteer fire departments, because it is getting harder and harder to get people to volunteer for that task."
As for the economy, what with the unparalleled scenery Rappahannock has to offer, he recommended more investment in "tourism" —  with the "government's role creating an environment where people have and operate their businesses [while providing] a place to come for tourists."
"That's why this is such an important election," Meese said, glancing at Regnery. "Making sure that [elected officials] are looking ahead to what the challenges are of the future, making sure the decisions they make are not just going to be good between now and the next election, but they're going to be good in the next decade."
Getting elected to the BOS, he concluded, "is not just kind of an abstract thing of somebody who is sitting in city hall someplace, or a state legislature where they're almost invisible, but in local government — particularly in small counties — local government is truly your neighbor." 
Editor's note: As noted in Edwin Meese's introduction Sunday, Audrey Regnery's husband, Al, served as Deputy Assistant Attorney General of the Land and Natural Resources Division of the U.S. Department of Justice, and later was appointed by Ronald Reagan as administrator of the Justice Department's Office of Juvenile Justice and Delinquency Prevention, during which time he worked on the "Meese Report," an investigation into pornography ordered by Reagan. In 1992, Regnery Publishing released Meese's book, "With Reagan: The Inside Story."