Rapp Dems' Bluegrass Brunch serves up contenders for Piedmont, Stonewall-Hawthorne representatives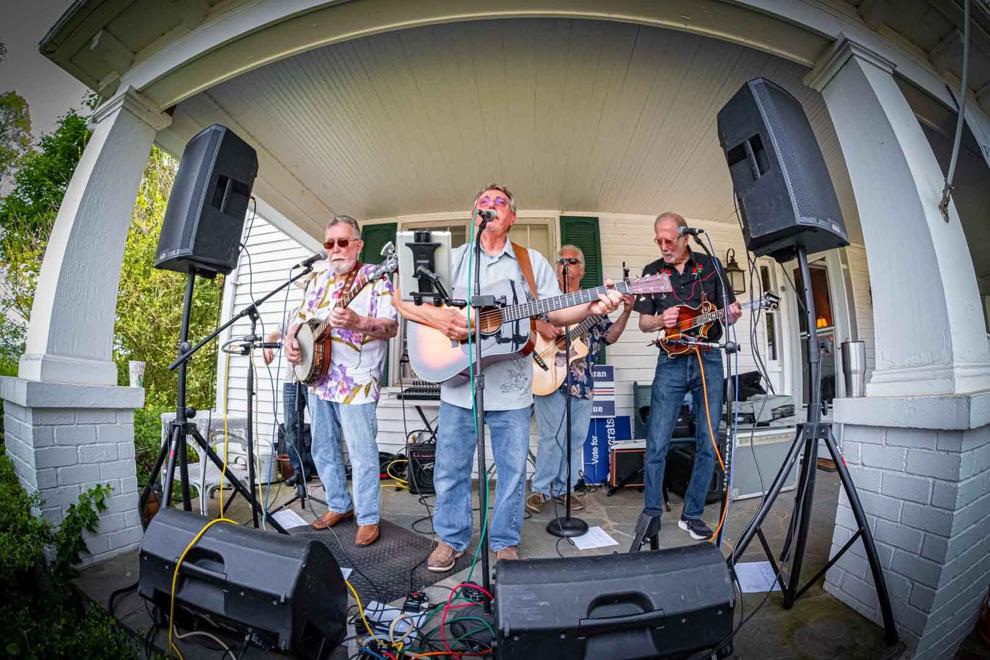 Candidates for Rappahannock County's Board of Supervisors gave their debut addresses last Saturday morning to a crowd gathered at an event organized by the Rappahannock County Democratic Committee. The bluegrass brunch and art auction was one of the first political gatherings in the county in more than a year. 
"The Brunch turned out better than we could hope! We had a big bipartisan crowd of over 125 gathered at the front porch of Mountain View on Eldon Farm, framed by Blue Ridge on a bright sunny Saturday," said Mary-Sherman Willis, chair of the Democratic Committee. "Dr. Doug Ward, Democratic candidate for House of Delegates District 18, led the speakers, followed by Christine Smith and Cliff Miller, Piedmont district candidates for the Board of Supervisors, and Dave Konick and Van Carney, running for Stonewall-Hawthorne. The food was delicious and the Bentwood Rockers gave us some fabulous bluegrass."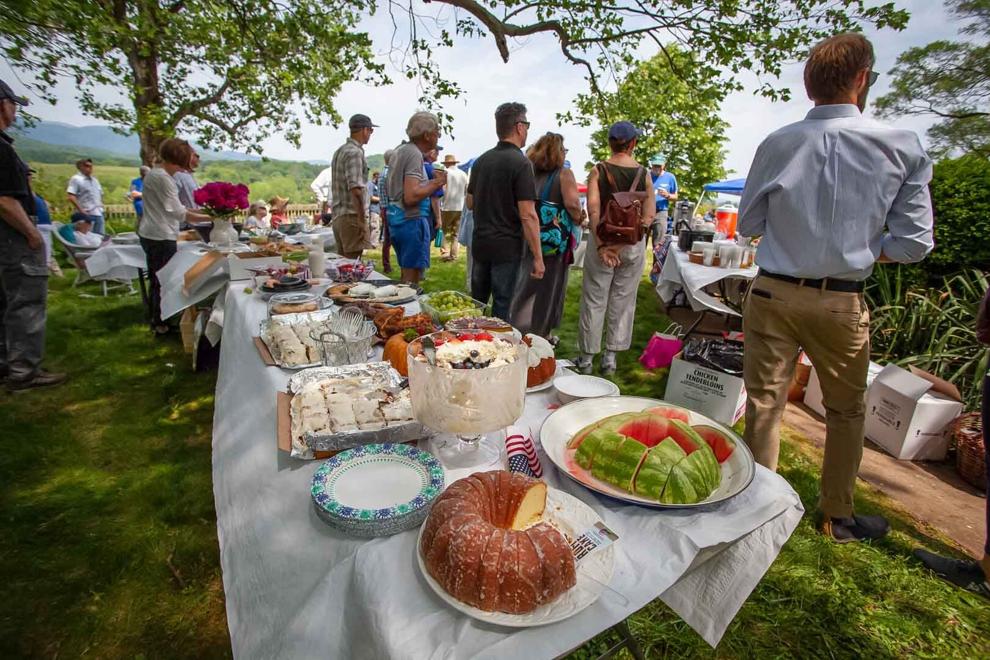 By way of introduction, the Rappahannock News asked each of the candidates a few questions about their take on county affairs — and what their perfect day in Rappahannock looks like. Dave Konick and Christine Smith gave their answers in person. Van Carney and Cliff Miller submitted written responses.
---
Cliff Miller, Piedmont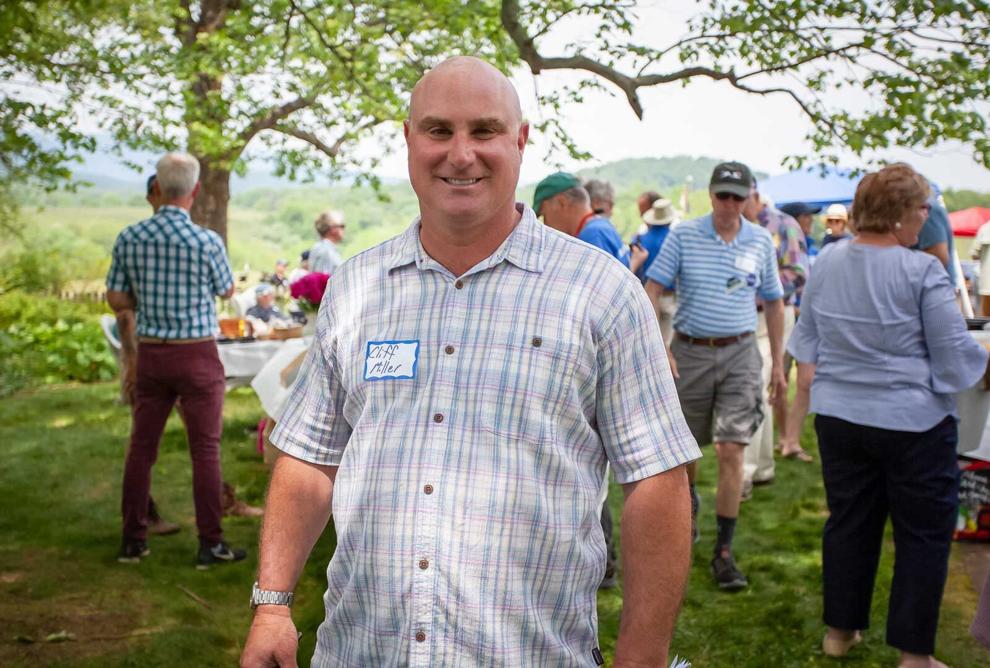 What do you think of the Rush River Commons development? 
The Rush River Commons appears to be a project that would be a valuable addition to the county. High density vs sprawling residences, viewshed preservation, ecologically sensitive planning, integration with local businesses and nonprofits … there's a lot to like there. Mr Akre's track record of successful long term value investing is also reassuring. My initial impressions are generally very positive, but as with any proposal of this scope the devil is in the details.
What makes you stand out?
Running a business in Rappahannock provides an intimate look at the local economic and demographic shifts underway in the county. As one of the largest employers in the county I have a clear understanding of the challenges we will face in the coming years. The Supervisors have the difficult task of preserving the unspoiled beauty of the county while attempting to protect a fragile local economy and making this a place people can afford to live and work. I'd relish the opportunity to put my skills to work as the representative for the Piedmont district.
What's your idea of a perfect day in Rappahannock?
That's a fun question. I'd wake up and go on a morning walk with Jordan, Anna, and Harper (our golden).  We'd visit Waterpenny and pick up peppers, potatoes and eggs for breakfast. I'd visit the schoolhouse and check in with the pub and golf course employees. We'd talk about all the small things we could do to make things incrementally better. After lunch we'd play nine holes and walk over to Pen Druid for a post round beer on the Community Alliance trail. We'd meet friends and family for Greenwood Farms burgers at the pub for dinner and laughs. And finally we'd put Anna in her crib and sit on the front porch to look at the stars and listen to the spring peepers. If it seems like this answer is filled with shameless plugs for local business … it is! It's thrilling to be surrounded by so many talented and driven local entrepreneurs.
---
Christine Smith, Piedmont (incumbent)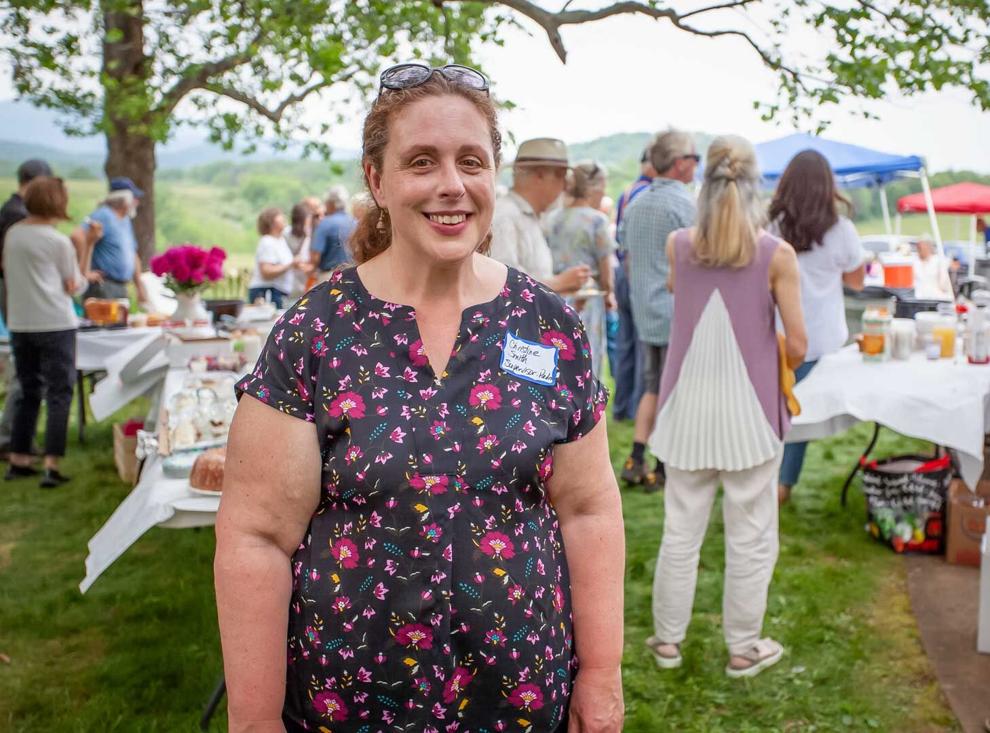 What do you think of the Rush River Commons development? 
I don't have an opinion on it. It looks like it's become a town project … It was never brought before the board of supervisors, formally. Any kind of boundary line adjustment like that is a legal and political and zoning decision. … But in terms of the actual paperwork and information that should follow that sort of a project, we didn't have it. It was a short presentation and a website. And so it was never brought to the board and so I don't consider it to be board business.
What makes you stand out?
What makes me stand out from my opponent is my track record of proven leadership. I've worked hard for the people of Piedmont district for the last three years, and I would appreciate the opportunity to continue to do that for them. I understand the many, many complicated situations and challenges the county faces. I am poised to continue to do the work and I look forward to doing it. I enjoy it, and I relish the opportunity to continue to serve as the supervisor to represent the Piedmont district on the board of supervisors.
What's your idea of a perfect day in Rappahannock?
A perfect day in Rappahannock? It would be a blue sky with white fluffy clouds, usually something with water by the river would be nice. I have a family that likes to catch fish so there'd probably be some fishing involved and and just a lot of time spent outside enjoying the splendor of Rappahannock County.
---
Van Carney, Stonewall-Hawthorne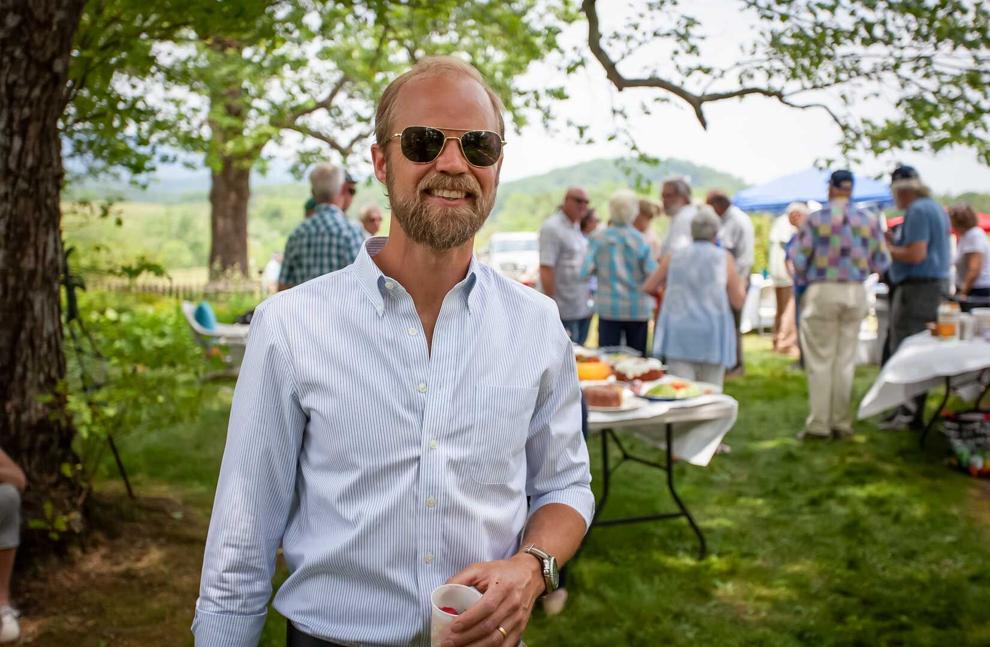 What do you think of the Rush River Commons development? 
The 2020 Comprehensive plan envisions that higher density development will take place in the town and villages. Currently from what I know about the project, Rush River Commons seems to be pursuing this very thing within the town of Washington.
What makes you stand out?
I grew up here and returned to raise my family and start a small business.
What's your idea of a perfect day in Rappahannock?
Being with my wife and three children having a picnic on the river I grew up on, the Thornton River.
---
Dave Konick, Stonewall-Hawthorne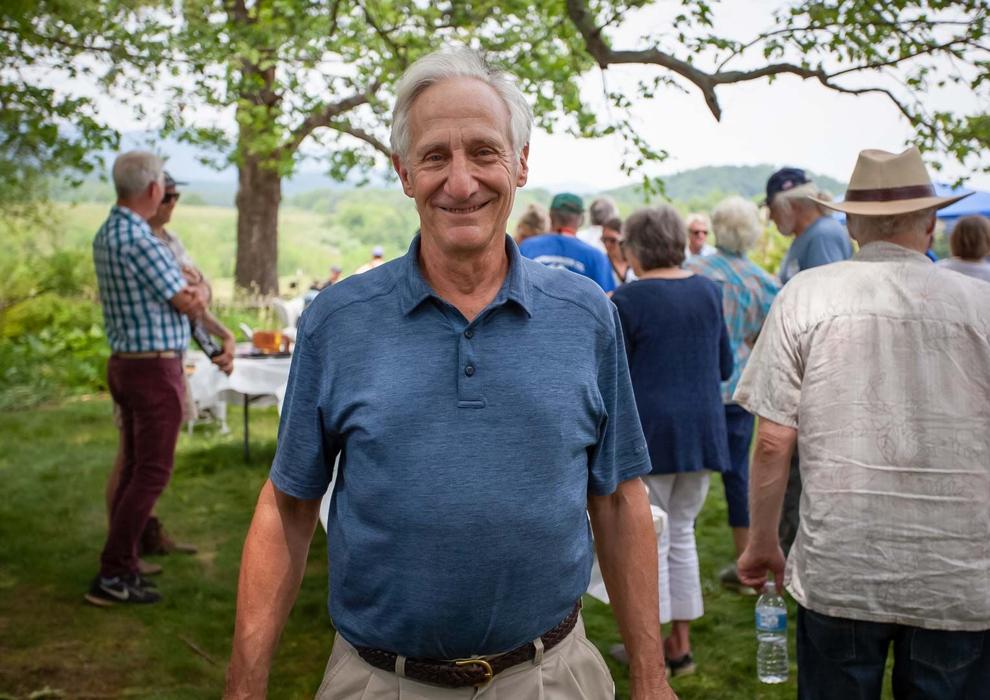 What do you think of the Rush River Commons development? 
If the town likes it, I don't particularly have a problem with it … Assuming that it passes muster, which [it] would obviously have to do, regardless of what the county's view — or the town's view — is of the project. I mean, I think it's a very laudable thing, and I'm especially happy that the food pantry would find a permanent place there. So I think that's all great. … I really don't feel like I should comment on whatever the specifics are, because I haven't seen them yet. But the concept I really don't have a problem with as long as the traffic issues and wetlands issues and things like that are satisfactorily addressed.
What makes you stand out?
I think my experience as an attorney, and my experience as zoning administrator, as member of the board of zoning appeals [and on the] planning commission is very, very important and critical. You know, it's wonderful that everybody got up and talked about what their vision is. But you know, as they say, the devil's in the details and … I helped formulate the zoning ordinances that we have now back in the 1980s. And so it hasn't been revised in a substantial way for some 35 years. And I know where some of the loopholes and ambiguities and trouble spots are … And I'm prepared to hit the ground running on all those issues.
What's your idea of a perfect day in Rappahannock?
My perfect day in Rappahannock County is waking up and looking out and, where I live, seeing Red Oak Mountain in all its splendor no matter what season of the year it is. And not hearing any traffic, not seeing any cars. Just having a quiet, peaceful place where if you have to go somewhere, you might go somewhere and then you can go back to your own house and live in tranquility and enjoy your own property, and basically be left alone to enjoy your little slice of heaven.
---
---