Seven voters affected; 'none of us acts unilaterally or without due diligence,' registrar says  
The Rappahannock County Electoral Board incorrectly moved — but subsequently corrected — two voters out of Stonewall-Hawthorne District and into Piedmont District after receiving a tip from somebody outside the organization that seven voters were incorrectly located in Stonewall-Hawthorne.
The remaining five voters were found by officials to be incorrectly in Stonewall-Hawthorne and were moved to Piedmont on Sept. 8.
The error, which officials said was "an honest mistake" and was remedied last week, resulted in a clash between county election officials and Van Carney, candidate for the Board of Supervisors in Stonewall-Hawthorne district who argued there was a lack of transparency throughout the process.
While Carney said he has tried to seek clarity about what happened, the Registrar of Voters and Head of the Electoral Board Denise Chandler say that the candidate has been "harassing" and "slandering" their office by sending officials several emails and text messages, and Carney implied through messages sent to election officials that the decision was made "unilaterally" by the Registrar of Voters Kim McKiernan, which both the board and McKiernan dispute.
"Mr. Carney's concern was answered painstakingly by two Electoral Board members and myself repeatedly yesterday, including after hours," McKiernan wrote in an email to the Rappahannock News. "The Electoral Board and I are a team and none of us acts unilaterally or without due diligence. Regardless of where the concern came from, the Electoral Board and myself researched it thoroughly, and served our voters by verifying their correct precincts."
Carney said he had a contentious phone conversation with Chandler about the issue, and Chandler said she's been frustrated with the situation, because she feels she's answered Carney's questions, but said Carney has continued to send messages.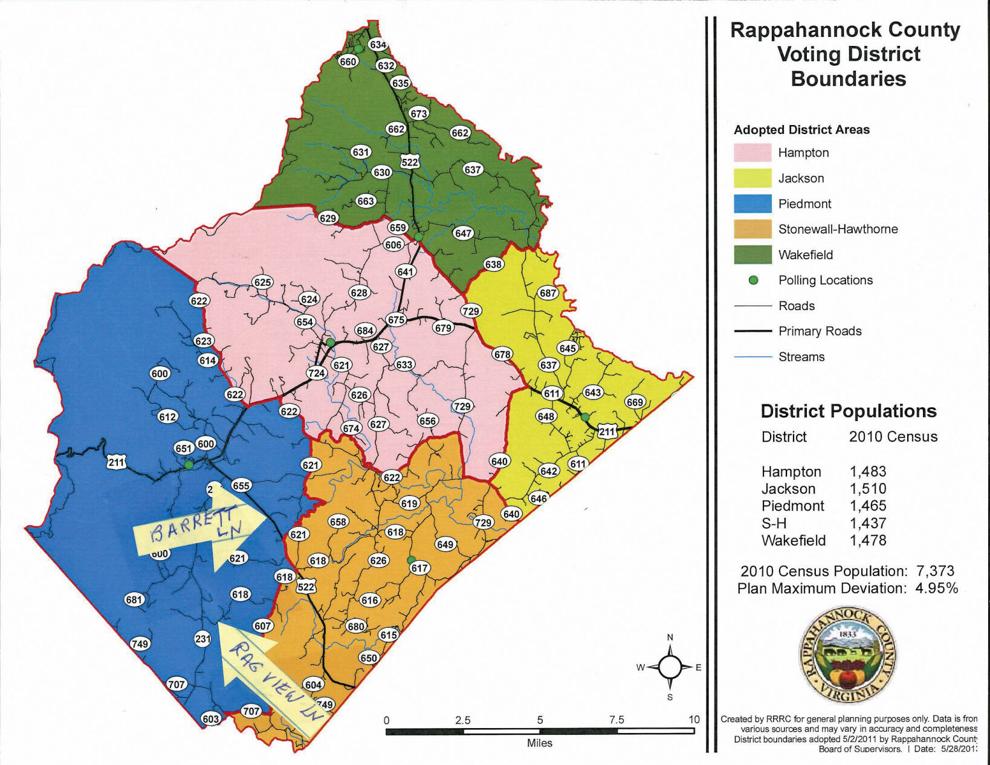 Chandler and Electoral Board member Bob Klaus said the decision to move the seven voters was made following a discussion between the board and McKiernan.
After speaking with election officials earlier this week, Carney sent an email to Klaus and copied Chandler, McKiernan, and other elected officials in the county, saying, "My concern is this: a candidate for office told the registrar to move four addresses and she did, without making her own independent verification of the issue. This does not represent diligence in carrying out the duties of the office of the registrar. No candidate should have that amount of influence over the mechanics of an election."
Chandler replied to Carney's email, saying, "Our office afforded you every opportunity to understand why the changes ... were made. However, when you contacted Bob Klaus and me later in the day, you did not want to hear our answers to your questions and had already made up your mind to slander the Office of the Registrar by mischaracterizing the events." 
Carney, in an interview, declined to expand on his allegation that "a candidate for office" brought the tip forward, and election officials would tell neither Carney nor the Rappahannock News how the mistake was brought to their attention, all maintaining that "it doesn't matter."
"If a dog walked in with an envelope that said, 'Joe Smith … does not live in the house and is voting in the wrong district,' we have to look at it," Chandler said in an interview.
David Konick, Carney's opponent for the Board of Supervisors in the Stonewall-Hawthorne District, said when reached by phone that he did not know anything about voters being moved out of the district.
Carney claimed that all of the voters that were moved out of Stonewall-Hawthorne were his supporters. Only certified candidates can obtain a list of registered voters in a district by purchasing it from the Virginia Department of Elections, according to Chandler.
The seven voters were initially notified of the move in a letter from the registrar's office on Sept. 8, after a meeting by the Registrar of Voters and Electoral Board. None of the candidates running for county offices were notified of the change.
Chandler said that because the county does not have comprehensive mapping technology, known as Geographic Information System (GIS), it can sometimes make it difficult to identify which districts voters should be registered in.
Carney found out about the change from a voter in his district, and said he went to the registrar's office on Tuesday so he could update his voter list. After receiving the seven names, he noticed that two were wrongfully moved out of Stonewall-Hawthorne.
McKiernan wrote in an email to the Rappahannock News that the two voters, who share the same address, were notified of the mistake immediately after Carney brought it to their attention. She wrote that district changes "rarely" happen and that there will not be any others before the Nov. 2 election.
This story has been updated and edited.
---
---