Second Amendment Sanctuary declared in Rappahannock County
Rappahannock joined 22 other counties in the Commonwealth of Virginia on Monday night by becoming a Second Amendment Sanctuary.
Watch the public hearing (Second Amendment discussion begins at 2:12):
It was arguably the largest crowd ever to attend a monthly meeting of the Rappahannock County Board of Supervisors, and without question they made their voices heard in demanding that Rappahannock's heritage and way of life be preserved when it comes to gun ownership.
All said and done they succeeded, insisting in no uncertain — and even raucous — terms that the panel of five elected board members approve a resolution Monday night making Rappahannock County a Second Amendment Sanctuary.
The final vote was 3 in favor, 1 opposed, 1 abstention.
Rappahannock now joins with 23 other counties in the Commonwealth of Virginia — Culpeper supervisors overwhelming passed a similar measure Tuesday — that have become so-called 2A sanctuaries, reinforcing legal law-abiding ownership of firearms under a perceived intrusion on gun rights by a newly-elected Democratic majority in Richmond.
"As I look around the room, I've been coming to Board of Supervisors meetings since about 1978, and this is the biggest crowd I ever saw," said one speaker who followed dozens to the microphone to speak loud and clear in favor of the measure. Many of the several hundred people in attendance wore camouflage gear and hunter's orange to the meeting, although as one proudly pointed out later "these are my everyday clothes."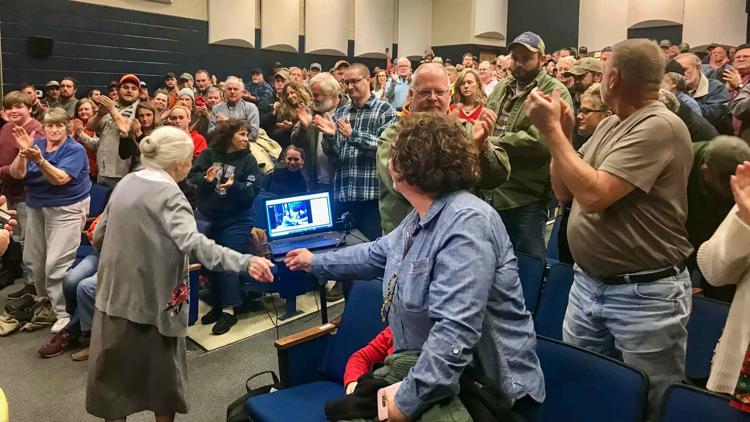 Opposing the measure
Few in the overflow crowd that packed the Rappahannock High School auditorium encouraged supervisors to vote against the mainly symbolic measure, and those who did were loudly booed or shouted down. If there was even any question of the support for becoming a 2A Sanctuary that was put to rest when virtually the entire audience raised their hands when asked if they backed the resolution.
Outgoing Hampton district Supervisor John Lesinski, who described himself as a U.S. Marine Corps veteran, gun owner, hunter, and concealed weapon permit holder, turned out to be the lone BOS member voting against the resolution. 
"I do believe that any laws involving the Second Amendment… are really for our state and federal lawmakers to determine and I think this [Rappahannock] board is overstepping [its bounds]," said Lesinski, who recently declared his candidacy for the Democratic nomination in the 5th congressional district. 
"If protecting your gun rights is your goal, this measure could be inefficient, it could be costly, it could possibly not be legal, and I think there are more respectful ways that we can go about having gun rights and keeping our communities safe. 
"But I think these resolutions are just overreaching," Lesinski said to a chorus of boos and spattering of insults from the audience.
Hawthorne district Supervisor Chris Parrish preferred that the panel approve a watered-down sanctuary measure, holding up one passed by officials in New Kent County east of Richmond. Portions of his arguments were similarly drowned out by the often unruly crowd.
"Show some guts!" yelled one man sitting near the front.
Several Rappahannock County deputies and Sheriff Connie Compton were posted in different positions in the auditorium, sometimes two of them looking down from the projector booth above the rear wall.
"I hate to see division amongst the people," outgoing BOS Chairman Roger Welch of the Wakefield district admonished before the voting, "especially people that I know, people that are my friends. Sometimes tonight I was a little bit upset when [certain people] wouldn't allow the other person to speak. It's one thing to disagree, it's another thing to be disagreeable."
Supporting the resolution
As it was, Welch joined Piedmont Supervisor Christine Smith and Ron Frazier of the Jackson district voting in favor of the measure, but not until certain language — including that the BOS would "instruct local law enforcement" — was flagged and struck from the final resolution.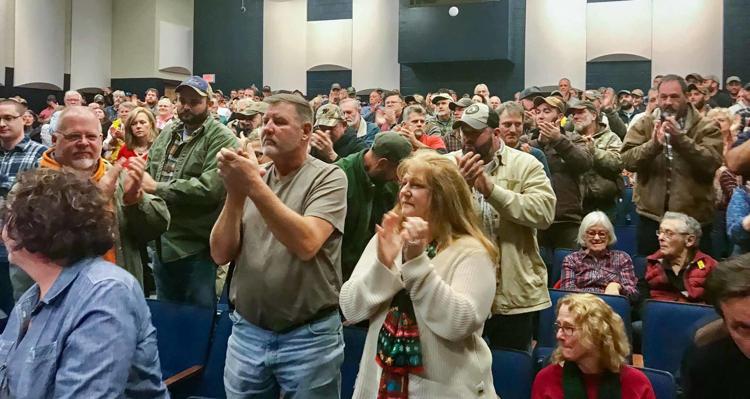 Both Rappahannock County Sheriff Connie Compton and Commonwealth's Attorney Art Goff had made their concerns about the language known beforehand to Smith.
"The sheriff is a constitutional officer and the deputies work under her supervision," explained Frazier, stressing that the BOS doesn't "have that ability" to instruct law enforcement. "And I understand that, I should have caught that."
All told, during the public comment portion of the meeting dozens in the audience stepped up the microphone to let their voices be heard from "Rappahannock to Richmond." Once, when one of the few opponents of the measure drew attention to "rampant gun violence in this country," an audience member  shouted back "not in Rappahannock!"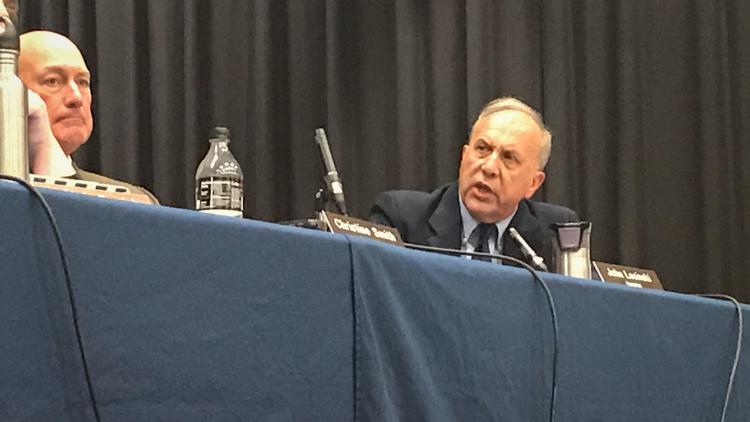 "I tell you I'm not going to lay down and let 'em take my guns," said one father, who joined at least two other speakers in encouraging everybody in the audience who wasn't a member to join the National Rifle Association.
One man from the Hampton district revealed he was a victim of gun violence: "I was shot when I was 17 years old. And I still carry guns, I still hunt, and you know I hear a lot of talking about taking guns away from people. I ain't heard nobody yet say how they're going to take them away from the criminals…
"In Rappahannock," he said, "there ain't no guns on the street, there's guns in homes, protected homes, and the people in the homes. And I got three grandbabies." Like others, he said it can sometimes take 20 to 30 minutes for a law enforcement officer to respond to an emergency call in Rappahannock County.
"This county," reminded another, "isn't blue. We need to think red, act red, because that's what our people are, red!"
Several speakers blasted Virginia Gov. Ralph Northam, one opining that the Democrat is acting like a king.
"The Founding Fathers were criminals in the eyes of the king's law," the man noted. "We have 'King Ralphie' in Richmond right now. He's trying to do the same thing to us. I've been a law abiding citizen my entire life, but I would be honored to be a criminal if he passes these laws and sends Red Coats to my door."
One Hampton resident added: "There's been a lot of references to the pre-filed [legislative] bills that are waiting right now. These people [in Richmond] haven't even been sworn into the legislature and they've already got more bills than we can count…
"I urge this county to be the 23rd county in the Commonwealth to pass this. We've got a governor that's got egg on his 'black face' essentially, and he will sign anything that's put in front of him, and this is a danger to us. Probably the only way to end this thing is an old adage that, 'An armed American is a citizen and an unarmed American is a victim.'"
As for the resolution passed by the BOS being merely "symbolic," Richard Brady (a contributing columnist for this newspaper) told the audience: "Well, let me tell you something as a Christian. There's a lot of symbols that count a lot to us. To me, the symbol of the cross is very important, but it's only a symbol. It's awfully important… 
"And I think this is an important symbol that you need to send to Richmond to let them know where this county stands."
Brady also sought to assure those against the measure that it won't "cause any kind of constitutional crisis. That's a bunch of baloney. I also don't believe it's going to cause a showdown in front of the courthouse between our county sheriff and the Virginia State Police. What it is is a statement of a belief… of the people who live in Rappahannock County."
"These are scary times," concurred county attorney Goff. "You folks showing up here — and speaking your mind, and your honesty and your wit — made a huge impression upon me and I think other members of the board."
At the same time, he encouraged patience to wait and see what the new Democrat-controlled legislature in Richmond might propose in 2020 surrounding restrictive gun legislation.
"None of this says that what they're doing is unconstitutional, we don't know yet, perhaps it will be," said Goff. "Certainly the courts are going to address those issues, I'm sure in time. And I have my faith in that process. I don't think we all ought to get too excited too soon before we even see what passes Richmond.
"But what has been said here this evening regarding sending a message to Richmond may help avoid some of that," Goff concluded to loud applause.
---
Key elements of 2A resolution
Beneath a dozen "Whereas" conclusions of the Second Amendment Sanctuary measure approved Monday night by the Rappahannock County Board of Supervisors, including...
"WHEREAS, certain legislation that has or may be introduced in the Virginia General Assembly, and certain legislation which has or may be introduced in the United States Congress could have the effect of infringing on the rights of law abiding citizens to keep and bear arms, as guaranteed by the Second Amendment to the United States Constitution and Article I, Section 13 of the Constitution of Virginia." 
… it was Resolved: 
"That the Rappahannock Board of Supervisors hereby declares Rappahannock County, Virginia, as a Second Amendment Sanctuary, and
"That the Rappahannock Board of Supervisors hereby expresses its intent to uphold the Second Amendment rights of the citizens of Rappahannock County, Virginia, and
"That the Rappahannock Board of Supervisors hereby expresses its intent that public funds of the county not be used to restrict the Second Amendment rights of the citizens of Rappahannock County, or to aid federal or state agencies in the restriction of said rights, and 
"That the Rappahannock Board of Supervisors hereby declares its intent to oppose any infringement on the right of law-abiding citizens to keep and bear arms using such legal means as may be expedient, including, without limitation, court action, and
"NOW, THEREFORE, BE IT FURTHER RESOLVED that the Clerk of the Board is hereby directed to forward a copy to each of Rappahannock County Representatives in the Virginia General Assembly and a copy spread across the pages of the minute book of the Rappahannock County Board of Supervisors."