What might work in Rappahannock?
Rappahannock County has grappled with the issue of affordable housing for years. It still is. As detailed in Part One of our "Home Sweet Home?" special report two weeks ago, 120 responses to an extensive community questionnaire clearly show housing challenges for residents and those who would like to live here. Many said the cost of renting or buying is prohibitive, or that the few available houses in their price range were substandard.
So who is responsible for addressing this issue? 
Elected and appointed public officials have key roles. But in many communities that have responded to housing challenges, success has come from public-private partnerships where government, community groups and even developers have worked together.
One important starting point is understanding the problem, said Sarah Walsh, chief impact officer at Rappahannock United Way, which produces a regular report on what it costs for residents to afford basic necessities, including housing. Previous regional studies have sought to identify the nature of the housing challenges here. But as we noted in Part One, there has been little follow up, either because the timing was bad, other issues seemed to outweigh housing in importance, or there wasn't significant buy-in from officials. 
And over the years, Walsh notes, family situations have grown more complex, with many single-parent households or widows and widowers needing to find roommates to be able to cut costs. 
"We built our communities in a way that don't fit our households anymore," Walsh said.
Here are some efforts and organizations aimed at addressing the shortage of affordable housing:
Windy Hill Foundation 
The Middleburg foundation began nearly 40 years ago by purchasing run-down or dilapidated houses. Then, using donations, it restored those homes to provide decent and affording housing to people with low incomes. It now builds new homes using a combination of federal low income housing tax credits and low interest rate loans and sets its rental rates to ensure they are around half of the area Fair Market Rents reported by the Department of Housing and Urban Development. 
The foundation, which has also expanded to offer a range of housing-related services, currently provides more than 300 housing units to low and lower-income individuals, families, older adults and adults with disabilities in Fauquier and Loudoun counties. Executive Director Bob Dale said they don't have plans to expand outside those jurisdictions but are assisting local nonprofit Rappahannock Communities to develop affordable housing in Rappahannock. (https://windyhillfoundation.org/)
Rappahannock Communities 
Formed last year partly to address affordable housing in Rappahannock, it received nonprofit status in February. A few of its board members are helping with plans for the new Food Pantry. The organization has recently focused on emergency-related response to the pandemic, establishing a small business grant fund that provided $97,000 in $1,000 grants. But founding board member Betsy Dietel said housing remains a priority.
People Incorporated of Virginia
A nonprofit health and human services agency, it has also focused on building, rehabilitating, and owning and managing property where it restricts the rent to a portion of the income of the people who live there. Rents are calculated depending on the property – some require income eligibility at 60 percent or less of area median income, others require tenants to pay 30 percent of their net income and People Inc. assists with the remainder, and others have housing vouchers associated with the units. The lowest monthly rents are in the $400-500 range, said President and CEO Rob Goldsmith.
Around 70 percent of its more than 1,000 units are reserved for seniors or people with disabilities. People Inc. does not currently have any projects or properties in Rappahannock (there were two unsuccessful attempts in the past), but it is disbursing some of the $50 million the state received through the $2.2 billion federal Coronavirus Aid, Relief, and Economic Security (CARES) Act for a rent and mortgage relief program. Since the program launched the first week of July, it has provided rental assistance totaling $4,175 to three households that have lost income due to COVID-19.
Washington School LLC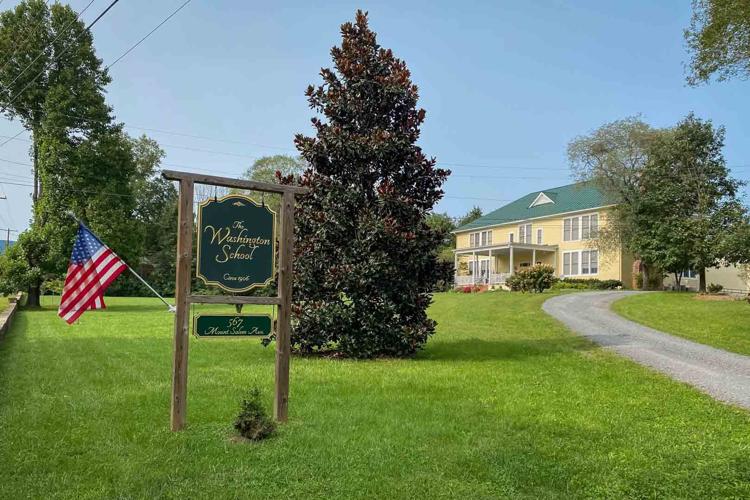 It doesn't quite fall under the umbrella of affordable housing, with one-bedroom apartments ranging from $800 to $1,100 a month based on size. One benefit, however, is that residents don't have to pay for property maintenance and upkeep and the smaller-sized units are suited to single residents. Eighty percent of them are filled with senior citizens and the property manager said she currently has a waiting list of about four or five people. 
"Cluster Communities" 
This concept involves having smaller, mixed-use houses or apartments grouped around a shared open space in a town or village. It has drawn interest from Washington Mayor Fred Catlin, along with a few others who are exploring it. 
"At this point there have been discussions that have occurred on four different properties in the Washington community," Catlin said. "Some are beyond the town limits and would be looking to be doing a boundary line adjustment and some are within the limits."
Catlin declined to provide details, but noted that several of the projects are embracing the idea of cluster or "pocket" communities and several also recognize the need for senior housing. "In each of these cases they're talking about a cluster of houses that allows you to get some economy of scale in terms of the building costs," he added.
A challenge is how these new types of housing arrangements work with existing water and sewer systems. 
Habitat for Humanity
Beyond building homes using donations and volunteer labor, this global nonprofit also helps with critical home repairs and upgrades so families can stay in their homes longer. The idea is to provide more stable housing for people who may not have the ability to do the repairs themselves or the money to pay for them. "There are families that stay in homes for generations," said Darryl Neher, executive director for Fauquier Habitat. "Being able to make repairs on homes that help stabilize a housing situation for that family can mean the world."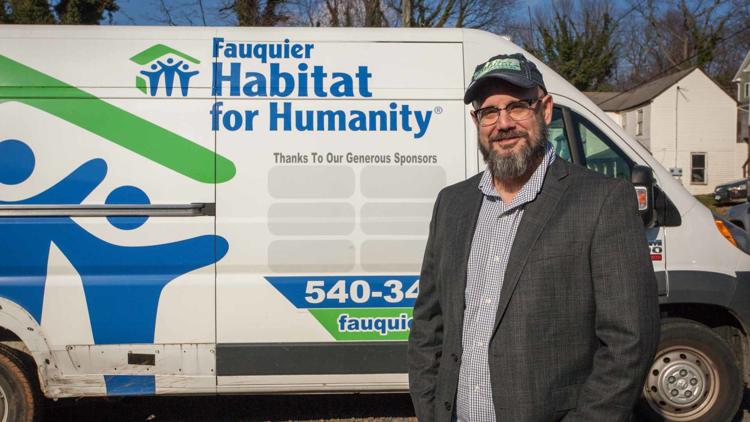 To date, Habitat has helped build two homes in Rappahannock in the past 26 years, one that was completed in 2017 for a family in Huntly and another in Washington in 1994. Habitat provides assistance to households whose earnings fall within 30-60 percent of area median income. For a family of four in Rappahannock, that ranges from $25,140 to $50,280, according to the latest figures on Habitat's website. 
In November 2019 it sponsored a Neighbors Helping Neighbors project, where volunteers assisted residents with yard work and critical home repairs, such as the construction of a wheelchair ramp and insulation installation.
Community land trusts
These are typically run by a nonprofit that purchases land using public or private investment and then allows a family or individual to purchase a home that sits on the land for an affordable price. The homeowner then leases the land from the community trust and agrees to sell the home at a fair market price to keep it affordable in the long term. 
One example is Grounded Solutions Network, a national housing nonprofit that supports community land trusts and promotes inclusive housing policies to ensure a portion of housing units are available for lower-income residents. It also works with municipal agencies and involves local resident leaders to help educate policymakers about what solutions might work in their communities. The network is now partnering with municipal land banks that acquire distressed property in the hope that by combining that with land trusts they can create a pipeline of affordable housing and allow those homeowners to build equity. According to a 2019 study, 60 percent of homeowners who sold their land trust homes then purchased a market rate home. https://groundedsolutions.org/shared-equity-housing-numbers
Services
Local nonprofit Rapp at Home has offered educational sessions to members about low- or no-cost modifications they can make to their homes so they're more accessible, such as improving lighting around staircases and securing area rugs and removing small door mats that can shift easily and become tripping hazards. Another session is being planned for November. https://www.rappathome.net 
Home sharing
Rapp at Home has also developed a guide for shared housing in which older homeowners in need of some assistance are matched with home seekers. The guidance, partly drawn from a home share organization in Vermont (https://www.homesharevermont.org/), includes advice about creating rental agreements and how to post a request for house shares on Rapp at Home's website, which they're planning to re-launch with a new section, similar to classified ads and restricted to registered users.
Zoning and Regulatory Reform
Rappahannock County's updated Comprehensive Plan has been forwarded to the Board of Supervisors for a public hearing. It acknowledges the importance of affordable housing and encourages development within "designated village areas." But there is debate over newly included village maps.
One key point of debate has long been around the very issue of development – what type is needed for whom and how to achieve it without destroying the nature and ethos of rural Rappahannock.
Catlin, who helped guide updates to Washington's comprehensive plan, said he thinks funneling development toward the villages is the right thing to do, and one thing the town council has done is pass several resolutions and ordinances to try and facilitate that.
Al Henry, who represents Hampton District on the Planning Commission, said the county should determine the extent of the affordable units needed and then come up with a plan to try and address it.
"I think there's a need. Is there a need for 200 or 300 units? I don't think so. Is there a need for something between 25 and 100 units? Probably so," he said.
---
Click here to sign up for the C-19 Daily Update, a free newsletter delivered to your email inbox every morning.