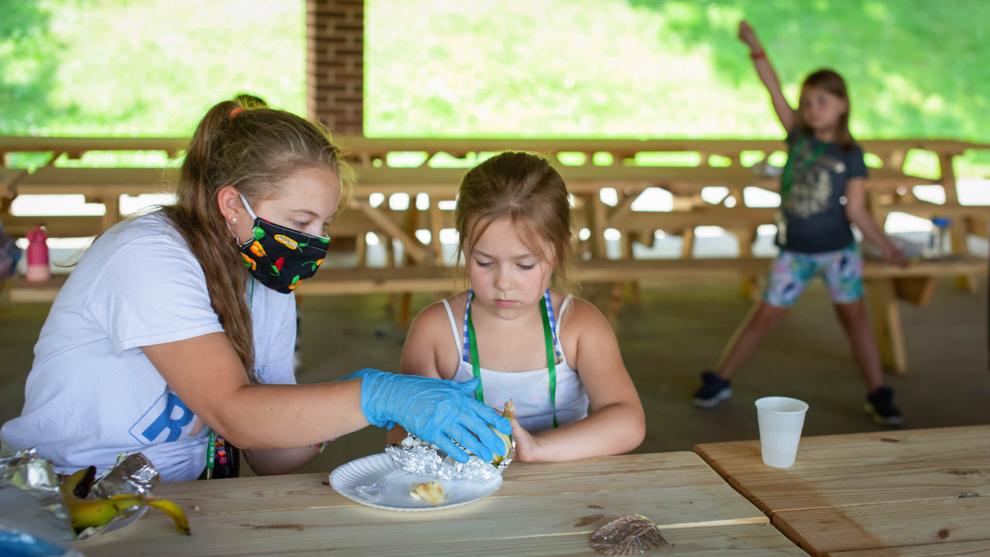 Outdoor settings become haven for 89 COVID-impacted youth 
"This time it's FOR REAL! Ooone! Twooo! Threee!" 
It took many tries and lots of happy shrieking, but finally nine-year-old Anna Payne and ten-year-old Jayden Whitt tipped over their canoe into Lake Culpeper, where they were learning basic canoeing skills as a part of the Rappahannock Day Camp program. 
Summer felt almost normal.
Thanks to a forward-thinking group of Rappahannock community members, COVID-19 didn't stop 89 Rappahannock youth from enjoying the month of July with their friends in outdoor camp-like settings. 
With the help of many, three summer programs were created in lickidy-split timing in order to provide respite for families, many of whom have children who hadn't been outside to play with others for months. These programs were Summer in the Park, Rappahannock Summer Day Camp and a program at Verdun Adventure Bound.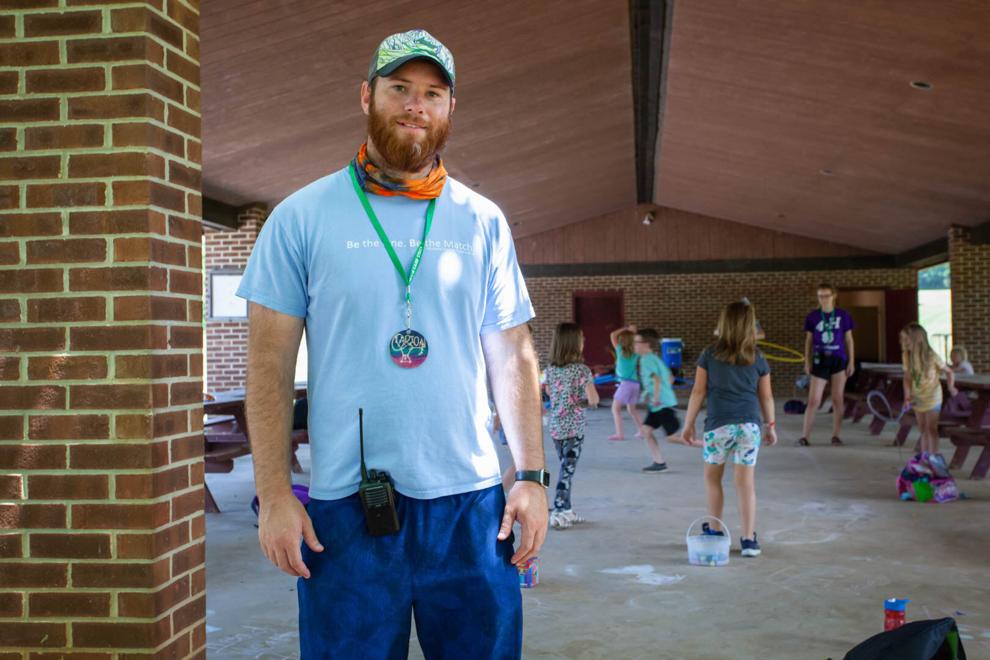 The Summer in the Park day camp program at the Rappahannock County Park offered a variety of workshops for its participants two days a week. Workshops led by members of the Rappahannock community included river clean-up with Friends of the Rappahannock and RappFLOW; drama with RAAC members Patty Hardee and Bob Hurley; and nature and environmental activities with Old Rag Master Naturalists and RappFLOW. 
Lunches and snacks were provided for all by the Rappahannock County Public School Nutrition Department and the Rappahannock Food Pantry. Other activities included tennis, pickleball, soccer, juggling, ukulele, drum and painting lessons.
This program was free for all who attended. Brooke Lange and Lacey Jenkins, co-directors of the Headwaters After-School Program, supervised Summer in the Park with the support of two other full-time staff and another five teenage helpers.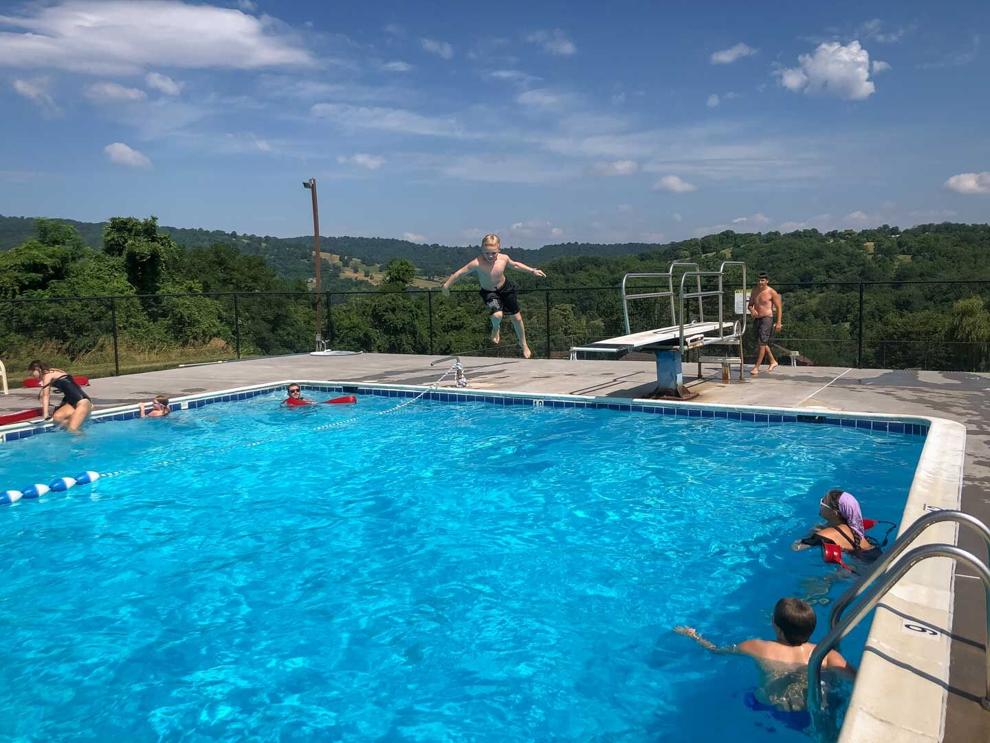 "The RCRFA is happy that the Rappahannock County Park was selected as the location for the 2020 Summer in the Park program. Having a safe, environmentally-friendly venue with native trees, birds, wildlife and the Rush River for the children to explore and learn about nature has been one of the goals of the Park Board," said Ruth Welch, Rappahannock County Recreational Facilities Authority (RCRFA) board member.
"We hope that other organizations and the Rappahannock community will take advantage of the County Park and view it as a gathering place for recreational and leisure activities in our county."
The Rappahannock Summer Day Camp, which took place at the Northern Virginia 4-H Educational and Conference Center in Front Royal, also offered programming two days per week for its campers, with half of those registered attending camp on Mondays and Wednesdays, and the second half attending camp on Tuesdays and Thursdays. 
Campers were transported to the 4-H Ed Center on RCPS buses where they participated in three workshops each day, swam in the pool, and enjoyed lunches provided by the 4-H Education Center and daily snacks provided by the Rappahannock Food Pantry. Workshops included fire making using flint, tie-dying, fishing, arts and crafts, hiking and campfire cooking.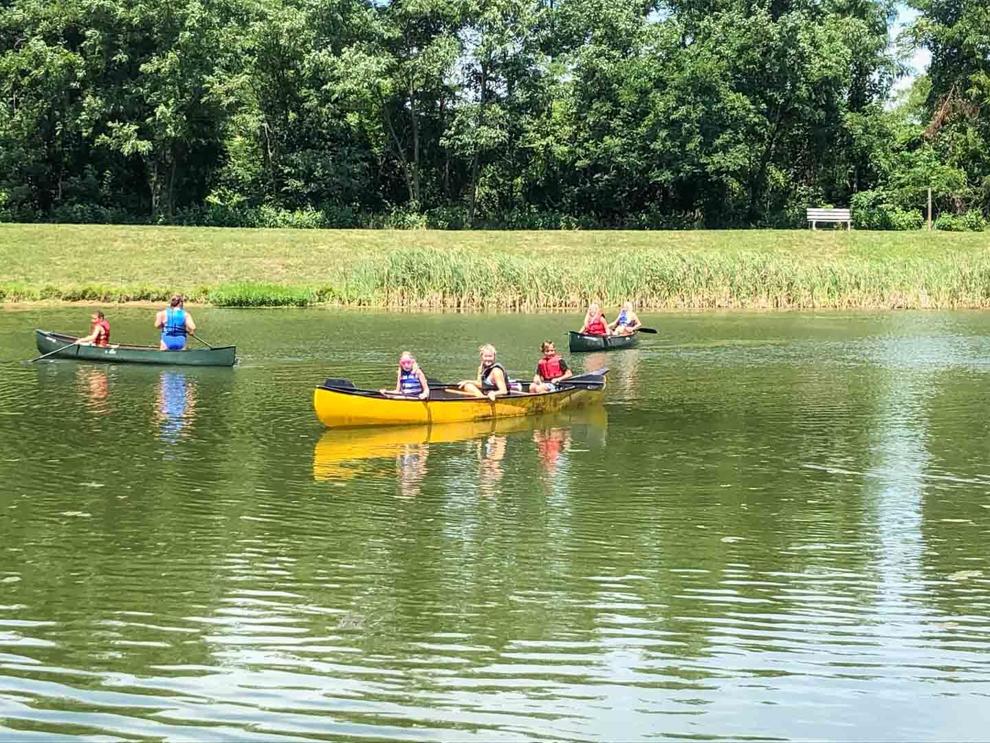 The requested registration cost was $200 per person, but parents/guardians were able to pay whatever amount they could afford. 
This program was directed by Bobby Lange, Brooke Lange's brother, who is in the process of completing his Masters' degree in Counseling at Wake Forest University. His staff was made up of 4-H Center camp counselors who were all First Aid, CPR, Lifeguard and Youth Mental Health First Aid Certified. Three of the camp staff were from Rappahannock.
The program at Verdun allowed Rappahannock youth to participate in group dynamics programming, where kids had to challenge themselves and support their teammates. 
"Mental Health Association partnered with Verdun to provide a full week of camp for a total of 23 Rappahannock students in July and early August. The report from the campers was that the week was 'awesome,' with pond time, water games, shelter building, ropes courses and much more," said Sallie Morgan, Executive Director of the Mental Health Association of Fauquier County. 
"The Mental Health Association is so pleased to have been able to be part of the amazing summer program organized by local residents to support Rappahannock families."
These programs were created to satisfy many needs: for children to be able to safely play outdoors with others; for parents to have time away from their children; to provide jobs for Rappahannock teenagers and college students; and to offer programming for Rappahannock youth without the cost being prohibitive for parents/guardians. These programs met all of these goals. 
Parents were thrilled to have their children involved with summer programs that encouraged laughing and learning with their friends, knowing that all programs were designed with social distancing protocols in mind. 
Before a child was allowed to enter a bus or be dropped off at the park, kids had their temperatures taken and parents signed a form stating that their child/ren had not been exposed to COVID-19, to the best of their knowledge. Participants attended workshops in small groups, and washed hands and used hand sanitizer after every activity. 
Parents and participants were delighted with the outcomes. One parent said, "I have seen a difference in my child's attitude since he has been attending camp. He has been eager to attend camp and it has shown how important it is for children to have these social interactions for their mental health." 
Another parent said, "With being homebound for quite a while I feel like this experience was so great for my child. He is always telling me about his adventures and what he has learned. I will definitely send him again." 
And still another said, "My kids are laughing and having fun with friends, while I'm able to work!"
The saying "It takes a village" could not be more true. Without the support of the Rappahannock community, these programs would not have been possible. 
"We were thrilled with this amazing collaboration to offer safe summer activities for kids," said RCPS Superintendent Dr. Shannon Grimsley, who agreed to allow RCPS to be the fiscal agent for these programs. "With five months of isolation from peers, friends, and structured outdoor activities, as well as much needed respite time for parents, the social emotional benefits of this program were numerous."
We would like to thank the following people and organizations for giving their time and support to these much needed summer programs:
Ashley Settl, Barbara Black, Betsy Dietel, Bob Hurley, Bobby Lang, Brooke Lange, Dawn Filipowicz, Audubon Wildlife Sanctuary Ambassador, Davette Leonard, Eric Plaskin and sons, Eve Brooks, October Greenfield and crew at Friends of the Rappahannock, Garrey Curry, Gary and Wendy Aichele, Joe Pipik and Jeanne Wall, Goodlife Theater, Headwaters, Janie Jenkins, Jean Lillard, Jen Parker, Jenny Kapsa, Kathy Sickler, Lacey Jenkins, Lisa and Vernon Welstead, Lynnie Genho, Mandi Butler, Medge Carter, Michelle Berta, Mike Wenger, Northern Piedmont Community Foundation, Northern Virginia 4-H Educational and Conference Center, Bonnie Beers, Anne-Marie Stacey, Phoebe Muenger and Linda Lowery at Old Rag Master Naturalists, Patty Hardee, Rapp County Health Department, RAAC, Rappahannock County 4-H, Rappahannock County Park Board, Rappahannock County Recreational Facilities Authority, Rappahannock Food Pantry, Christina Loock, Rachel Bynum, Lain Carney, Jane Smith, RCPS bus drivers, RCPS Nutrition Department, RCPS, Rappahannock Social Services, Ruth Welch, Sallie Morgan, Stacey Whitt, Steph Ridder, Verdun Adventure Bound, Wendi Sirat.
---
Click here to sign up for the C-19 Daily Update, a free newsletter delivered to your email inbox every morning.