Slideshow: 2021 Fodderstack 10k Classic
After a pandemic pause last year, the Fodderstack 10-k Classic — a Rappahannock tradition now in its 43rd year — returned Saturday. Hundreds of runners made the trek from Flint Hill to Washington.
"It was great to be able to hold this event again after postponing it due to COVID.  Feedback from participants was very positive and the great weather contributed to a wonderful day," said event organizer Jonathan Moore. "We're already at work in planning the next edition, which will move back to the historical spring time frame. The 2022 race is scheduled for April 23."
Along with the weather, long-time racing celebrity and former mayor of The Plains, Bob Gurtler, 86, was honored after he cheered on the participants. "Bob got me into running in 2003, he got me an entry into the Marine Corp Marathon, and now I've run 35 marathons,"  said Duane Williamson of Warrenton. "He's  the reason I'm fanatical about running. It's a very challenging course . . . there is a hill at mile four that can destroy your race if you have overrun it. Bob, at 80, was racing 120 races a year, so when he shows up at a race, everyone knows him. He's been a racing celebrity over the years and they all want to talk to him because he's done them all."
"It's been a long year, and the isolation has been hard, and running friends are the best crowd you could ever hope for," said Bob Gurtler's daughter, Katherine Gurtler Molina.
"Absolutely it's great to be here after COVID," her father summed up. "It's wonderful to be above ground.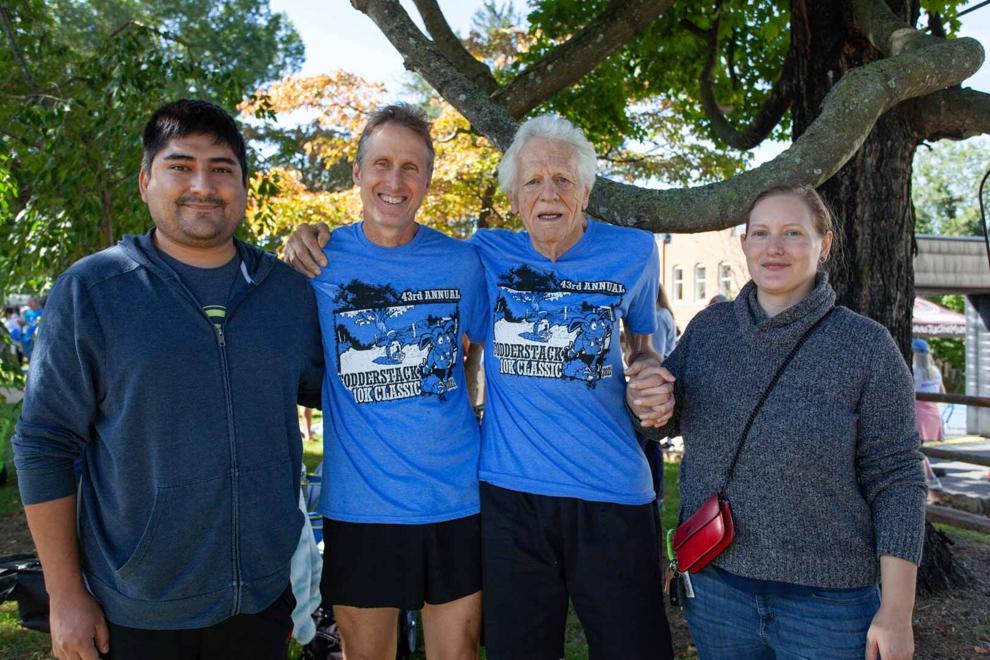 ---
Overall Male 10K Results:
Ed Herbst, Washington D.C. — 35:58.2

Juan Tisera,  Charlotte NC — 36:16.6

Ben Lambert, Richmond — 39:22.3
Overall Female 10K Results:
Rachel Savering, Rixeyville — 43:52.7

Kaitlin Jeffries, Baltimore MD — 48:33.6

Christie Yang, Arlington — 49:15.4
Male Age Group 1-14 Winner:
David Loock, Amissville — 48:06.1
Female Age Group 1-14 Winner:
Gianna Earl, Warrenton — 53:51.3
Male Age Group 15-19 Winner: 
Nicholas Plaksin, Sperryville — 45:38.1
Female Age Group 5-19 Winner:
Allie Earl, Warrenton — 57:03.7
Male Age Group 20-24 Winner:
Nate Jeffries, Charlotte NC — 40:49.3
Female Age Group 20-24 Winner:
Hope Hendershot, Manheim — 1:07:56.1
Male Age Group 25-29 Winner:
Dylan Denter, Winchester — 41:43.5
Female Age Group Winner 25-29:
Taylor Snowden, Ruckersville — 54:40.6
Male Age Group 30-34 Winner:
Taylor Monroe, Henrico — 39:55.0
Female Age Group 30-34 Winner:
Elena Kritter, Culpeper — 51:03.1
Male Age Group 35-39 Winner:
Forrester Safford, Culpeper — 40:30.9
Female Age Group 35-39 Winner:
Mandie Sayers, Jeffersonton — 52:22.4
Male Age Group 40-44 Winner:
Andrew Merritt, Culpeper — 42:02.3
Female Age Group 40-44 Winner:
Lori Bartczak, Madison — 1:00:26.1
Male Age Group 45-49 Winner:
Reynolds Wilson, Arlington — 41:48.4
Female Age Group 45-49 Winner:
Kristine Martinez, Washington D.C. — 53:42.8
Male Age Group 50-54 Winner:
Jake Secrist, Charlotte NC — 45:46.0
Female Age Group 50-54 Winner:
Elizabeth Brinsfield, Des Moines IA — 1:00:04.3
Male Age Group 55-59 Winner:
Mario Zuniga, Front Royal — 42:39.1
Female Age Group 55-59 Winner:
Sally Pontarelli, Culpeper — 51:43.8
Male Age Group 60-64 Winner:
James Bedow, Marshall  — 52:31.1
Female Age Group 60-64 Winner:
Stephanie Danahy, Winchester — 56:50.8
Male Age Group 65-69 Winner:
David Royle, Washington D.C. — 50:06.9
Female Age Group 65-69 Winner:
Lynne Kritter, Culpeper — 1:07:53.1
Male Age Group 70-74 Winner:
Chris Parrish, Amissville — 1:11:02.3
Female Age Group 70-74 Winner:
Male Age Group 75-79 Winner:
James Necci, Amissville — 1:27:10.0
Female Age Group 75-79 Winner:
Margaret West, Washington D.C. — 1:20:17.9
---
 43rd Annual Fodderstack 10K Classic
Timed by Racine MultiSports
Place Div/Tot  Bib   Div   Name                    Div   S Ag City            St Time      Pace     
---
    1   1/10     191 M3539 Ed Herbst               M3539 M 37 Washington      DC   35:58.2  5:49 
    2   1/5      197 M3034 Juan Tisera             M3034 M 32 Charlotte       NC   36:16.6  5:52 
    3   1/3      190 M2529 Ben Lambert             M2529 M 27 Richmond        VA   39:22.3  6:22 
    4   2/5      124 M3034 Taylor Monroe           M3034 M 34 Henrico         VA   39:55.0  6:27 
    5   2/10     123 M3539 Forrester Safford       M3539 M 39 Culpeper        VA   40:30.9  6:33 
    6   1/2      198 M2024 Nate Jeffries           M2024 M 22 Charlotte       NC   40:49.3  6:36 
    7   2/3      286 M2529 Dylan Denter            M2529 M 26 Winchester      VA   41:43.5  6:44 
    8   1/8       98 M4549 Reynolds Wilson         M4549 M 49 Arlington       VA   41:48.4  6:45 
    9   1/11     254 M4044 Andrew Merritt          M4044 M 41 Culpeper        VA   42:02.3  6:47 
   10   1/22     307 M5559 Mario Zuniga            M5559 M 57 Front Royal     VA   42:39.1  6:53 
   11   3/5      192 M3034 Samuel Carolus          M3034 M 30 Hanover         MD   42:49.6  6:55 
   12   2/22      75 M5559 Chris Campbell          M5559 M 57 Louisa          VA   43:11.1  6:58 
   13   1/14      58 F3539 Rachel Savering         F3539 F 36 Rixeyville      VA   43:52.7  7:05 
   14   2/11     242 M4044 James Lewis             M4044 M 42 Warrenton       VA   45:01.9  7:16 
   15   1/2      228 M1519 Nicholas Plaksin        M1519 M 16 Sperryville     VA   45:38.1  7:22 
   16   1/11      91 M5054 Jake Secrist            M5054 M 50 Charlotte       NC   45:46.0  7:23 
   17   3/22     119 M5559 Duane Williamson        M5559 M 58 Warrenton       VA   47:02.7  7:36 
   18   3/10     131 M3539 Jason Clark             M3539 M 38 Washington      PA   47:19.7  7:39 
   19   4/22      57 M5559 Xu Duan                 M5559 M 56 Front Royal     VA   47:46.3  7:43 
   20   1/10     211 M0114 David Loock             M0114 M 14 AMISSVILLE      VA   48:06.1  7:46 
   21   1/5      199 F2529 Kaitlin Jeffries        F2529 F 28 Baltimore       MD   48:33.6  7:50 
   22   4/5      284 M3034 Ryan Dickerson          M3034 M 31 Washington      DC   48:50.9  7:53 
   23   1/23     141 F5054 Christie Yang           F5054 F 50 Arlington       VA   49:15.4  7:57 
   24   4/10     120 M3539 Justin Proctor          M3539 M 35 Front Royal     VA   49:35.4  8:00 
   25   5/10     336 M3539 John Daniel             M3539 M 36 Centerville     VA   49:59.4  8:04 
   26   1/13     241 M6569 David Royle             M6569 M 66 Washington      DC   50:06.9  8:05 
   27   5/22     266 M5559 Andy Neuman             M5559 M 58 Boulder         CO   50:47.7  8:12 
   28   1/6      289 F3034 Elena Kritter           F3034 F 31 Culpeper        VA   51:03.1  8:15 
   29   3/3      200 M2529 Daniel Constable        M2529 M 28 Midland         VA   51:25.5  8:18 
   30   2/8      206 M4549 Joshua Harvey           M4549 M 45 Flint Hill      VA   51:37.4  8:20 
   31   3/8      187 M4549 Travis Patton           M4549 M 45 Front Royal     VA   51:40.3  8:21 
   32   3/11      70 M4044 Nikolai Matveev         M4044 M 40 Flint Hill      VA   51:40.6  8:21 
   33   1/25     164 F5559 Sally Pontarelli        F5559 F 56 Culpeper        VA   51:43.8  8:21 
   34   2/14     133 F3539 Mandie Sayers           F3539 F 37 Jeffersonton    VA   52:22.4  8:27 
   35   1/17     105 M6064 James Bedow             M6064 M 61 Marshall        VA   52:31.1  8:29 
   36   4/8       33 M4549 Steve Gass              M4549 M 45 Linden          VA   52:54.2  8:32 
   37   2/10     310 M0114 Will Wofford            M0114 M 13 Sperryville     VA   52:58.6  8:33 
   38   4/11     301 M4044 Jason Brady             M4044 M 43 Flint Hill      VA   53:26.3  8:38 
   39   5/11     217 M4044 Matthew Hahn            M4044 M 44 Arlington       VA   53:37.3  8:39 
   40   1/14     173 F4549 Kristine Martinez       F4549 F 46 Washington      DC   53:42.8  8:40 
   41   1/8      179 F0114 Gianna Earl             F0114 F 14 Warrenton       VA   53:51.3  8:42 
   42   2/17     196 M6064 Tom Strange             M6064 M 60 Warrenton       VA   54:03.5  8:44 
   43   2/5      227 F2529 Taylor Snowden          F2529 F 28 Ruckersville    VA   54:40.6  8:50 
   44   3/17      92 M6064 Leonard McGill          M6064 M 63 Flint Hill      VA   54:48.8  8:51 
   45   6/22      81 M5559 Joseph David            M5559 M 58 Warrenton       VA   54:51.7  8:51 
   46   6/10     331 M3539 Douglas Daley           M3539 M 36 Haymarket       VA   55:01.6  8:53 
   47   3/14     160 F3539 Wendy Stark             F3539 F 37 Stephenson      VA   55:02.7  8:53 
   48   3/10     304 M0114 Ty Brady                M0114 M 10 FLINT HILL      VA   55:04.0  8:53 
   49   2/6        1 F3034 LESLIE MACQUILLIAM      F3034 F 34 Warrenton       VA   55:08.9  8:54 
   50   3/6      100 F3034 Cody Scarsella          F3034 F 34 Warrenton       VA   55:09.0  8:54 
   51   2/25     224 F5559 Lisa Totten             F5559 F 56 Warrenton       VA   55:21.7  8:56 
   52   5/8      273 M4549 Jeff Hood               M4549 M 48 Lovettsville    VA   55:51.1  9:01 
   53   4/14     189 F3539 Sarah Scott             F3539 F 36 Boston          VA   56:12.0  9:04 
   54   6/11     324 M4044 Mark Kazmier            M4044 M 40 Fredericksburg  VA   56:22.7  9:06 
   55   7/22      96 M5559 Thomas Ousley           M5559 M 55 Gainesville     VA   56:24.8  9:06 
   56   7/10     104 M3539 Ben Jackson             M3539 M 38 Washington      VA   56:26.8  9:07 
   57   4/17     194 M6064 Jim Constable           M6064 M 61 Midland         VA   56:28.0  9:07 
   58   5/17     121 M6064 John Stacy              M6064 M 64 Winchester      VA   56:38.2  9:09 
   59   1/5      122 F6064 Stephanie Danahy        F6064 F 64 Winchester      VA   56:50.8  9:11 
   60   3/5      180 F2529 Susanna Orr             F2529 F 26 Midland         VA   57:00.4  9:12 
   61   1/3      178 F1519 Allie Earl              F1519 F 17 Warrenton       VA   57:03.7  9:13 
   62   2/14     327 F4549 Nicole Nagle            F4549 F 48 Flint Hill      VA   57:05.9  9:13 
   63   8/22     115 M5559 Kevin Cheetham          M5559 M 57 Centreville     VA   57:21.7  9:16 
   64   2/8      275 F0114 Katie Johnson           F0114 F 12 Woodvillewoodvi VA   57:30.7  9:17 
   65   9/22     291 M5559 John O'Neill            M5559 M 55 Front Royal     VA   57:33.7  9:18 
   66   5/14     205 F3539 Meghan Rogers           F3539 F 39 Woodville       VA   57:38.1  9:18 
   67  10/22     137 M5559 Douglas Jessup          M5559 M 58 Front Royal     VA   57:38.7  9:18 
   68   3/25     136 F5559 Corinne Kirk            F5559 F 55 Martinsburg     WV   57:40.8  9:19 
   69   4/10     325 M0114 Owen Kazmier            M0114 M 12 Flint Hill      VA   58:03.0  9:22 
   70   3/8      276 F0114 Sarah Johnson           F0114 F 12 Woodvillewoodvi VA   58:03.6  9:22 
   71   6/17     330 M6064 James Daley             M6064 M 63 Lovettsville    VA   58:08.2  9:23 
   72  11/22      15 M5559 Jeffrey Hendershot      M5559 M 57 Manheim         PA   58:24.2  9:26 
   73   4/25     230 F5559 Monika Bachmann         F5559 F 56 Germantown      MD   58:42.0  9:29 
   74   7/17     335 M6064 Michael Radam           M6064 M 62 Alexandria      VA   58:47.3  9:29 
   75   3/14     177 F4549 Katie Ignaszewski       F4549 F 49 Madison         VA   58:55.4  9:31 
   76   2/13     117 M6569 Paul Spencer            M6569 M 66 Remington       VA   58:57.5  9:31 
   77   7/11     209 M4044 Don Loock               M4044 M 44 Amissville      VA   59:38.4  9:38 
   78  12/22     287 M5559 Jonathan Grymes         M5559 M 58 Warrenton       VA   59:55.6  9:40 
   79   2/23     175 F5054 Elizabeth Brinsfield    F5054 F 50 Des Moines      IA 1:00:04.3  9:42 
   80   1/9       94 F4044 Lori Bartczak           F4044 F 44 Madison         VA 1:00:26.1  9:45 
   81   3/23     157 F5054 Elizabeth Dranitzke     F5054 F 53 Washington      DC 1:00:27.0  9:45 
   82   4/23     201 F5054 Caryn Ernst             F5054 F 52 Washington      DC 1:00:27.2  9:46 
   83   5/25     172 F5559 Catherine Flanagan      F5559 F 55 Washington      DC 1:00:27.3  9:46 
   84   4/6      283 F3034 Emma Raviv              F3034 F 33 Washington      DC 1:00:42.6  9:48 
   85   8/11     232 M4044 Tom Hassenboehler       M4044 M 44 Washington      DC 1:00:55.5  9:50 
   86   3/13     151 M6569 James Deal              M6569 M 67 Sperryville     VA 1:01:12.5  9:53 
   87   8/10     183 M3539 Samuel Smith            M3539 M 36 Rockville       MD 1:01:40.8  9:57 
   88   4/14     308 F4549 Kate Wofford            F4549 F 45 Sperryville     VA 1:01:50.4  9:59 
   89   4/13     262 M6569 Jim Adams               M6569 M 66 Charlottesville VA 1:01:53.8  9:59 
   90   9/11     265 M4044 Hill Thomas             M4044 M 44 Sperryville     VA 1:02:04.0 10:01 
   91   8/17     107 M6064 James Rohr              M6064 M 60 New Baltimore   VA 1:02:17.4 10:03 
   92   5/14     149 F4549 Linda Clites            F4549 F 49 Middleburg      VA 1:02:26.9 10:05 
   93   2/11     150 M5054 Tim Clites              M5054 M 51 Middleburg      VA 1:02:27.1 10:05 
   94   6/25      19 F5559 Tara Neuman             F5559 F 58 Boulder         CO 1:02:33.8 10:06 
   95   2/9       48 F4044 Ruth Jeantet            F4044 F 40 Falls Church    VA 1:02:41.0 10:07 
   96   5/13      50 M6569 Torney Van Acker        M6569 M 67 Castleton       VA 1:02:41.1 10:07 
   97   6/14     143 F4549 Jennifer Cuthbertson    F4549 F 48 Front Royal     VA 1:02:58.3 10:10 
   98   6/8      272 M4549 Rob Roberts             M4549 M 49 Staunton        VA 1:03:05.4 10:11 
   99   5/10     318 M0114 Webber Moore            M0114 M 12 Flint Hill      VA 1:03:12.2 10:12 
  100   6/10     212 M0114 Andrew Loock            M0114 M 12 Amissville      VA 1:03:12.5 10:12 
  101   9/17     329 M6064 Steve Wines             M6064 M 60 Marshall        VA 1:03:19.1 10:13 
  102   3/9        2 F4044 Katrina Fisher          F4044 F 41 Warrenton       VA 1:03:34.3 10:16 
  103   6/14     158 F3539 Molly Abraham           F3539 F 37 Jeffersonton    VA 1:04:05.0 10:21 
  104   3/11     138 M5054 Robert Bannister        M5054 M 52 Sperryville     VA 1:04:05.2 10:21 
  105   7/8      159 M4549 Aubrey Thornton         M4549 M 49 Mc Lean         VA 1:04:05.7 10:21 
  106   2/2      281 M2024 Josh Racer              M2024 M 22 Amissville      VA 1:04:09.2 10:21 
  107   7/25     235 F5559 Julie Stewart           F5559 F 55 Washington      DC 1:04:56.9 10:29 
  108   5/23     282 F5054 Kathleen Pugh           F5054 F 52 Washington      DC 1:04:56.9 10:29 
  109   6/23     290 F5054 Kyle Cobb               F5054 F 50 Sperryville     VA 1:04:57.0 10:29 
  110   4/11     279 M5054 Dave Salwen             M5054 M 54 Washington      DC 1:05:08.9 10:31 
  111   4/5      285 F2529 Aliza Lambert           F2529 F 28 Richmond        VA 1:05:23.7 10:33 
  112   5/11     226 M5054 Joe Gallagher           M5054 M 51 Mount Airy      MD 1:05:36.1 10:35 
  113   4/9      210 F4044 Christina Loock         F4044 F 43 Amissville      VA 1:05:45.1 10:37 
  114  10/17     299 M6064 David McGloin           M6064 M 62 Washington      DC 1:05:48.9 10:37 
  115   7/14      54 F4549 Linda Dozier            F4549 F 45 Manassas        VA 1:06:06.2 10:40 
  116   2/5      184 F6064 Valerie Storer          F6064 F 64 Winchester      VA 1:06:07.2 10:40 
  117   7/23     139 F5054 Veronica Sweeney        F5054 F 50 Mc Lean         VA 1:06:57.1 10:48 
  118   5/9      302 F4044 Nicole Brady            F4044 F 43 FLINT HILL      VA 1:07:06.8 10:50 
  119   6/11     101 M5054 James Secrist           M5054 M 53 Roanoke         VA 1:07:27.3 10:53 
  120   8/23     300 F5054 Sarah Vecere            F5054 F 50 Roanoke         VA 1:07:27.3 10:53 
  121  11/17     140 M6064 James Sweeney           M6064 M 63 Mc Lean         VA 1:07:30.0 10:54 
  122   1/6      288 F6569 Lynne Kritter           F6569 F 65 Culpeper        VA 1:07:53.1 10:57 
  123   7/14     135 F3539 Leslie Huber            F3539 F 37 Arlington       VA 1:07:53.2 10:57 
  124   8/14     274 F3539 Amber Pack              F3539 F 38 Arlington       VA 1:07:54.3 10:58 
  125   9/14     156 F3539 Heather Watkins         F3539 F 39 winchester      VA 1:07:54.8 10:58 
  126   1/1       14 F2024 Hope Hendershot         F2024 F 21 Manheim         PA 1:07:56.1 10:58 
  127  10/14      10 F3539 Amy Schryver            F3539 F 36 Arlington       VA 1:07:58.5 10:58 
  128  12/17     171 M6064 John Warzinski          M6064 M 62 Etlan           VA 1:08:09.7 11:00 
  129   5/6      161 F3034 Bethany Gullman         F3034 F 34 Alexandria      VA 1:08:10.6 11:00 
  130   7/10     268 M0114 John Runge              M0114 M 11 Castleton       VA 1:08:15.3 11:01 
  131   8/10     314 M0114 Elliott Feeney          M0114 M 11 Marshall        VA 1:08:15.6 11:01 
  132   8/14      99 F4549 Leila Nowroozi          F4549 F 49 Arlington       VA 1:08:46.7 11:06 
  133   8/25     185 F5559 Lisa Minney             F5559 F 55 Stephens City   VA 1:08:56.0 11:08 
  134  13/17     294 M6064 Moshe Shtuhl            M6064 M 63 Reston          VA 1:09:01.1 11:08 
  135   2/6       88 F6569 Jane Smith              F6569 F 69 Sperryville     VA 1:09:49.1 11:16 
  136   6/13      79 M6569 Bernie Carroll          M6569 M 66 Bealeton        VA 1:09:52.7 11:17 
  137   9/10     155 M3539 Ray Watkins             M3539 M 37 Winchester      VA 1:10:03.4 11:18 
  138  14/17     225 M6064 Robert Totten           M6064 M 60 Warrenton       VA 1:10:13.6 11:20 
  139   7/13     110 M6569 dennis gates            M6569 M 67 Haymarket       VA 1:10:14.9 11:20 
  140  11/14     125 F3539 Clarissa Pintado        F3539 F 35 Alexandria      VA 1:10:25.2 11:22 
  141   1/2      245 M7074 Chris Parrish           M7074 M 73 Amissville      VA 1:11:02.3 11:28 
  142  13/22     322 M5559 Michael Beach           M5559 M 56 boston          VA 1:11:19.6 11:31 
  143   9/25     202 F5559 Renate Shields          F5559 F 57 Warrenton       VA 1:12:28.5 11:42 
  144  14/22     248 M5559 John Masterson          M5559 M 59 Washington      VA 1:13:11.9 11:49 
  145   6/9      334 F4044 Erin Bannister          F4044 F 40 Centreville     VA 1:13:47.3 11:55 
  146   2/2      340 M1519 Matt Nocko              M1519 M 19 Mineral         VA 1:15:14.0 12:09 
  147  12/14     204 F3539 Jami Starling           F3539 F 39 Harrisonburg    VA 1:15:24.4 12:10 
  148  15/22     168 M5559 Paul Dowling            M5559 M 57 Arlington       VA 1:15:47.7 12:14 
  149  10/10     252 M3539 Seth Turner             M3539 M 37 Washington      DC 1:15:58.7 12:16 
  150  10/11     233 M4044 Wesley Kerr             M4044 M 44 Alexandria      VA 1:15:59.3 12:16 
  151  16/22     106 M5559 Drew Mitchell           M5559 M 56 Washington      VA 1:16:00.1 12:16 
  152   9/14     223 F4549 Jenny Zaccarine         F4549 F 49 Chesterfield    VA 1:16:13.7 12:18 
  153  15/17     222 M6064 Dave Gillis             M6064 M 61 Suffolk         VA 1:16:14.0 12:18 
  154   2/3      328 F1519 Arella Nagle            F1519 F 15 Flint Hill      VA 1:16:22.3 12:20 
  155  10/25     128 F5559 Cyndy Norford           F5559 F 58 Reston          VA 1:16:47.7 12:24 
  156   8/13      12 M6569 Patrick Thornton        M6569 M 68 Boston          VA 1:16:55.4 12:25 
  157   3/5      271 F6064 sandra brannock         F6064 F 60 Amissville      VA 1:16:57.7 12:25 
  158  16/17     270 M6064 guy brannock            M6064 M 62 Amissville      VA 1:16:57.7 12:25 
  159   9/23     295 F5054 Jessica Burleson        F5054 F 51 Flint Hill      VA 1:17:04.2 12:26 
  160  10/23     296 F5054 Lisa Field              F5054 F 51 Warrenton       VA 1:17:04.2 12:26 
  161   7/11      77 M5054 Jorge Castillo          M5054 M 54 Linden          VA 1:17:08.1 12:27 
  162  13/14      52 F3539 Christine Carney        F3539 F 39 Washington      VA 1:17:38.5 12:32 
  163  11/25     118 F5559 Klara Varady            F5559 F 57 Remington       VA 1:17:38.7 12:32 
  164  11/23     258 F5054 Deanne McGhee           F5054 F 51 Warrenton       VA 1:18:12.0 12:37 
  165  10/14      97 F4549 Angela Eichelberger     F4549 F 47 Madison         VA 1:18:12.1 12:37 
  166  17/22     259 M5559 Barry Aron              M5559 M 58 Warrenton       VA 1:18:13.7 12:38 
  167   9/13     186 M6569 Mark Ramey              M6569 M 68 Sperryville     VA 1:18:17.5 12:38 
  168  11/14     132 F4549 Aimee Linnert           F4549 F 47 Washington      PA 1:20:00.7 12:55 
  169  17/17     305 M6064 Rodney Grandon          M6064 M 61 Winchester      VA 1:20:05.6 12:56 
  170   4/5      181 F6064 Bernardine Olson        F6064 F 61 Woodville       VA 1:20:06.0 12:56 
  171   1/2       47 F7579 margaret west           F7579 F 77 Washington      DC 1:20:17.9 12:58 
  172  18/22     298 M5559 Mike Smith              M5559 M 56 Ashton          MD 1:20:19.9 12:58 
  173   3/3       35 F1519 Mia Nocco               F1519 F 17 Mineral         VA 1:22:55.5 13:23 
  174  11/11     214 M4044 Charles Thompson        M4044 M 40 Culpeper        VA 1:23:16.9 13:26 
  175  10/13      89 M6569 Jeff Smith              M6569 M 69 Sperryville     VA 1:25:28.5 13:48 
  176  12/23      55 F5054 Anne Roberts-Smith      F5054 F 52 Ashton          MD 1:25:35.8 13:49 
  177  14/14     243 F3539 Sarah Prince            F3539 F 37 Fredericksburg  VA 1:26:48.3 14:01 
  178   4/8      126 F0114 Julianna Butler         F0114 F 14 Washington      VA 1:27:07.4 14:04 
  179   1/4       80 M7579 James Necci             M7579 M 78 Amissville      VA 1:27:10.0 14:04 
  180   3/6      203 F6569 Colleen Snyder          F6569 F 65 Linden          VA 1:27:17.6 14:05 
  181   2/2      116 M7074 David Hendershot        M7074 M 74 Front Royal     VA 1:27:36.6 14:08 
  182  11/13      67 M6569 Karl Brotzman           M6569 M 69 Washington      VA 1:28:56.8 14:21 
  183  12/25     280 F5559 Barrett Tilney          F5559 F 56 Washington      DC 1:29:09.3 14:23 
  184  13/25     166 F5559 Monica Fernandi         F5559 F 57 Flint Hill      VA 1:29:17.4 14:25 
  185  14/25     247 F5559 Desiree Masterson       F5559 F 58 Washington      VA 1:29:18.0 14:25 
  186   5/8      323 F0114 Olivia Korte            F0114 F 13 Flint Hill      VA 1:29:32.4 14:27 
  187  12/14     238 F4549 Roxie Houge             F4549 F 49 Washington      DC 1:29:33.0 14:27 
  188  13/23     239 F5054 Ulrike Reichert         F5054 F 54 Washington      DC 1:29:33.0 14:27 
  189   6/8      303 F0114 Tana Brady              F0114 F 13 FLINT HILL      VA 1:29:36.4 14:28 
  190  12/13      78 M6569 Randal Joyner           M6569 M 65 Linden          VA 1:29:49.4 14:30 
  191  13/14     129 F4549 Joy Jones               F4549 F 49 Reston          VA 1:29:50.6 14:30 
  192  14/14     130 F4549 Vicki Lyon              F4549 F 46 Reston          VA 1:29:50.7 14:30 
  193  15/25      63 F5559 Jana Froeling           F5559 F 59 Amissville      VA 1:30:52.2 14:40 
  194  16/25      64 F5559 Melissa Schooler        F5559 F 55 Amissville      VA 1:31:44.9 14:48 
  195  14/23     145 F5054 Chris Tucker            F5054 F 52 Bealeton        VA 1:31:48.2 14:49 
  196  15/23     144 F5054 Karen Cerra             F5054 F 51 Flint Hill      VA 1:31:48.9 14:49 
  197   7/8      102 F0114 Frida Secrist           F0114 F 12 Charlotte       NC 1:31:49.3 14:49 
  198   2/4       38 M7579 Mike Hendershot         M7579 M 79 Hilliard        OH 1:34:03.6 15:11 
  199   4/6      321 F6569 mary wooldridge         F6569 F 65 boston          VA 1:34:04.8 15:11 
  200  17/25      56 F5559 Amy Burnett             F5559 F 58 Washington      VA 1:35:31.0 15:25 
  201   5/5      316 M3034 Dominique Long          M3034 M 31 Culpeper        VA 1:35:34.9 15:25 
  202   5/5      315 F2529 Taylor Stynes           F2529 F 28 Culpeper        VA 1:35:35.3 15:26 
  203  16/23     278 F5054 camille racer           F5054 F 54 Amissville      VA 1:35:40.2 15:26 
  204   7/9      146 F4044 Emmy Bailey             F4044 F 44 Springfield     VA 1:39:16.4 16:01 
  205   8/9       13 F4044 Grace Williams          F4044 F 40 Culpeper        VA 1:39:16.8 16:01 
  206   8/11     269 M5054 Chris Runge             M5054 M 54 Castleton       VA 1:39:37.9 16:05 
  207  17/23     267 F5054 Susan Runge             F5054 F 51 Castleton       VA 1:39:39.0 16:05 
  208  18/25     229 F5559 Teri Jackson            F5559 F 56 Marshall        VA 1:41:05.7 16:19 
  209   5/6      213 F6569 Pat Loock               F6569 F 67 Warrenton       VA 1:41:05.7 16:19 
  210  19/25     332 F5559 Kathleen Benway         F5559 F 57 Washington      DC 1:41:16.1 16:20 
  211  20/25     317 F5559 Laura Mazzarella        F5559 F 55 Arlington       VA 1:41:16.1 16:21 
  212  21/25      53 F5559 Beth Delaney            F5559 F 59 Washington      DC 1:41:17.6 16:21 
  213   9/10     309 M0114 Mac Wofford             M0114 M 11 Sperryville     VA 1:43:03.5 16:38 
  214   8/8      162 M4549 Keith Hudspeth          M4549 M 46 Washington      DC 1:43:21.9 16:41 
  215  19/22     231 M5559 John Eisenhart          M5559 M 56 Huntly          VA 1:43:22.1 16:41 
  216  22/25      71 F5559 Kymber Messersmith      F5559 F 58 Huntly          VA 1:43:22.2 16:41 
  217   9/11     163 M5054 Mike Cheek              M5054 M 51 Washington      DC 1:43:23.0 16:41 
  218   2/2      256 F7579 Gwen Bates              F7579 F 79 Huntly          VA 1:44:27.7 16:51 
  219  20/22     264 M5559 Joe Kent                M5559 M 56 Hume            VA 1:44:50.1 16:55 
  220  23/25     263 F5559 Tamara Fleming          F5559 F 56 Hume            VA 1:44:50.3 16:55 
  221  18/23     337 F5054 Jill Bennett            F5054 F 53 Herndon         VA 1:45:04.1 16:57 
  222  10/11      18 M5054 Neil Kirr               M5054 M 53 Reston          VA 1:45:06.3 16:58 
  223  19/23      17 F5054 Janna Kirr              F5054 F 53 Reston          VA 1:45:07.5 16:58 
  224  24/25     277 F5559 Cole Johnson            F5559 F 55 Woodvillewoodvi VA 1:45:28.8 17:01 
  225  20/23     311 F5054 Susan Whitson           F5054 F 53 WashingtonWashi VA 1:45:29.0 17:01 
  226   6/6      293 F3034 Gwen Shtuhl             F3034 F 33 Reston          VA 1:45:55.7 17:06 
  227  11/11     339 M5054 Damon Feldman           M5054 M 54 Reston          VA 1:45:56.7 17:06 
  228  25/25     338 F5559 Robin Feldman           F5559 F 55 Reston          VA 1:45:58.5 17:06 
  229   9/9      261 F4044 Sinead Arndt            F4044 F 42 Washington      VA 1:46:52.1 17:15 
  230  21/23     260 F5054 Miranda Hope            F5054 F 50 Flint Hill      VA 1:46:53.5 17:15 
  231  10/10     312 M0114 Dryden Whitson          M0114 M 12 WashingtonWashi VA 1:49:50.7 17:44 
  232  22/23     244 F5054 Carol James             F5054 F 54 Fredericksburg  VA 1:51:11.2 17:56 
  233  21/22     236 M5559 Sean Roe                M5559 M 55 Front Royal     VA 1:51:22.5 17:58 
  234   3/4      250 M7579 Graeme D. Bisdee        M7579 M 75 Cape Charles    VA 1:51:31.3 18:00 
  235  22/22     333 M5559 David Smutny            M5559 M 55 Washington      DC 1:51:32.6 18:00 
  236   6/6      251 F6569 Helen K. Lewis          F6569 F 66 Cape Charles    VA 1:51:32.6 18:00 
  237   4/4      257 M7579 Ralph Bates             M7579 M 79 Huntly          VA 1:52:20.9 18:08 
  238   5/5      148 F6064 Jennifer Aldrich Aldric F6064 F 61 Huntly          VA 1:52:21.3 18:08 
  239   8/8      170 F0114 Anna Dowling            F0114 F  7 Arlington       VA 1:57:21.1 18:56 
  240  13/13      40 M6569 Jay Branscome           M6569 M 65 Hume            VA 1:58:32.1 19:08 
  241  23/23      39 F5054 Iris Branscome          F5054 F 50 Hume            VA 2:03:01.1 19:51
---
43rd Annual Fodderstack 10K Classic
Timed by Racine MultiSports
                  ********** AWARDS LIST  **************
               ********** OVERALL-MALE-10K RESULTS *********
Place Bib   Div   Name                    Div   S Ag City            St Time      Pace     
---
    1   191 M3539 Ed Herbst               M3539 M 37 Washington      DC   35:58.2  5:49 
    2   197 M3034 Juan Tisera             M3034 M 32 Charlotte       NC   36:16.6  5:52 
    3   190 M2529 Ben Lambert             M2529 M 27 Richmond        VA   39:22.3  6:22 
              ********** OVERALL-FEMALE-10K RESULTS *********
Place Bib   Div   Name                    Div   S Ag City            St Time      Pace     
===== ===== ===== ======================= ===== = == =============== == ========= ===== 
    1    58 F3539 Rachel Savering         F3539 F 36 Rixeyville      VA   43:52.7  7:05 
    2   199 F2529 Kaitlin Jeffries        F2529 F 28 Baltimore       MD   48:33.6  7:50 
    3   141 F5054 Christie Yang           F5054 F 50 Arlington       VA   49:15.4  7:57 
                ********** AGE DIVISION AWARDS ***********
Place Bib   Div   Name                    Div   S Ag City            St Time      Pace     
===== ===== ===== ======================= ===== = == =============== == ========= ===== 
    1   211 M0114 David Loock             M0114 M 14 AMISSVILLE      VA   48:06.1  7:46 
    2   310 M0114 Will Wofford            M0114 M 13 Sperryville     VA   52:58.6  8:33 
    3   304 M0114 Ty Brady                M0114 M 10 FLINT HILL      VA   55:04.0  8:53 
                         FEMALE AGE GROUP:  1 - 14
Place Bib   Div   Name                    Div   S Ag City            St Time      Pace     
===== ===== ===== ======================= ===== = == =============== == ========= ===== 
    1   179 F0114 Gianna Earl             F0114 F 14 Warrenton       VA   53:51.3  8:42 
    2   275 F0114 Katie Johnson           F0114 F 12 Woodvillewoodvi VA   57:30.7  9:17 
    3   276 F0114 Sarah Johnson           F0114 F 12 Woodvillewoodvi VA   58:03.6  9:22 
Place Bib   Div   Name                    Div   S Ag City            St Time      Pace     
===== ===== ===== ======================= ===== = == =============== == ========= ===== 
    1   228 M1519 Nicholas Plaksin        M1519 M 16 Sperryville     VA   45:38.1  7:22 
    2   340 M1519 Matt Nocko              M1519 M 19 Mineral         VA 1:15:14.0 12:09 
                        FEMALE AGE GROUP:  15 - 19
Place Bib   Div   Name                    Div   S Ag City            St Time      Pace     
===== ===== ===== ======================= ===== = == =============== == ========= ===== 
    1   178 F1519 Allie Earl              F1519 F 17 Warrenton       VA   57:03.7  9:13 
    2   328 F1519 Arella Nagle            F1519 F 15 Flint Hill      VA 1:16:22.3 12:20 
    3    35 F1519 Mia Nocco               F1519 F 17 Mineral         VA 1:22:55.5 13:23 
Place Bib   Div   Name                    Div   S Ag City            St Time      Pace     
===== ===== ===== ======================= ===== = == =============== == ========= ===== 
    1   198 M2024 Nate Jeffries           M2024 M 22 Charlotte       NC   40:49.3  6:36 
    2   281 M2024 Josh Racer              M2024 M 22 Amissville      VA 1:04:09.2 10:21 
                        FEMALE AGE GROUP:  20 - 24
Place Bib   Div   Name                    Div   S Ag City            St Time      Pace     
===== ===== ===== ======================= ===== = == =============== == ========= ===== 
    1    14 F2024 Hope Hendershot         F2024 F 21 Manheim         PA 1:07:56.1 10:58 
Place Bib   Div   Name                    Div   S Ag City            St Time      Pace     
===== ===== ===== ======================= ===== = == =============== == ========= ===== 
    1   286 M2529 Dylan Denter            M2529 M 26 Winchester      VA   41:43.5  6:44 
    2   200 M2529 Daniel Constable        M2529 M 28 Midland         VA   51:25.5  8:18 
                        FEMALE AGE GROUP:  25 - 29
Place Bib   Div   Name                    Div   S Ag City            St Time      Pace     
===== ===== ===== ======================= ===== = == =============== == ========= ===== 
    1   227 F2529 Taylor Snowden          F2529 F 28 Ruckersville    VA   54:40.6  8:50 
    2   180 F2529 Susanna Orr             F2529 F 26 Midland         VA   57:00.4  9:12 
    3   285 F2529 Aliza Lambert           F2529 F 28 Richmond        VA 1:05:23.7 10:33 
Place Bib   Div   Name                    Div   S Ag City            St Time      Pace     
===== ===== ===== ======================= ===== = == =============== == ========= ===== 
    1   124 M3034 Taylor Monroe           M3034 M 34 Henrico         VA   39:55.0  6:27 
    2   192 M3034 Samuel Carolus          M3034 M 30 Hanover         MD   42:49.6  6:55 
    3   284 M3034 Ryan Dickerson          M3034 M 31 Washington      DC   48:50.9  7:53 
                        FEMALE AGE GROUP:  30 - 34
Place Bib   Div   Name                    Div   S Ag City            St Time      Pace     
===== ===== ===== ======================= ===== = == =============== == ========= ===== 
    1   289 F3034 Elena Kritter           F3034 F 31 Culpeper        VA   51:03.1  8:15 
    2     1 F3034 LESLIE MACQUILLIAM      F3034 F 34 Warrenton       VA   55:08.9  8:54 
    3   100 F3034 Cody Scarsella          F3034 F 34 Warrenton       VA   55:09.0  8:54 
Place Bib   Div   Name                    Div   S Ag City            St Time      Pace     
===== ===== ===== ======================= ===== = == =============== == ========= ===== 
    1   123 M3539 Forrester Safford       M3539 M 39 Culpeper        VA   40:30.9  6:33 
    2   131 M3539 Jason Clark             M3539 M 38 Washington      PA   47:19.7  7:39 
    3   120 M3539 Justin Proctor          M3539 M 35 Front Royal     VA   49:35.4  8:00 
                        FEMALE AGE GROUP:  35 - 39
Place Bib   Div   Name                    Div   S Ag City            St Time      Pace     
===== ===== ===== ======================= ===== = == =============== == ========= ===== 
    1   133 F3539 Mandie Sayers           F3539 F 37 Jeffersonton    VA   52:22.4  8:27 
    2   160 F3539 Wendy Stark             F3539 F 37 Stephenson      VA   55:02.7  8:53 
    3   189 F3539 Sarah Scott             F3539 F 36 Boston          VA   56:12.0  9:04 
Place Bib   Div   Name                    Div   S Ag City            St Time      Pace     
===== ===== ===== ======================= ===== = == =============== == ========= ===== 
    1   254 M4044 Andrew Merritt          M4044 M 41 Culpeper        VA   42:02.3  6:47 
    2   242 M4044 James Lewis             M4044 M 42 Warrenton       VA   45:01.9  7:16 
    3    70 M4044 Nikolai Matveev         M4044 M 40 Flint Hill      VA   51:40.6  8:21 
                        FEMALE AGE GROUP:  40 - 44
Place Bib   Div   Name                    Div   S Ag City            St Time      Pace     
===== ===== ===== ======================= ===== = == =============== == ========= ===== 
    1    94 F4044 Lori Bartczak           F4044 F 44 Madison         VA 1:00:26.1  9:45 
    2    48 F4044 Ruth Jeantet            F4044 F 40 Falls Church    VA 1:02:41.0 10:07 
    3     2 F4044 Katrina Fisher          F4044 F 41 Warrenton       VA 1:03:34.3 10:16 
Place Bib   Div   Name                    Div   S Ag City            St Time      Pace     
===== ===== ===== ======================= ===== = == =============== == ========= ===== 
    1    98 M4549 Reynolds Wilson         M4549 M 49 Arlington       VA   41:48.4  6:45 
    2   206 M4549 Joshua Harvey           M4549 M 45 Flint Hill      VA   51:37.4  8:20 
    3   187 M4549 Travis Patton           M4549 M 45 Front Royal     VA   51:40.3  8:21 
                        FEMALE AGE GROUP:  45 - 49
Place Bib   Div   Name                    Div   S Ag City            St Time      Pace     
===== ===== ===== ======================= ===== = == =============== == ========= ===== 
    1   173 F4549 Kristine Martinez       F4549 F 46 Washington      DC   53:42.8  8:40 
    2   327 F4549 Nicole Nagle            F4549 F 48 Flint Hill      VA   57:05.9  9:13 
    3   177 F4549 Katie Ignaszewski       F4549 F 49 Madison         VA   58:55.4  9:31 
Place Bib   Div   Name                    Div   S Ag City            St Time      Pace     
===== ===== ===== ======================= ===== = == =============== == ========= ===== 
    1    91 M5054 Jake Secrist            M5054 M 50 Charlotte       NC   45:46.0  7:23 
    2   150 M5054 Tim Clites              M5054 M 51 Middleburg      VA 1:02:27.1 10:05 
    3   138 M5054 Robert Bannister        M5054 M 52 Sperryville     VA 1:04:05.2 10:21 
                        FEMALE AGE GROUP:  50 - 54
Place Bib   Div   Name                    Div   S Ag City            St Time      Pace     
===== ===== ===== ======================= ===== = == =============== == ========= ===== 
    1   175 F5054 Elizabeth Brinsfield    F5054 F 50 Des Moines      IA 1:00:04.3  9:42 
    2   157 F5054 Elizabeth Dranitzke     F5054 F 53 Washington      DC 1:00:27.0  9:45 
    3   201 F5054 Caryn Ernst             F5054 F 52 Washington      DC 1:00:27.2  9:46 
Place Bib   Div   Name                    Div   S Ag City            St Time      Pace     
===== ===== ===== ======================= ===== = == =============== == ========= ===== 
    1   307 M5559 Mario Zuniga            M5559 M 57 Front Royal     VA   42:39.1  6:53 
    2    75 M5559 Chris Campbell          M5559 M 57 Louisa          VA   43:11.1  6:58 
    3   119 M5559 Duane Williamson        M5559 M 58 Warrenton       VA   47:02.7  7:36 
                        FEMALE AGE GROUP:  55 - 59
Place Bib   Div   Name                    Div   S Ag City            St Time      Pace     
===== ===== ===== ======================= ===== = == =============== == ========= ===== 
    1   164 F5559 Sally Pontarelli        F5559 F 56 Culpeper        VA   51:43.8  8:21 
    2   224 F5559 Lisa Totten             F5559 F 56 Warrenton       VA   55:21.7  8:56 
    3   136 F5559 Corinne Kirk            F5559 F 55 Martinsburg     WV   57:40.8  9:19 
Place Bib   Div   Name                    Div   S Ag City            St Time      Pace     
===== ===== ===== ======================= ===== = == =============== == ========= ===== 
    1   105 M6064 James Bedow             M6064 M 61 Marshall        VA   52:31.1  8:29 
    2   196 M6064 Tom Strange             M6064 M 60 Warrenton       VA   54:03.5  8:44 
    3    92 M6064 Leonard McGill          M6064 M 63 Flint Hill      VA   54:48.8  8:51 
                        FEMALE AGE GROUP:  60 - 64
Place Bib   Div   Name                    Div   S Ag City            St Time      Pace     
===== ===== ===== ======================= ===== = == =============== == ========= ===== 
    1   122 F6064 Stephanie Danahy        F6064 F 64 Winchester      VA   56:50.8  9:11 
    2   184 F6064 Valerie Storer          F6064 F 64 Winchester      VA 1:06:07.2 10:40 
    3   271 F6064 sandra brannock         F6064 F 60 Amissville      VA 1:16:57.7 12:25 
Place Bib   Div   Name                    Div   S Ag City            St Time      Pace     
===== ===== ===== ======================= ===== = == =============== == ========= ===== 
    1   241 M6569 David Royle             M6569 M 66 Washington      DC   50:06.9  8:05 
    2   117 M6569 Paul Spencer            M6569 M 66 Remington       VA   58:57.5  9:31 
    3   151 M6569 James Deal              M6569 M 67 Sperryville     VA 1:01:12.5  9:53 
                        FEMALE AGE GROUP:  65 - 69
Place Bib   Div   Name                    Div   S Ag City            St Time      Pace     
===== ===== ===== ======================= ===== = == =============== == ========= ===== 
    1   288 F6569 Lynne Kritter           F6569 F 65 Culpeper        VA 1:07:53.1 10:57 
    2    88 F6569 Jane Smith              F6569 F 69 Sperryville     VA 1:09:49.1 11:16 
    3   203 F6569 Colleen Snyder          F6569 F 65 Linden          VA 1:27:17.6 14:05 
Place Bib   Div   Name                    Div   S Ag City            St Time      Pace     
===== ===== ===== ======================= ===== = == =============== == ========= ===== 
    1   245 M7074 Chris Parrish           M7074 M 73 Amissville      VA 1:11:02.3 11:28 
    2   116 M7074 David Hendershot        M7074 M 74 Front Royal     VA 1:27:36.6 14:08 
                        FEMALE AGE GROUP:  70 - 74
Place Bib   Div   Name                    Div   S Ag City            St Time      Pace     
===== ===== ===== ======================= ===== = == =============== == ========= ===== 
Place Bib   Div   Name                    Div   S Ag City            St Time      Pace     
===== ===== ===== ======================= ===== = == =============== == ========= ===== 
    1    80 M7579 James Necci             M7579 M 78 Amissville      VA 1:27:10.0 14:04 
    2    38 M7579 Mike Hendershot         M7579 M 79 Hilliard        OH 1:34:03.6 15:11 
    3   250 M7579 Graeme D. Bisdee        M7579 M 75 Cape Charles    VA 1:51:31.3 18:00 
                        FEMALE AGE GROUP:  75 - 79
Place Bib   Div   Name                    Div   S Ag City            St Time      Pace     
===== ===== ===== ======================= ===== = == =============== == ========= ===== 
    1    47 F7579 margaret west           F7579 F 77 Washington      DC 1:20:17.9 12:58 
    2   256 F7579 Gwen Bates              F7579 F 79 Huntly          VA 1:44:27.7 16:51 
Place Bib   Div   Name                    Div   S Ag City            St Time      Pace     
===== ===== ===== ======================= ===== = == =============== == ========= ===== 
                        FEMALE AGE GROUP:  80 - 98
Place Bib   Div   Name                    Div   S Ag City            St Time      Pace     
===== ===== ===== ======================= ===== = == =============== == ========= =====