This year, as I've tried to improve my birding skills, I've found I often have more interesting sightings sitting comfortably on my deck. 
My experience of birding in groups has mostly involved going out at dawn and slowly walking or standing for hours staring up into the forest canopy trying to find birds singing from deep inside dense foliage. Not only is this painful because of problems with my neck, back and knees, but I'm lucky if I can catch a glimpse of any, and then it's mostly males singing, only one of many behaviors of birds. 
I often take my binoculars and birding references with me when I ramble the property where I live, especially on my dawn walks with my dog, Mollie. But I've found that I see more birds up close, and doing more than singing, after the walk, when, weather permitting, Mollie and I relax on the deck, usually with coffee in the morning or a beer in the evening. 
As the males finish their dawn singing, many come down from their lofty perches to forage in the copse that is within a few feet of the deck. Females also show up there, and I can observe behavior besides singing, such as interacting with each other and other animals, along with the foraging. In the last few weeks, the view from the deck has become particularly rewarding, with surprising visits from several species. 
The first to show up was a Louisiana waterthrush, which despite its name is a warbler. My first sighting of this species here was last year. A male landed and started singing from a tree branch just over my head at the start edge of my yard, at the head of a trail that runs up the mountain, paralleling a stream. Since then, I had only seen this species here once, singing high in a tuliptree that had not yet fully leafed out. But this spring I had heard it almost every day, singing in the forest canopy or from within the impenetrable tangle of forest on the other side of my driveway.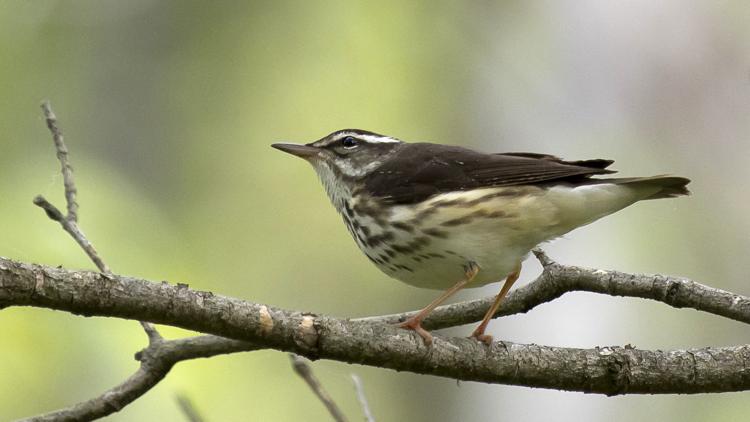 Then, the first week in July, what may be the same bird nonchalantly landed on my deck, perching on the shepherd's hook holding a hummingbird feeder. Mollie and I had just returned from our morning walk and were quietly relaxing on the deck about 10 feet away. The hummers trying to get to the feeder, however, were not so sanguine about this intrusion. They were buzzing around the feeder while the warbler stared at them, nonplussed. Eventually, as calmly and quickly as it had arrived, the waterthrush flew back to its usual haunts across the driveway.
All spring, many birds visit the copse a few feet from the deck, and a few nest there, but they mostly inhabit the center or far side, so I rarely get a good view of them. But a few days after the waterthrush visited, a male scarlet tanager showed up in the copse within a few yards of where I sit. I'd been hearing several males of this species singing around the property since early spring, but this was the first one I'd seen since they staked out their nesting territories.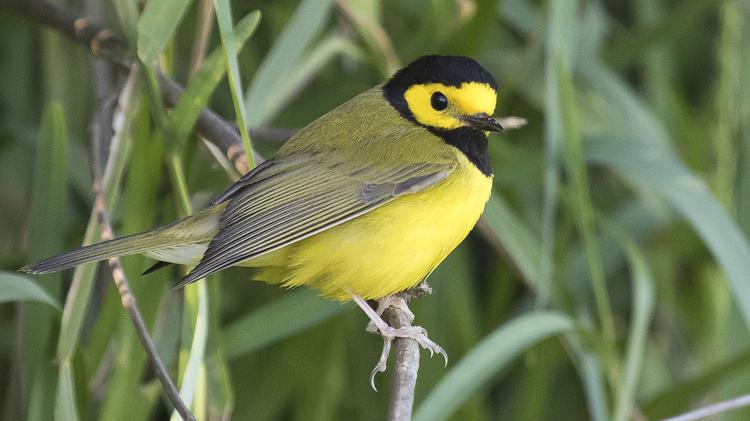 The next visitor was a hooded warbler, which had been singing tantalizingly close in the tangle on the other side of the driveway, but this was the first sight I'd had of it this year. With its bright yellow coloring and black hood, it was easy to ID. 
A day or two later, another visitor to the copse that I'd heard frequently, with its distinctive trill, but never seen, was a worm-eating warbler. This time it was silent, and with its drab coloring, I may not have spotted it but for the agitated calling of a male American redstart, which the worm-eater seemed to be following. Easy to spot by its black, red and orange feathers, the redstart was gleaning bugs, moving rapidly from branch to branch. It continually scolded the other warbler, and fluffed up his feathers, which males often do to look bigger to rivals and predators. The interaction gave me a chance to see the distinguishing identification points of the drabber, olive-colored worm-eating warbler: black and buff-colored lines on its flat head.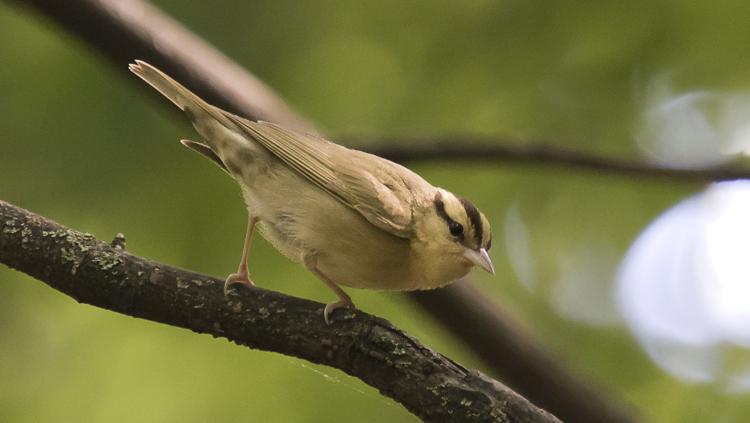 On July 9, the (or at least a) Louisiana waterthrush once again appeared on the deck. This time it landed on the deck railing within four feet of me and of Mollie, who was lying just blow it. As before, it looked around nonchalantly for about a minute before flying off to the forest edge.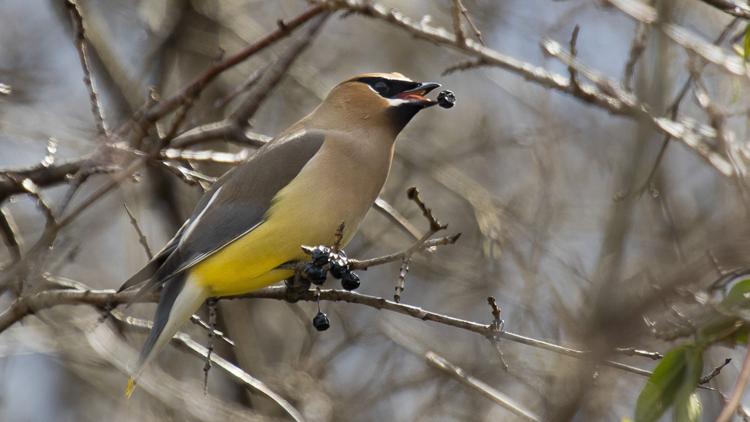 Topping off the recent sightings from my deck was a bird that is one of my favorites but is rarely seen here in the forest — a gorgeous cedar waxwing. It appeared to be checking out the berries in a hawthorn tree a few yards away from the deck and copse. The berries were not ripe, and the bird quickly moved on. The fact that this bird was alone was even odder, since the species is rarely seen outside of a flock when it's not nesting.
All the recent visitors near or on the deck, except for the cedar waxwing, had one thing in common: their species typically has only one brood a year. At this point, they are free to explore other places for food or slowly start their migration back to their winter quarters further south. 
© 2019 Pam Owen
---
Lazy birdwatching in Shenandoah National Park
While a chair and binoculars are all any lazy birdwatcher needs, Shenandoah National Park offers many excellent spots for this approach to birding. Below are a few that are an easy drive from Rappahannock County, the first three of which are considered birding "hotspots" (for more birding hotspots in our area, go to ebird.org/hotspots).
Limberlost Trail: Flat, short (1.1 miles) and with a lot of benches, this trail is ideal for lazy birdwatching. It also has great bird diversity spring through fall. A friend and I recently sighted 19 different bird species there, mostly warblers.
Big Meadows: While only a few good sitting spots are there (logs), most of the birds are meadow birds, so live closer to the ground, and most of the spots from which to sing— shrubs and small trees — are also lower. There are a few spots that can also accommodate a camp chair for anyone wanting to just sit and observe.
Thornton River Trail: Among the many birding "hotspots" in the park, this trail is flat and offers many logs and stumps along it or along the North Fork of the Thornton River to sit and watch for birds.
Overlooks: All park overlooks offer good views of the forest crown, much of it from above (so less neck craning needed), and stone walls to sit on or space for chair. Some overlooks are considered birding hotspots, especially for watching hawks migrate in the fall. On a crisp fall day, even if hawks are scarce, the Stonyman overlook, for example, is a great spot for sitting, drinking coffee and swapping birding yarns with other birdwatchers.