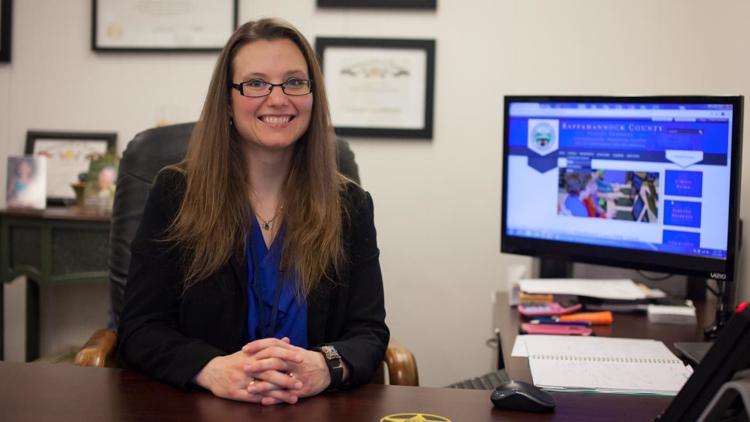 Given the recent criminal arrest of Rappahannock County Elementary School Principal Ben Temple, who remains on administrative leave pending a court date, Rapp Schools Superintendent Dr. Shannon Grimsley has sent the following memo to her staff.
Dearest colleagues,
In light of recent events, I feel the need to share some thoughts with you all. Our RCPS family is going through a difficult time, this is true. I understand all the feelings of angst, resentment, sadness, shock, anger, betrayal, and uncertainty that these types of situations can cause, and I write to you now to let you know that all of these emotions are normal and perfectly okay to be feeling.
I am not asking you to understand, agree, or to accept the decisions we have had to make in the past couple weeks; however, I do ask that you at least respect the legality, complexity, and delicate nature with which these decisions must be made. There are strict guidelines with which we must adhere to when divulging confidential information, especially concerning discipline and personnel. I am sorry that information leaked the way that it did, but understand that it could not have come from administration, especially with any circumstance that does not occur on school grounds, involve children or violence, or require our own investigative processes where we gather a preponderance of evidence. One of the hardest parts of being an administrator is making decisions with much more information than you can give, knowing full well that those decisions will draw great consternation among stakeholders. I promise to continue to hold this same standard of integrity and confidentiality to each one of you if you ever find yourself in a less than fortunate situation, as I am sure you would expect. 
I do not begrudge the media for working to inform the community, nor do I begrudge the parents who are understandably shaken and upset over all of this. I can tell you, I am one of them! I appreciate all of you who have continued to reach out and show your support through this difficult time. It's not always easy being in a position where everything you do and everyone you love is suddenly under a microscope. The court of public opinion can be very cruel. I have already forgiven those who are speaking out in frustration on social media, knowing that they are reacting to a very troubling situation with very limited information.  I can understand this frustration, and do not fault them for feeling this way. I ask you to do the same and not engage, nor be incensed. What they are feeling is okay too. I appreciate the defensiveness and compassion many of you have shown for me, but do not worry… could I not take the heat, I wouldn't have taken this seat. I remain focused, vigilant, and enthusiastic about our mission.
Moving forward, I'd like us all to remember why we are here. We serve a great purpose in educating and caring for the youth of our community. They will see the stress on our faces and feel the frustration if we are not mindful of our words and actions. I hope that you will continue to stay the course, remain positive in the face of adversity, and be strong, knowing that we are all still in this together.  We have a lot of work to accomplish, and we are not even close to finished yet! RCPS family, I ask that you work toward lifting each other up, helping each other out, and forgiving the feelings and reactions that may be opposite of what you may be feeling amongst your colleagues. Instead of spreading rumors and speculation, stay professional and squelch gossip. That breeds unnecessary negativity that will harm our delicate school climate right now. The process will work appropriately, but unfortunately, it may take some time.
Please know that I have nothing but love and respect for each and every one of you, and I appreciate what you do every single day for our children. We will band together and get through this too because together we are strong, we are mighty, we are RAPPAHANNOCK!!!
At your service,
Shannon