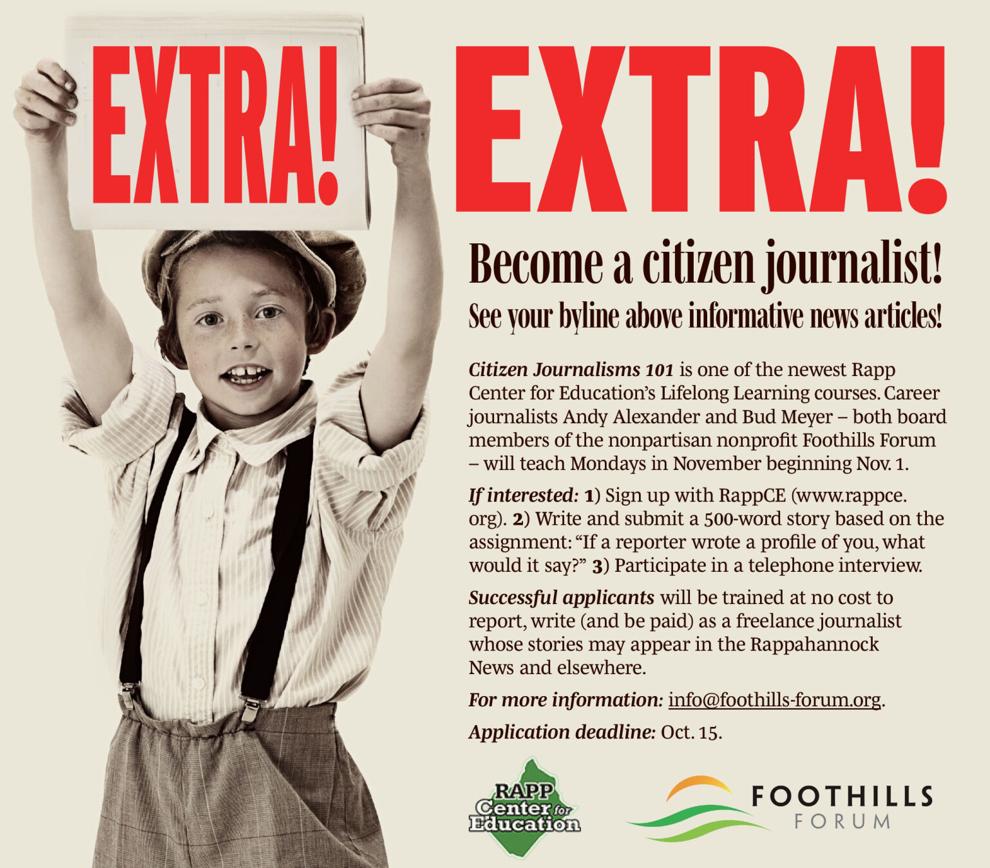 See your byline above informative news articles!
Extra, Extra! Read all about Citizen Journalism 101. The Rappahannock Center for Education and Foothills Forum are gearing up to offer a free class for Rappahannock County citizens interested in informing and engaging the public through real-world journalism. 
Foothills Forum, the award-winning journalism nonprofit whose stories appear in the Rappahannock News, is expanding its news coverage of the arts, agriculture and school sports, and is looking to train a select group of "citizen journalists" to cover those and other topics.
Students will be taught the basics of researching, writing and reporting local journalism by veteran journalists Andy Alexander, former Washington bureau chief for Cox Newspapers and former Washington Post ombudsman, and Bud Meyer, former editor and executive with The Miami Herald and leader with the journalism nonprofit Knight Foundation.
Those interested should register with the Center for Education, and be prepared to write and submit a short (500-word maximum) story based on this assignment: "If a reporter wrote a profile of you, what would it say?" Finalists will participate in a telephone interview to discuss the training program.
Once training is completed, successful applicants will be equipped to report, write and be paid as a freelance journalist whose stories appear in the Rappahannock News and elsewhere.
Classes begin Nov. 1 and run on consecutive Mondays, and applications for the class are due Oct. 15.