New RCPS social worker busy in new position 
One week into the new school year and Kathy Sickler was already dealing with a case of bullying.
She was able to calm the situation before it got out of hand. The key, she said, was to work not just with the victim, but also with the bully.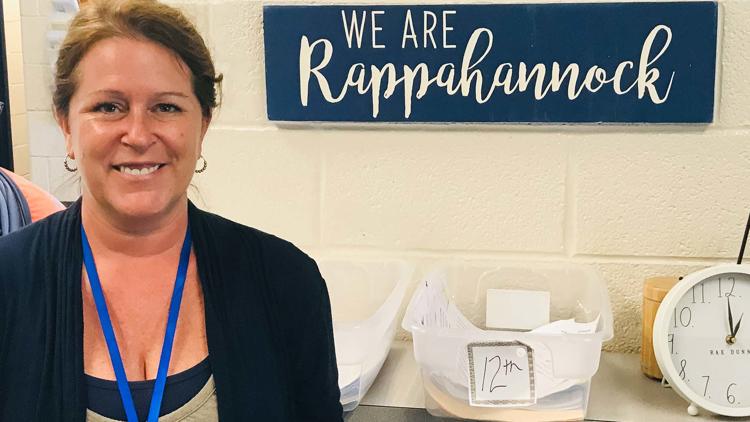 "There usually is a reason behind bullying and it often has to do with the bully experiencing some kind of trauma themselves," Sickler said. "Or the bully has low self-esteem. There's a reason for their posturing. We want to not only stop the bullying but work on why it's occurring."
As the new social worker hired by the Rappahannock County School District last June, Sickler has taken on a role that's still being shaped, but her core objective is to keep students stable so they can stay focused on learning. And that, in some cases, will likely involve reaching out to families to get a better sense of how things at home might be affecting a child at school. 
"My priority is the safety of students," she said. "That trumps everything. If I need to make a home visit to ensure the safety of a student — and that includes that their basic needs are being met, such as food and shelter — I'm going to make a home visit."
In a community where privacy can be deeply valued, Sickler may need to walk a fine line. 
"Finding the balance that works for this culture is going to be the challenge," said Anne Simon, program director for the Headwaters' Starfish Mentoring program for Rappahannock students. "Too much intervention could be disturbing to the community. But not enough intervention would not be good either." 
Jennifer Parker, the county's director of Social Services, is one who hopes to develop a working partnership with Sickler. Parker explained that one reason such a high percentage of Rappahannock kids end up in foster care, instead of being kept in families getting counseling, is that often her department doesn't find out about a perilous situation until it's too late, and the only option is to remove the child from the home. She believes Sickler could help provide early warnings of family turmoil. 
Effects of trauma
To that end, Sickler has set up a hotline number to which students can text or call her if they feel they're at risk or having a mental health crisis. She also has started setting up small groups to help students deal with a range of social or emotional challenges. One, for instance, focuses on substance abuse issues, another teaches them better coping skills.
All of the above fit in with Sickler's larger mission of smoothing the school district's transition into a "trauma-informed" community. This is a growing trend in education where teachers and staff are trained to both recognize how much trauma can affect a child's ability to learn, and to adopt empathetic techniques and approaches so kids feel more positive about the school environment. 
"It's not an overnight thing to become a trauma-informed community. It's going to take some time," said school district Superintendent Dr. Shannon Grimsley. "The big push is the recent compelling scientific evidence that is showing the effect of trauma over time. It could be any kind of stress that happens during childhood, and what that does to you later. As an educational system, we can't ignore that." 
That means working with teachers to view student behavior differently, said Sickler. She pointed out that a kid who's defiant or refuses to participate in activities isn't necessarily choosing to be difficult. 
"They may not know how to use their words to say, 'I'm feeling anxious. I feel unsafe,'" she said. "You want to help that child develop the social and emotional skills they need to become productive members of society and within their school community."
Schools as a hub
Grimsley knows that if there's going to be more awareness in the community of the impact of trauma on how children develop, the school district needs to take the lead. "There is a lot of isolation and a lack of resources here," she said. "Substance abuse is a problem here. You pull all that together and it makes it a challenging situation. The community is almost relying on the school district to be a hub in addressing some of these issues."
And, despite the wide income disparity in the county, some problems run across the board. "The issues that exist in families are not driven by socioeconomics," said Simon. "If there are substance abuse issues, it doesn't matter if you have money or no money, land or no land."
Rappahannock's small population, however, does make some matters a bit more complicated. Take bullying, for instance. 
"Being in a small school can be wonderful, but it also can be hard, especially for a kid being bullied" said local psychotherapist Ann Baumgardner, who is also one of the county's representatives on the Rappahannock-Rapidan Community Services Board. "They don't have a new circle of friends they can go to. They're stuck in a corner. There are conflicts they can't get away from because everyone is in their classes."
Simon agreed that the intimacy of a community like Rappahannock can make things more difficult for someone who comes across as different. "If they're outside the mainstream, they're probably going to get some kind of push back," she said. "And the vulnerability of those kids draws the bullies who need to find their control and power somehow.
"The good news is that we're small enough and we have tremendously caring people who interact with these kids on a daily basis," she added. "Children need to be seen and need to know that they're being seen by caring, responsible adults. And that sense of kids being seen and known is something we haven't lost here. We're small enough to hang on to it." 
Randy Rieland's stories are underwritten by Foothills Forum, a non-partisan nonprofit funded by those in the community to provide in-depth news coverage of issues important to Rappahannock County. You can learn more about Foothills Forum and view its award-winning journalism at http://foothills-forum.org.
---
 Where to get help
Active Minds: National organization that focuses on college students and mental health;https://www.activeminds.org
Child Mind Institute: Excellent resource on children's mental health and learning disorders; https://childmind.org/  
Kathy Sickler: School district social worker, 540-227-0461; Email: ksickler@rappahannockschools.us 
Mental Health Association of Fauquier: A good local resource for help on mental health, addiction and substance use issues; 540-341-8732;  https://www.fauquier-mha.org 
Peer2Peer Warmline: 24-hour support for mental health and substance use issues; 1-833-626-1490 
Rappahannock-Rapidan Community Services: Mental health and substance use outpatient services; Fauquier clinic: 540-347-7620; Culpeper clinic: 540-825-5656, Ext. 3; https://www.rrcsb.org