WCDS Board Chair Paul Larner named interim head of school until replacement is found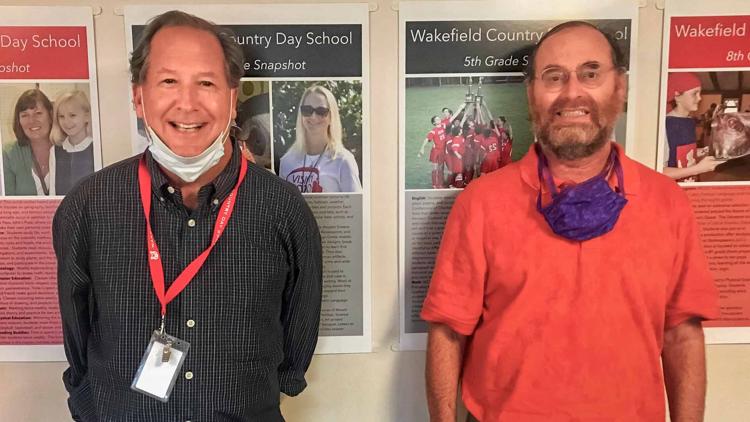 Only months after filling the top position at Wakefield Country Day School in Huntly, Head of School Patrick M. Finn has resigned.
That word from WCDS Board Chair Paul F. Larner, who said Finn's decision to resign came on Monday. 
Larner said he will temporarily fill the top administrative post until Finn's successor is found. 
Reached at his home on Wednesday morning, Finn told the Rappahannock News that he was "sorry it didn't work out."
He went on to say that WCDS has "some great faculty and students and I wish them all the best." He had no further comment at this time.
In a letter to the school community on Tuesday, Larner wrote: "Last Friday two Board members and I met with Patrick Finn to discuss issues related to WCDS and its leadership. The meeting exposed significant differences in opinion between the Board members and Mr. Finn. Some of these divergences in approach and opinion had been developing for some time.  
"Yesterday [Monday], Mr. Finn advised me that under these circumstances and due to personal concerns he desired to cease being HOS," Larner continued. "I respect and understand Mr. Finn's decision and commend him for the many ways he thoughtfully sought to challenge and advance WCDS."
After meeting in executive session on Monday night, the WCDS Board accepted Finn's resignation.
"The Board considered interim appointments, and following a portion of the meeting where I was not present, decided to ask me to serve as interim HOS for the remainder of the School Year," Larner said. "I accepted, but advised the Board that my service would have to be subject to my pre-existing business commitments.  
"As it would be inappropriate for me to serve both as interim HOS and Board Chairman, I resigned as Chairman, and the Board elected Welby Griffin as Board Chairwoman until the next Annual Meeting."
Larner said former WCDS Head of School Jessica Lindstrom will replace him on the board for the remainder of his term, which expires in May 2021.
"The changes the Board made last night were thoughtful, decisive, prompt, and motivated as always exclusively by the best interests of WCDS," Larner stressed. "These changes are designed to send a message of stability, continuity, and resolute confidence in our future."
The board chair added: "I am as excited about WCDS as ever and I can't wait to greet students as they disembark from buses next Monday morning. I remain fiercely resolute in my commitment to WCDS's future knowing that without your support I cannot succeed, but with your support we cannot fail."
Finn's appointment had been announced by the school on Feb. 7, 2020 following an extensive search process. He brought with him three decades of success at independent schools as a teacher, coach, and administrator. His resume touted prestigious private institutions including The Canterbury School in Connecticut, St. Timothy's School in Maryland, and Foxcroft School in Middleburg.
The board in announcing the hire applauded Finn's "reasoned, realistic, and cooperative approach to solving problems." 
"I look forward to working with our tremendous faculty to continue to grow and evolve WCDS in innovative and inspiring ways," Finn said at the time. "Together, with the faculty and staff, with the students and alumni, with all WCDS families past and present, and the greater WCDS community, we will continue to accomplish great things.  
"Most importantly, we will work to ensure that the incredible opportunity for a WCDS education endures long into the future." 
Wakefield is an independent, co-educational, learning environment for students in Preschool through Grade 12. Since 1972 it has served students from Rappahannock, Culpeper, Madison, Fauquier, Warren, Frederick, Page and Prince William counties.
It was only 18 months ago that the school's previous board sent a rather astonishing two-page letter to the WCDS community stating that unless a tremendous amount of money could be raised in a few weeks' time the school would likely have to shut its doors at the close of that academic year.
To say the students, parents, faculty, and even the school's founders were caught off guard would be an understatement. Almost within days Larner, whose son previously attended WCDS, rose to the occasion and under his guidance alumni, families and friends united and a wealth of support funds poured into the school, providing as Larner put it at the time "a unique opportunity [for WCDS] to reinvent itself, while still sticking to its core principles."  
The school is the 5th largest employer in Rappahannock.
In an interview with the Rappahannock News in September, Finn said assuming the school's top post has "actually been a great challenge," although he was speaking mainly of opening the campus amid the COVID-19 pandemic. 
This is a developing story and will be updated as more information becomes available.