U.S. Rep. Bob Good last Thursday encouraged a group of Rappahannock County High School students to not wear masks in school, saying during his visit the administration "can't stop everyone."
"If nobody in Rappahannock complies [with the mask mandate], they can't stop everyone," Good told the students. "If I was y'all, I'd say none of y'all wear a mask. What are they gonna do? They're still going to have school."
Good, a Republican representing Virginia's 5th Congressional District in the U.S. House of Representatives, spoke to a Rappahannock County High School government class of about 20 students on Thursday after Tim Stockdale, the class' teacher, invited him to speak.
The Virginia Department of Public Health is mandating that all students, teachers, staff and visitors in K-12 schools wear masks indoors, regardless of vaccination status. The event on Thursday was originally supposed to take place in the high school auditorium, but after Good refused to wear a mask, administrators moved it outdoors to the football stadium. 
Good's speech to the students included misinformation about masks and vaccines, saying that President Joe Biden and Virginia Gov. Ralph Northam, both Democrats, are "lying to us about the effectiveness of masks." Good said there is no scientific evidence that proves the efficacy of masks, and that COVID-19 vaccines pose more of a health risk to teenagers than the virus itself.
Superintendent Dr. Shannon Grimsley wrote in an email to the Rappahannock News that she is not concerned about mask compliance among students because "Our students and families are very smart, competent individuals who have seen in real time the impact of increasing chances of being quarantined or causing others to be quarantined, as well as the potential of losing privileges, such as the ability to host events and fun activities should numbers increase too much."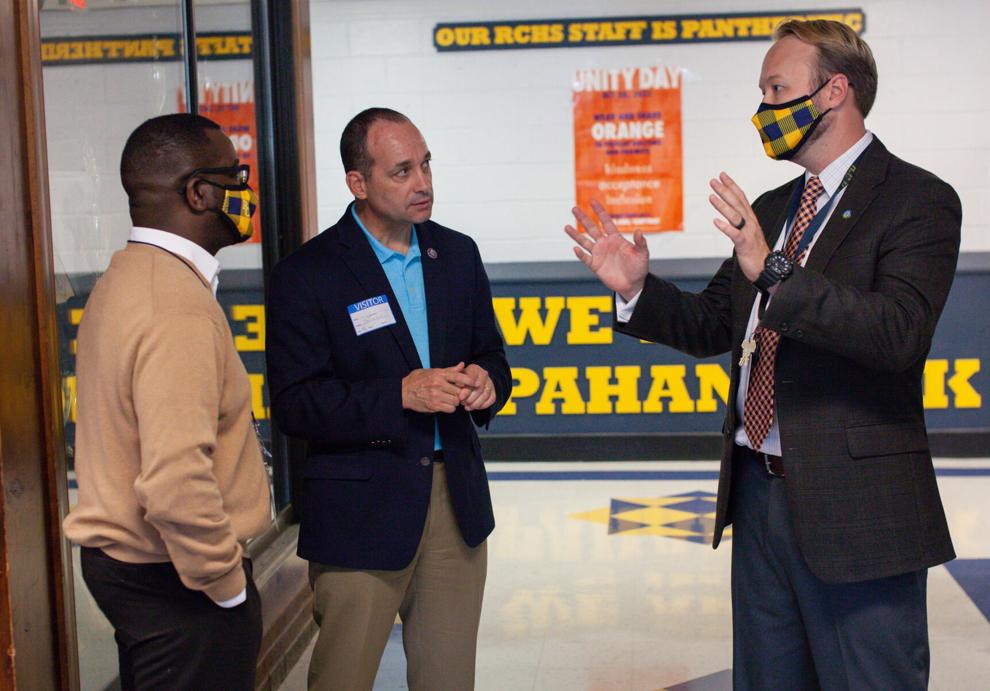 Just last week, however, Grimsley reported troubles with compliance, threatening that homecoming and other school events could be cancelled if the numbers of cases and quarantines in the school don't fall.
There are 54 students and staff at RCHS quarantined, a significant percentage of the building's total population. The district is experiencing a spike in cases and quarantines that exceeds the spike it saw in September, but is still less than the initial onset of COVID-19 cases in August. 
Grimsley also wrote in her statement that Good's visit "was within the context of a small group of government students. Students were able to ask questions and see how one elected official viewed some of the current issues. The students, under the carefully propitious and contemplative tutelage of Mr. Stockdale, were then able to unpack the ideas and insights of the Congressman against the backdrop of current laws, processes, and complexities that exist among the different levels of government."
Good also talked about his pro-life positions, saying that "science says life begins at conception" and that he'd like to eliminate all abortions if he could. 
He also told the students that colleges and universities — outside of faith-based Christian schools — are "going to try and change what you believe" because they are "dominated by the left." 
He added that he thinks there should be video cameras in classrooms so parents can see what their kids are learning, and that he is against history curriculum that includes Critical Race Theory, which is not taught in Rappahannock schools.
Masking in schools was initially contentious this year, with the School Board originally opting to not require the practice. Many parents and school personnel spoke out at meetings in opposition to the idea of mask mandates.
Rappahannock County School Board member Rachel Bynum, who is up for reelection in the Piedmont District and is in favor of masking, said she thinks the visit was unhelpful, and that school should not be a place for partisan politics, and that she feels the schools have been moving in a positive direction in terms of COVID-19 mitigation efforts. 
"It just feels unhelpful in terms of what we should try to have in sort of lowering the temperature and getting down to teaching and learning at school," she said.
High school Principal Carlos Seward was in attendance at the event, and said Good gave a presentation to the students that reflected his own values. "Being able to expose students to different worldviews is important on both sides," Seward said. "We don't endorse one way or the other."
---
---