Fall (sports, that is) is in the air
It still feels like a sauna outdoors, but coaches for fall sports at Rappahannock County Public Schools are already gearing up their players for the upcoming season.
Yes, the opening day of school isn't far off, and football and golf tryouts got underway August 1. Tryouts for all other sports began this past Monday.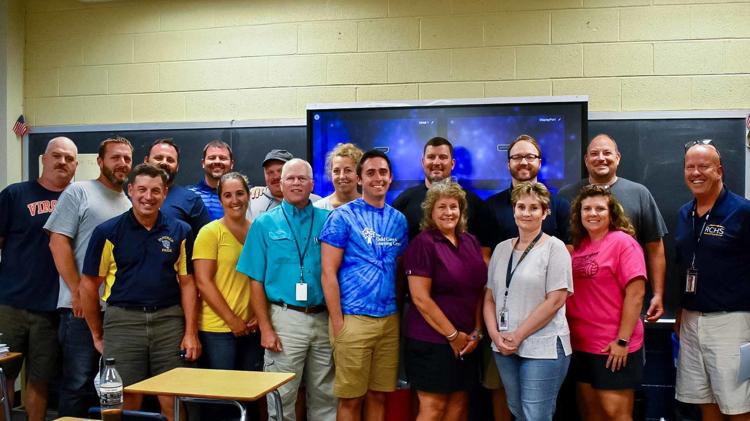 All the coaches are seen here after a meeting this past week with RCHS Principal Jimmy Swindler (far right), who over the years has been a tremendous supporter of all sports — coaches and athletes alike — within the Rappahannock Schools system.
Welcome new RCPS staff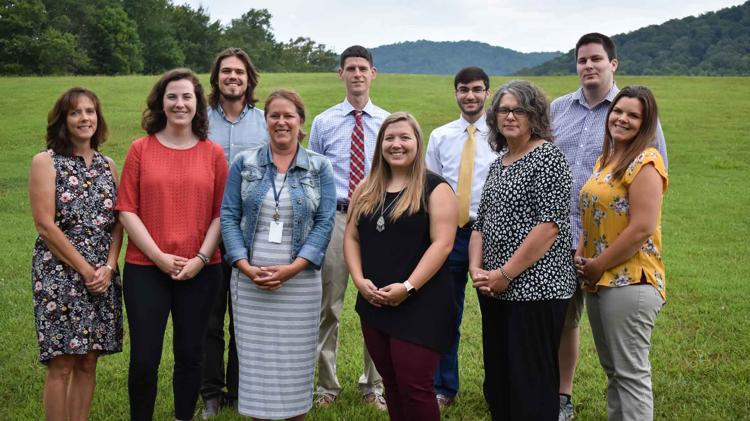 Greg Czekaj (High School Biology Teacher) — Czekaj is excited to be back in Rappahannock County as the new biology teacher at RCHS after living in Charleston, S.C., since 2012 where he attended the College of Charleston. He graduated in 2016 with a BS in Marine Biology and a BA in Spanish.
Kevin Alther (4th Grade Teacher) — Alther graduated from Eastern View High School in Culpeper and earned his Bachelor's degree from Radford University. Many members of his family attended Rappahannock County Public Schools, including his parents and grandparents. 
Nicholas Acquino (Elementary School Band Teacher) — Born in New York, Acquino has been slowly moving down the east coast as he made his way to Rappahannock County. He grew up in Tobyhanna, Penn., later moving to West Virginia. At Shepherd University he completed his Bachelor of Music Education degree in May 2019.
Steven Mattichak (High School P.E. Teacher) — Mattichak is a class of 2019 graduate from James Madison University, where he received his Master of Arts in Teaching Health and Physical Education. He comes to Rappahannock County after living in Rockingham County all of his life. Steven is very passionate about basketball and will be an assistant coach with the boys' varsity team this year.
Renae Athelli (Paraprofessional) — Athelli has been a substitute teacher at RCPS for nine years and will now serve as a paraprofessional at RCES. Both of her children graduated from Rappahannock County Public Schools.
Lia Slaton (College Advisor from Virginia College Advising Core) — Slaton is the College Adviser at Rappahannock County High School with the Virginia College Advising Corps. Thanks to the generosity of the PATH Foundation, RCPS is excited to offer this full-time position. She earned her Bachelor of Arts degree from Washington University in St. Louis. 
Kathy Sickler (School Social Worker) — An experienced clinician, Sickler previously worked in a variety of roles including Clinical Supervisor, Mental Health Case Management Supervisor, Mental Health Case Manager, and Emergency Services Clinician in Culpeper. She earned a Masters in Social Work from VCU and a Bachelors in Human Services and Counseling from ODU. Her nearly two decades of experience revolve mainly around working with at risk youth, and she has particular specialization in adolescents in crisis and substance abuse intervention.
Christen Good (2nd Grade Teacher) — Good is a recent graduate from Virginia Tech and will begin her first teaching position at Rappahannock County Elementary School this school year. She received a bachelor's in human development and a master's in elementary education. She lives in Luray and has always dreamed of working at a nearby school as an elementary teacher. 
Sherri Burfield (1st Grade Teacher) — Burfield graduated from Old Dominion University in 2009. She has previously worked in the school system subbing, doing homebound instruction, and assisting part-time in special education. 
Michele Fincham (6th Grade long term sub) — A graduate of Virginia Tech, Fincham has had a successful career as a Licensed Veterinary Technician for over twenty years. In pursuit of a career change, she is currently finishing her Bachelor's in Elementary Education through the University of Phoenix and will be the long-term substitute science. 
Lindsey Morris (Athletic Trainer) — A 2018 graduate from George Mason University, Morris is excited to serve as the new athletic trainer. She lives in Culpeper with her husband and two-year-old son.
Pavilion 2020