Pros among them
This past Saturday, nine members of The Piedmont Symphony and Capital Wind Ensemble under the direction of George Etheridge gave a master class or side-by-side rehearsal to members of the Rappahannock County High School (RCHS) Concert Band.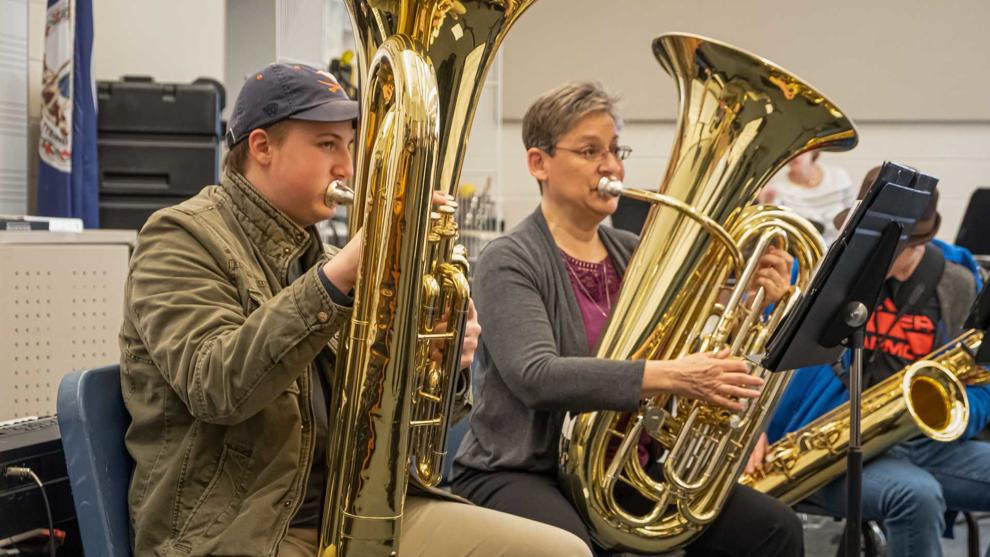 It was an insightful hour and a half session sitting amongst professional musicians, many of whom are members of the premier D.C. military ensembles. The professional players provided students the ideal reinforcement of sound concept and musicality to improve their skills as musicians. 
This special musical learning opportunity was made possible through the collaboration of the Piedmont Symphony Orchestra's Music Mentor Program, the Capital Wind Symphony and the financial support of RAAC'S Claudia Mitchell Fund. As in provided to RCPS students at no cost thanks to the Claudia Mitchell Fund. 
According to RCHS Concert Band director Jason T. Guira, educational outreach programs such as this allow students to benefit from positive mentoring relationships from accomplished musicians and give our students access to skills tutoring and assessment that can prove invaluable to their development as musicians.
The symphony will be performing a free concert Sunday, March 8 at 4 p.m. in the Fauquier High School Auditorium.
Winter Sports Awards
The 2019-2020 Winter Sports season wrapped up with the Awards Ceremony on March 2nd in front of a large crowd in the RCHS auditorium. Coaches took the opportunity to proudly share stories of the hard work, improvements, and successes that were experienced both on and off the court. While the coaches could only award a small number of athletes, they credited each student-athlete for their strong contribution to their team. Join us in congratulating the following athletes that were recognized during this event.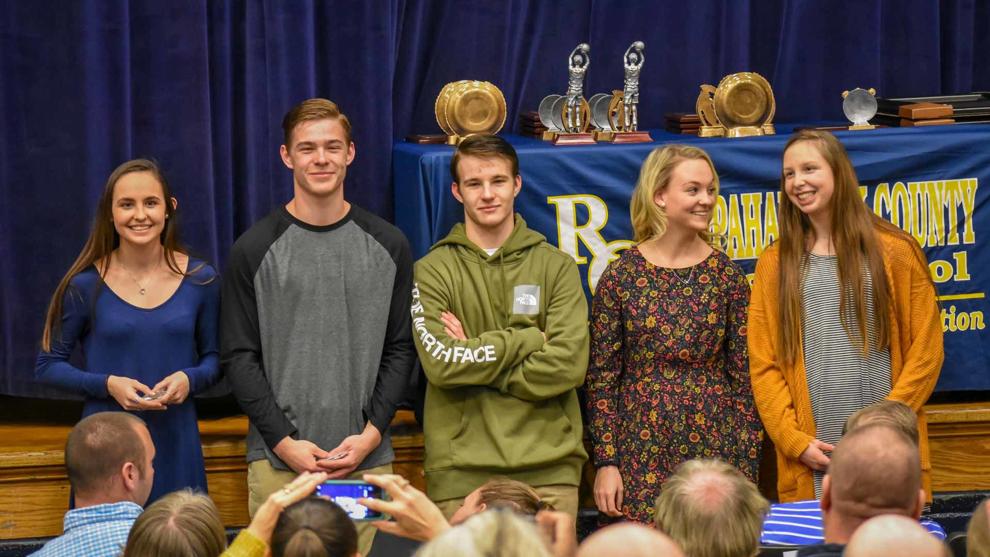 — JP Boys Basketball Team A- Ryan Deal (Coach's Award) and Jeremiah Phillips (Most Improved)
— JP Boys Basketball Team B- Joseph Wissinger (Most Improved) and Mason Comer (MVP)
— JP Girls Basketball- Brookelyn Atkins (Coach's Award)
— JV Boys Basketball- Andrew Deal (Offensive POY) and Nolan Prince (Defensive POY)
— Varsity Boys Basketball- Walter Richard Lillard (Offensive POY) and Curtis Grant Lillard (Defensive POY)
— JV Girls Basketball- Abigail Atkins (MVP) and Savannah Loving (MVP)
— Varsity Girls Basketball- Olivia Atkins (MVP)
— Varsity Wrestling- Nicholas Grigsby (MVP) and Edgar Gonzalez- Flores (Outstanding Wrestler)
— JP Sideline Cheer- Faith Beck (Most Improved)
Sportsmanship Awards- Beth Barron (JP Girls Basketball), Sarah Dodson (JV Girls Basketball), Kayla Compton (Varsity Girls Basketball), Samuel Vandrey (JV Boys Basketball), Abby Timbers (JP Sideline Cheer), Seth Shackelford (JP Boys Basketball), Thomas Keane (Varsity Wrestling), Luke Ellis (Varsity Boys Basketball), and Samuel PerDieu (JP Boys Basketball).
Scholastic Bowl
On Saturday, February 29th, RCHS earned the Class 1 runner-up title in the 2019-2020 VHSL State Scholastic Tournament at Jamestown High School in Williamsburg.
 Every player received a medal and the team received a runner-up trophy. 
Congratulations to the team.
Digital Learning Day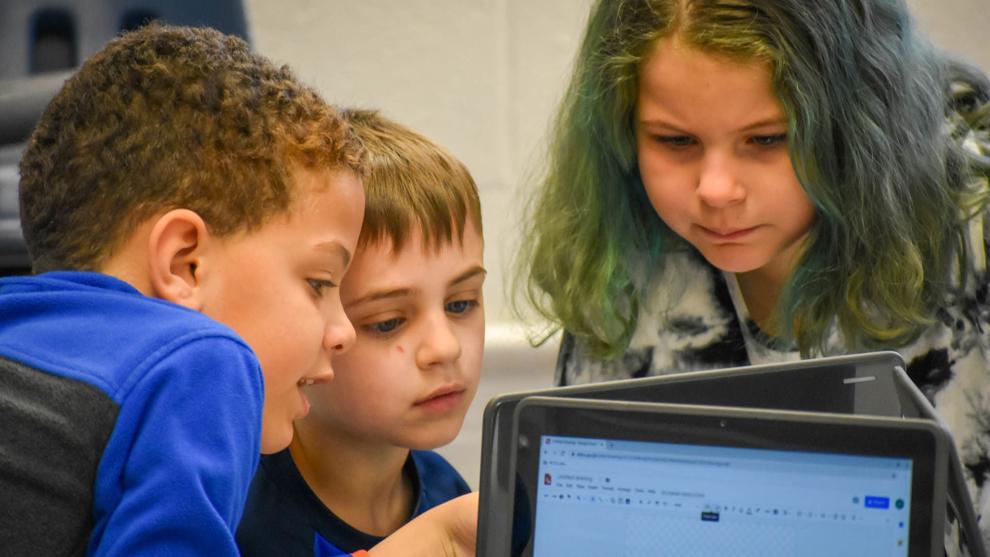 RCES students participated in Digital Learning Day on Thursday, February 27th. This event encouraged schools throughout the US to further enhance learning by integrating modern-day tools and technology. Students of all ages enjoyed the assortment of learning activities. 
Coding girls unplugged
The RCES Girls Who Code Club, led by Ms. Kelly Estes, featured a special "unplugged" activity on Wednesday, February 26th. After learning about variables and how they can store all types of information, the students were prompted to think about what a variable that represented themselves might hold.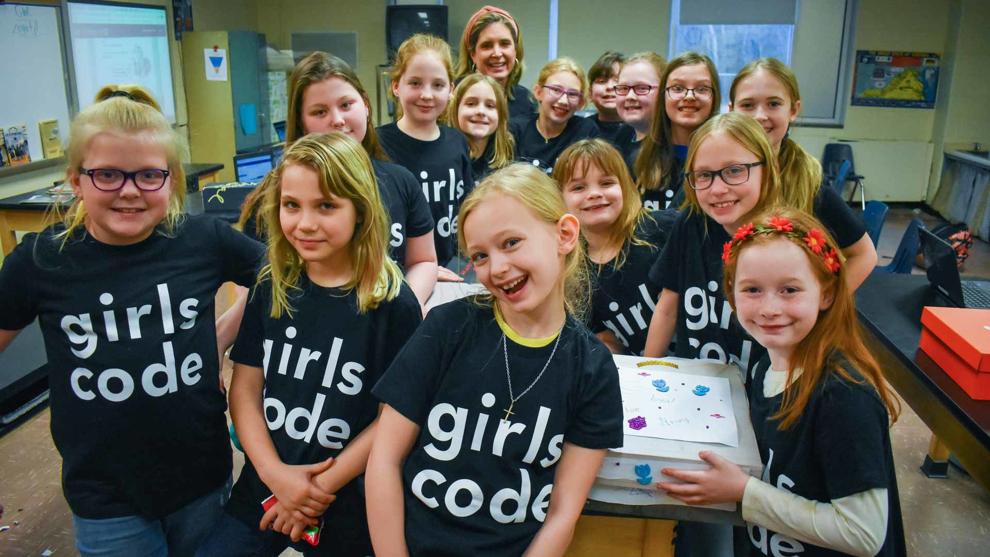 Next, the girls had to decorate a variable container with items that represented who they are and what matters to them. Before moving to a "plugged" activity on the computers, the girls took turns sharing their variables with fellow club members.
WCDS Worldwide 
Following in the footsteps of Caesar, a 24-person WCDS Worldwide group of students, teachers, and friends traveled through northern Italy and southern France on a 10-day trip this winter.
On their way to Paris for their return flight, they also made a stop in Switzerland to visit CERN, home of the Large Haldron Collider particle accelerator. 
In a continued effort to learn history, not just teach history, the WCDS Worldwide group had Welby Griffin, Latin and British History teacher, acting as tour guide. 
WCDS believes having a broad awareness of how other people live and what other cultures prioritize allows one to think differently about their own lives and gain a global perspective, as well as allows great gains in academic content knowledge. Every other year Mrs. Griffin also leads a comprehensive trip through England to reinforce the lessons she teaches in her British History Class. 
This June, WCDS is organizing a trip to Cuba with leading-expert Ernesto Flores as its guide. The 8-day trip will start and end in Havana, with trips to Cienfuegos, Trinidad, and the Bay of Pigs. 
Also accompanying the group will be adjunct faculty member Ed Rabel, NBC Emmy-Award winning broadcast journalist and Cuba expert. This trip is open to the greater WCDS community. 
For more information or to learn more about WCDS Worldwide, please contact Suzanne Zylonis, szylonis@wcdsva.org.