School Board to report on VSBA Convention
Rappahannock County school board members Wes Mills, Rachel Bynum, Larry Grove, and Lucy Maeyer, along with school superintendent Dr. Shannon Grimsley and clerk Amy Rogers, returned from the Virginia School Boards Association (VSBA) 2019 Annual Convention in Williamsburg this week and will report back to the board at the December 10 board meeting. 
Approximately 1,000 school governance leaders attended the convention, participating in more than 50 workshops, clinics and critical issues sessions focused on topics such as board governance, school law, workforce readiness, schools in challenging environments, advocacy, and educational trends.
"I am eager to share what I learned at the VSBA Annual Convention this year," said Chairman Mills. "The convention is a great investment for our community because it allows our board to continue learning about nationwide and statewide trends, meet and learn from key policy officials, and bring back new best management practices for our schools that will improve our students' education." 
Not only did the board hear from nationally renowned educational speakers, but they also had a chance to receive critical training in school law issues, crisis management, school governance, and receive required training for FOIA and COIA.  
VSBA, a nonpartisan organization of Virginia school boards, promotes excellence in public education through advocacy, training and services. The association offers conferences, information, training, and counseling designed to meet the needs of the Commonwealth's educational leaders.
RCHS Fall Sports Awards
The 2019 Fall Sports Awards Ceremony was held this past week at Rappahannock County High School in front of a packed auditorium filled with student-athletes, parents, and community members.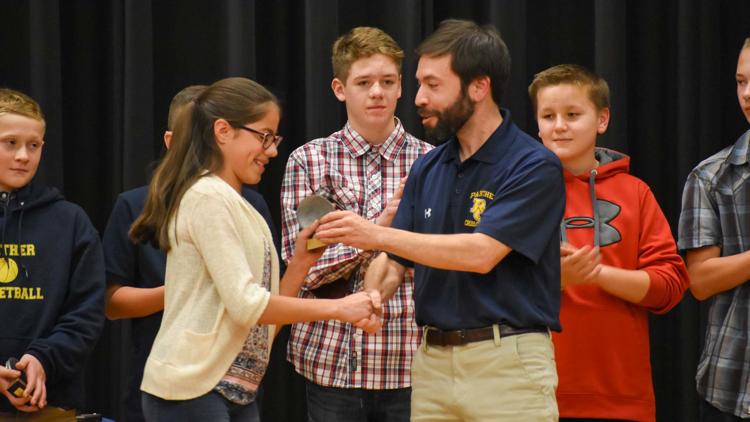 With so many teams making an appearance in postseason events this year, each coach shared all of the great accomplishments their team experienced over the fall season. From state appearances (Cross Country, Competition Cheer, Varsity Volleyball), undefeated seasons (JP Volleyball and JV Volleyball), regional competitions (Cross Country, Competition Cheer, Varsity Volleyball, and Varsity Football), District Champions (JV Volleyball), and Regional Champions (Competition Cheer) and Rachel Weghorst for Cross Country, there was a great deal to celebrate in the athletic department.
The following athletes received special recognition during the awards program.
Golf — Alec Petty (MVP) and Blake Keyser (Most Improved)
Varsity Football — Matthew Pullen (Panther Pride) and Matthew Sisk (Panther Pride)
JP Football — Dylan Hensler (Coach's Award) and Jeremiah Phillips (Coach's Award)
JP Cheer — Hayden Watson (Coach's Award) and Adriana Jackson (Coach's Award)
Sideline Cheer — Natalya White (Coach's Award) and Samantha Luthi (Coach's Award)
Competition Cheer — Allie Phillips (MVP) and Alex Settle (Most Improved)
Varsity Volleyball — Hannah East (MVP) and Olivia Atkins (Coach's Award)
JV Volleyball — Annie Perdieu (MVP) and Kamryn Brown (Coach's Award)
JP Volleyball — Brooke Atkins (MVP) and Beth Barron (Coach's Award)
Varsity Boys Cross Country — Luke Ellis (Coach's Award) and Daniel Dalle Lucca (Coach's Award)
Varsity Girls Cross Country — Rachel Weghorst (Coach's Award) and Jordan Welch (Coach's Award)
JP Boys Cross Country — Sam Perdieu (MVP) and Tucker Atkins (Coach's Award)
JP Girls Cross Country — Brianna Covarrubias (MVP) and McKenna Torosian (Coach's Award)
New to the sports awards ceremony this season was the Sportsmanship Award category. Created by Athletic Director, Courtney Atkins, the Sportsmanship Award recognizes athletes that embody this important character trait. This season's recipients included Mariah Richardson (Competition Cheer), Logan Woodward (Sideline Cheer), Summer Shackelford (JP Volleyball), Abigail Atkins (JV Volleyball), Kayla Compton (Varsity Volleyball), Sam Perdieu (JP Cross Country), Alexis Gainer (JP Cross Country), Gage Whitt (JP Football), Bryce Fryant (Varsity Football), and Faith Beck (JP Cheer).
Stuff the Bus
A RCPS school bus filled with donated goods made a special delivery to the Rappahannock Food Pantry on November 21st. The food drive, "Stuff the Bus," collected items such as stuffing, salad dressing, sweet potatoes, and cranberry sauce for families in need over the Thanksgiving holiday. 
For the last several weeks, Rappahannock County Public Schools and Commit to Be Fit have been promoting a fun competition between grade levels to see which grades could donate the most food for the Rappahannock Food Pantry. While it was a very close competition with only a seven-item difference between the first and second place winners, the 4th-7th grade team won the friendly competition with a total of 172 items. In all, a total of 489 goods were donated.
Amanda Butler, RCPS Director of Food Services and C2BF Nutritionist, was accompanied by five high school student volunteers, who "stuffed the bus" with large boxes overflowing with the donated items from both schools and unloaded them at the food pantry. Once everything was off the bus, Rappahannock County Food Pantry Director Mimi Forbes weighed the donated food, which totaled an impressive 537 pounds.
College applications
Friday, Nov. 22, marked the conclusion of the Virginia College Application Week, a statewide initiative by SCHEV to increase the number of college applications submitted by high school seniors.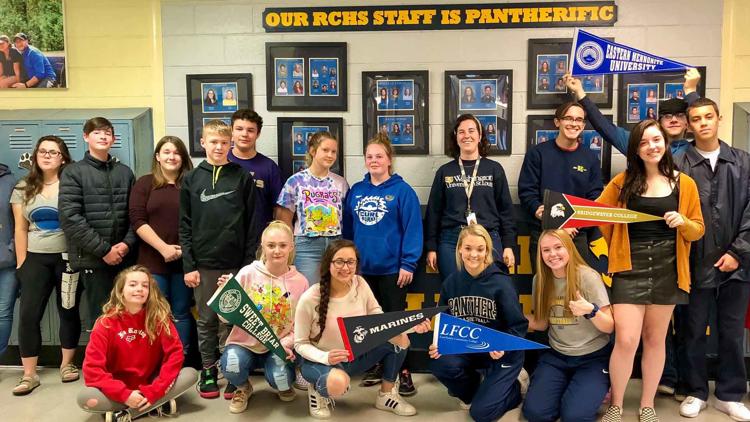 Ms. Slaton, the college adviser at RCHS, helped coordinate and plan the events for the week. Students had the opportunity to work on college applications all week, participate in on-site admissions with Eastern Mennonite University, participate in a school-wide scavenger hunt, as well as answer college trivia questions. 
Peer mentors and eighth graders competed to complete six different puzzles in the College and Career Escape Room, and learn more about their choices after high school. The week ended with college gear and RCHS spirit days!
— All RCPS stories by Holly Jenkins