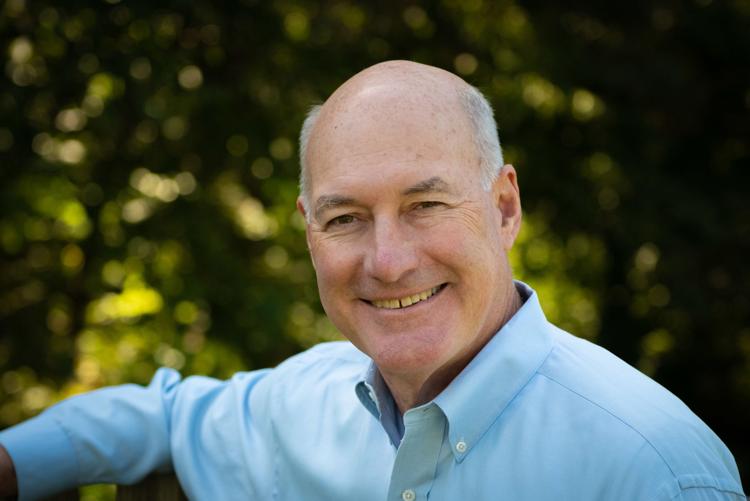 'You do it because you believe you can do good things for people'
Having immersed himself in public service to his community and country for most of his adult life, perhaps it comes as no surprise that Rappahannock County Supervisor John Lesinski today will toss his hat into the U.S. congressional ring.
The resident of Tiger Valley, who opted not to seek reelection to the county board of supervisors in November, makes his pursuit of Capitol Hill official today with a larger announcement to follow.
"We decided to do a soft launch" today, the Democrat tells the Rappahannock News, explaining the main focus for now should remain on those races to be decided in November, including for the Virginia General Assembly. "We'll do something bigger probably sometime after the November elections. 
"Another reason I'm announcing late is I'm still doing a job here," Lesinski added of his Hampton district duties that continue through Dec. 31, 2019.
That said, to become the next U.S. congressman representing Virginia's sprawling 5th Congressional District, stretching from the North Carolina border to north of Rappahannock, the supervisor will first have to emerge as the top vote-getter in a Democratic primary currently fielding four candidates: Lesinski of Rappahannock, Kim Daugherty of Fauquier, and from Charlottesville Dr. Cameron Webb and Roger "RD" Huffstetler, the latter running unsuccessfully in 2018's caucus for the same seat. 
Should Lesinski win the primary, to be held prior to the November 2020 election, he would face incumbent freshman Rep. Denver Riggleman, a late-entry Republican in the 2018 campaign who defeated Rappahannock Democrat Leslie Cockburn.
"This is an enormous undertaking at every level," Lesinski tells the News. "You certainly don't do this for yourself. It shouldn't be about your ego. And it certainly should not involve hubris. You do it because you believe you can do good things for people. And it's probably one of the highest forms of public service maybe other than joining the military. 
"But you also have to have big ideas because I don't think it's worth seeking office in Congress without feeling you can make a difference or coming to the table with big ideas. I think coupled with my leadership background and experience that I've had in both local elective office and business, for me running for Congress is the right thing to do at the right time. Again, I would like to come with some pretty large ideas that I think would make a difference for the district."
Whereas hot-button issues ranging from healthcare and immigration to guns and education are on the tips of most candidates' tongues these days, and while Lesinski says they are certainly important, his preliminary travel around the district uncovered something else weighing on the minds of residents, particularly in rural areas like Rappahannock.
"I've traveled around the district quite a bit already . . .  and the recurring theme in all the rural counties is this one issue that we all keep coming back to: rural broadband. Everybody is talking about rural broadband now. It needs to be looked at as an investment in infrastructure," says Lesinski, who has been the chairman of Rappahannock's Broadband Commission. 
"And more important 'inequality' in infrastructure," he argues. "We talk about [inequality] from the perspective of income inequality, or equal access to healthcare, but we're not really talking about what the impact is of inequality of broadband. This is what people are reinforcing to me. It cuts across education. It cuts across employment. You can't fill out a job application without it… Businesses won't come into your community without access to the internet. 
"And it certainly has to do with healthcare, telehealth, telemedicines," the candidate says. "I'm hearing this in every county… There just isn't the amount of investment in that last mile. It's not going to come from the private sector without some matching funds. 
"What we've learned here of course in Rappahannock . . . is that we've given away our low hanging fruit, our schools and our library to Shentel. But Shentel has no plan or desire to take it to the last mile — into the houses. We've met with Rappahannock Electric Cooperative and they're building a fiber backbone, but they're hoping somebody else, some other private provider, comes and taps into it to get it into the hollows."
The U.S. Congress, which has been debating a substantial "infrastructure" bill for several years now, continues to refer for the most part to roads and bridges (harking back to the 1956 Highway Act, which created the interstate highway system with a national gas tax) and other surface transportation. 
"But this is part of it, too," Lesinski insists. "It's the rural electrification issue of our day. We got it done through the utility companies back in the 20s, 30s and 40s, and to me there isn't any reason we can't get it done now. Private sector is just not stepping up. There's no money in it for them. So this is a role of government, I really think. I'm not a big government guy . . . but I think they have a big role here. It's really becoming a large part of creating a society of have and have nots."
Other issues Lesinski says he will carry with him to the stump:
"I want to drive this idea of required public service for our young people," he states. "We've lost a concept of the social contract. I'm very concerned that a lot of the disconnect we see today between people and society is because frankly we just don't know and understand each other well enough anymore.
"One of the best examples is the Greatest Generation, because they were all thrown together in wartime," Lesinski says. "We can recreate that model outside of a crisis like that. And there's a couple of different ways. It could be one year of service if you're coming out of high school. It could be a program that does everything from putting you in a trade that's working on some of this infrastructure, for example. Again, you have a decision [of what] to do. Like the Civilian Conservation Corps, maybe you're working in a National Park . . . maybe you're working in a food pantry, there's a thousand ideas out there. And you're getting compensated for it . . . 
"I'm a trustee on the board of the Center for Public Service and Scholarship at Shenandoah University in Wincehster. I see what the students are doing up there. Heck, we have a pretty robust community service program right here in our own [Rappahannock] High School. It's very much in vogue and play in a lot of our communities already. This is just looking to move it up a notch. . . 
"And with the amount of student debt out there right now, students graduating from college with a big stone around their neck… This program might help them pay that debt down. And the universities and colleges ought to be a part of the conversations too, because they're the ones charging 40 or 50 grand to go to their schools… They definitely need to have a seat at the table for something like this."
Lesinski will also concentrate on ways to create "jobs, jobs, jobs," especially in areas like Danville, which has seen tobacco, textile and furniture production all but disappear. The agriculture sector, he says, should continue to explore industrial hemp, "the perfect replacement crop for tobacco or maybe even other crops that are just not producing the revenue per acre that industrial hemp will. 
"A lot of people confuse hemp with marijuana, but it's not… It's used for rope and textiles and now more so for medicinal purposes. There's a lot of states that are getting on board with it . . . and we need to look at it from a federal perspective and see what we can do for our farmers."
Finally, he speaks of "clean energy . . . and maybe that's something for the Charlottesville area, with the research and technology [sector] and UVA there. The Chinese are eating our lunch on battery technology, electric cars. This is the type of technology and industry of the future that could help all of the fifth district frankly… And it won't come without broadband."
Although not as a candidate, Lesinski has already attended numerous district-wide events, both community and political. He even recently toured the Ikea plant soon to close in Danville, taking 300 jobs away from the already struggling community.
Lesinski joined the U.S. Marine Corps upon graduation from college and served four years of active duty before another 22 years in the reserve forces, retiring in 2006 at the rank of full colonel. He settled in Virginia in 1985, launching a career as a commercial real estate broker. His wife, Heidi, also works in local real estate.
Through his real estate practice he's leased large buildings along the I-81 corridor to such firms as Procter & Gamble, Fiat Chrysler, Home Depot, Rubbermaid, PlyGem and Ecolab, bringing hundreds of jobs to the Piedmont area.
He entered elective politics in 2009, falling short in his bid for the House of Delegates in Virginia's 15th District. He was elected to the Rappahannock County School Board in 2011, serving as chairman for four years, and today he sits on the board of the Rappahannock Education Center, among others in the region.
In 2015 he was elected to the Rappahannock Board of Supervisors, and in the time since has represented the county on the planning commission, public safety committee, building and facilities task force, regional jail commission, community management and policy team, and the Rappahannock Rapidan River Basin Commission.
He is heavily involved in U.S. veterans issues, and in 2014 was appointed by Governor McAuliffe to the Virginia Veterans Services Foundation, where he serves as development chair, and in 2018 to the Virginia Board of Veterans Services by Governor Northam. 
He is the grandson of Polish immigrants who came to America "to find a better life," Lesinski says, his grandfather settling in Detroit and working his entire career at the Ford Motor Company as a tool grinder and foreman.