'This is either a significant criminal act in a public place or else a very poor excuse for somebody in your position'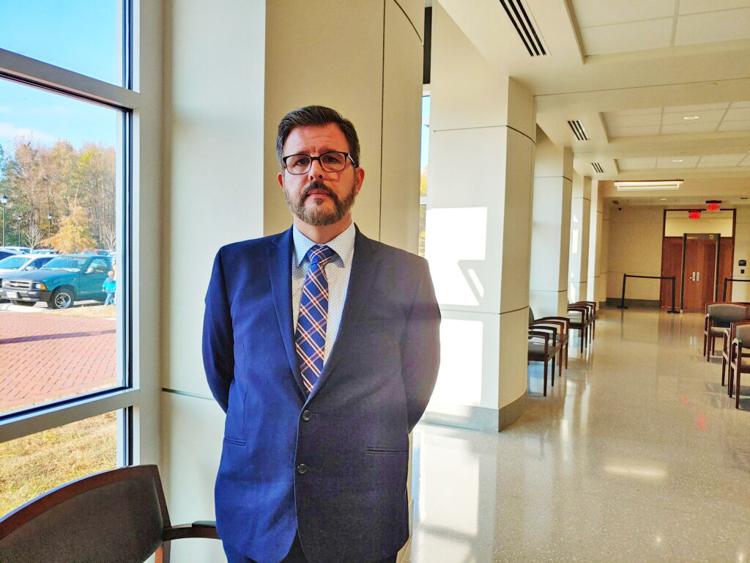 HANOVER — Suspended Rappahannock County Elementary School Principal Ben Temple was found guilty in Hanover County General District Court Wednesday afternoon of three misdemeanor charges.
During an hour-long bench trial, Judge Hugh S. Campbell found Temple guilty as charged on identity theft and using a false ID to avoid arrest in an incident that took place on September 1 in a Kings Dominion restroom. 
Temple was also charged with simulated or actual masturbation, but Judge Campbell on Wednesday reduced that charge to indecent exposure.
For each of the identity related charges, Campbell ordered Temple to pay a fine of $250 and sentenced him to 90 days in jail, all suspended. 
For the indecent exposure charge, the principal must serve 10 days of a 180-day sentence. The judge authorized the jail sentence to be served on weekends.
Temple was also barred for life from Kings Dominion.
Neither Temple nor his attorney, Todd Stone of Richmond, was available for comment immediately following the court hearing. 
However, in conversation beforehand, Temple told the Rappahannock News that the uncertainty of the past three months had weighed heavily on him, particularly the difficulty of having to explain to his three children, "What happened to daddy?"
Wednesday's court proceeding was the first time the public has had a chance to hear Temple's side of the story, especially surrounding what witnesses described to police as something resembling masturbation. 
The principal claimed that on the day of the incident he was treating a heat rash on his scrotum and inner thighs with Gold Bond Body Powder and visited restrooms in Kings Dominion several times during his visit. 
Temple explained that he had been in a bathroom stall for several minutes treating himself with the powder, left to wash his hands, then proceeded to the urinal because the rash still burned and he wanted to get as close to the urinal as possible so water would splash on the affected area.
He claimed that when he was approached by security officers he was frightened and didn't understand why he was being questioned. Out of fear, he said he gave an incorrect identification, Social Security number, and date of birth.
The judge asked Temple's attorney whether his client had any prior criminal record and what he did for employment. Stone replied there was nothing criminal in Temple's past, and that he was a teacher who had become an elementary school principal in Rappahannock County.
"[T]his is either a significant criminal act in a public place or else a very poor excuse for somebody in your position," Judge Campbell scolded Temple. "This was a poor decision."
Temple's boss, Rappahannock County Schools Superintendent Dr. Shannon Grimsley, emerged from Wednesday's trial visibly shaken and reluctant to speak about Temple's continued employment.
"I don't want to comment on [Temple's] employment status until I have a chance to talk to the School Board and an attorney," Grimsley told the News. "But now we have more information to move forward toward closure and what is best for our students."
The Rappahannock County School Board placed Temple on paid administrative leave when the school district first learned of the criminal charges in early September. When a more detailed report of the circumstances surrounding the charges — first reported by this newspaper — became public, the school board voted to place him on unpaid leave.
Temple also told the Rappahannock News on Wednesday that he would like to speak to this newspaper at a later date about what has transpired over the last several months.