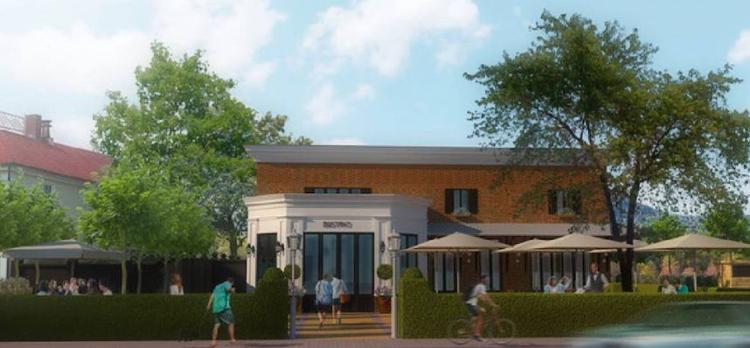 A computer rendering of the The Inn at Little Washington's forthcoming cafe, to be located in the space currently occupied by the soon-to-close Country Cafe and former Washington Post Office, was published today by Washingtonian.com.
"Patrick O'Connell Is Opening a Casual Cafe Near the Inn at Little Washington and Hopes to Bring It to DC," reads the headline of an online story written by Ann Limpert, the magazine's executive food editor/critic.
The story points out that O'Connell is "going casual" in the space "set in an old post office," where he's "planning a menu of house-roasted coffee and 'deceptively simple' food 'done better than you ever thought possible.'"
The new cafe is slated to open next summer, the article continues, with the aim to "bring it to D.C."
"The plan is to perfect that first location off-Broadway," the chef told the magazine. "And then we're open to replicating it in a more urban locality. It lends itself beautifully to being able to spin off." 
O'Connell's dream, observes Limpert, is to have a place where people can sit outside — in both Washingtons, as the colorful rendering of the future Main Street location shows.
"I think there will never be enough sidewalk restaurants," said O'Connell. "Paris is one of my favorite cities, and I love just walking along and whenever you need to, you just sit down and have a coffee or glass of wine, and you appreciate the city in a way that you can't while driving or walking through it." 
Here in the tiny Washington, the article observes, the chef has been holding a sous chefs' lunch each Friday with his staff to arrive at the future cafe's menu. Some of the favorites so far include matzo-ball soup, a table-side Caesar salad, grilled comté cheese on bread, and a cured tongue sandwich.