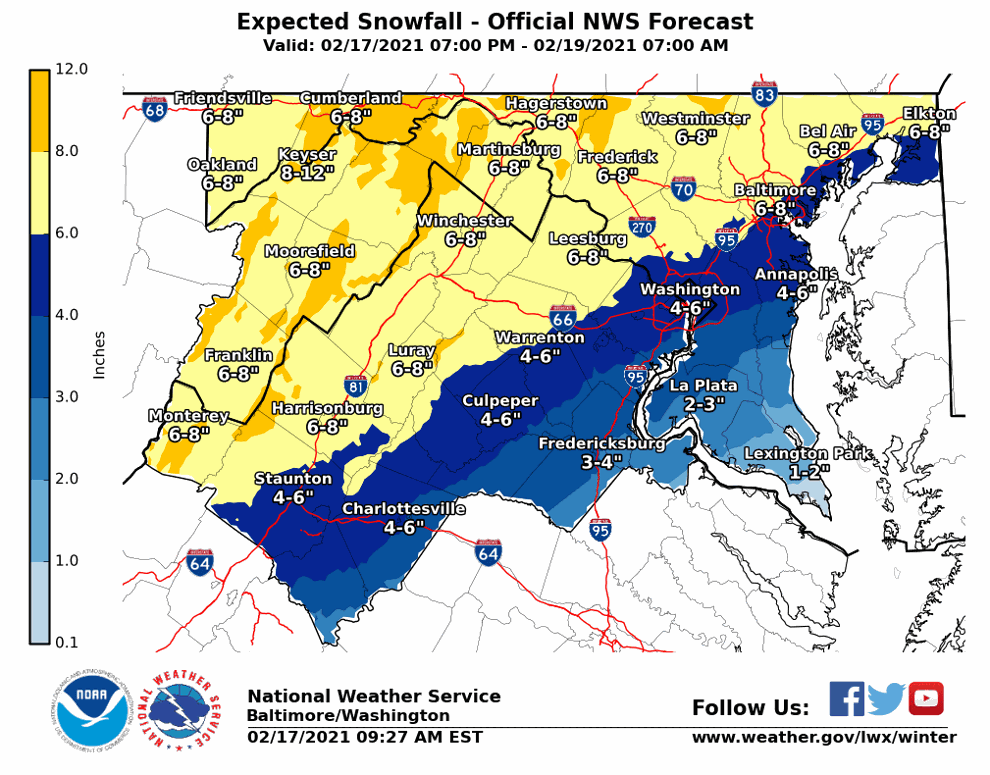 Rappahannock Electric Cooperative (REC) isn't taking any chances, what with another Winter Storm Warning in effect for much of its 22-county territory — Rappahannock County included.
Some 150 workers are joining the REC workforce in advance of Thursday's potential snow and ice storm, with mutual aid cooperative and contractors already arriving from Indiana, Florida, South Carolina, and North Carolina. 
REC is also "replenishing all materials to ensure adequate supplies are on hand."
"The same type of damage is expected" as occurred during last week's snow and ice storms, says REC, when a large chunk of central Virginia lost power due to significant ice accumulation on top of heavy wet snow.
Just as REC is recovering from those outages related to the recent ice storm, the next round of winter weather is forecast to begin as early 1 a.m. Thursday morning, continuing into Friday, with a potential 8 inches of snow in Rappahannock County.
The co-op is urging all of its customers to prepare now.
"Do not be caught off-guard," advised Casey Hollins, REC's spokesperson. "This storm poses a very real threat of additional and possibly prolonged power outages, including the areas where power was restored over the past few days. The time to prepare is now."  
Hollins said to make sure flashlights and fresh batteries are on hand and gather extra blankets and additional layers of clothing in case they are needed, while charging all electronics such as cell phones. 
"Ensure you have a back-up heat source or have a plan in the event that extended outages occur," Hollins added. 
Rappahannock residents should report outages to myrec.coop/out or in MyREC SmartHub. Outages can also be reported by calling 1-800-552-3904. If anybody requires electricity for a serious medical condition, now is the time to identify an alternate location with power that you can rely on during an outage.