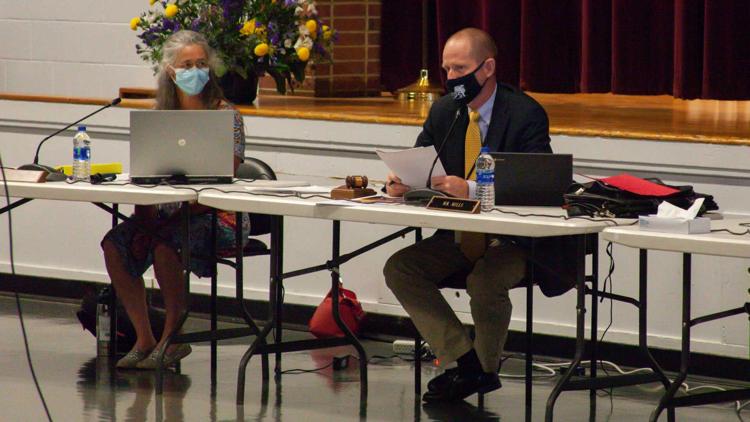 Comment articles reflect the opinion of the writer, not the Rapp News. Reply below or by writing a letter to editor: editor@rappnews.com.
Editor's note: At the end of last week's Rappahannock County School Board meeting, board member Rachel Bynum read aloud a speech she delivered at the June 28 community gathering for racial justice at Eldon Farms. After which board chair Wes Mills stated: "I agree with the statement 'Black lives matter,' but I do not agree with the organization," which he labeled "lawless," "destructive to family values" and "Communist" — concluding "a school board member does not have a place to be speaking at a political event." At that, Hampton board member Lucy Maeyer commented: "I think you both presented both sides, and that's the way it should lie."
---
I so wish you had attended the very non-political event at Eldon Farms, and you, too, Hampton district school board member Lucy Maeyer, particularly if you embrace Wes's words of discord as "both sides."
The evening at Eldon Farms was the most meaningful event I have ever attended in the county. Harmony governed the day: both musically and rhetorically. The only time a political mention occurred was by the first speaker, John Genho, our host, who spoke of family first and love of Jesus and mentioned as an, Oh by the way, "I'm a registered Republican."
Rappahannock County School Board Meeting
I'd also like to note that Piedmont district school board member Rachel Bynum did not profess to speak for the school board but she did you proud with all of the efforts at Rappahannock County Public Schools to assure a safe, inclusive and friendly learning environment. I know it was recorded and you'd profit from listening to the evening.  
The most important lesson of the evening for us all was to open our hearts and listen. Then speak out when you hear disparaging remarks, take action when you see discrimination. I encourage you to reach out to the organizers of the "rally" and listen and discuss. I was pleased that you said that you believe that Black lives matter.  But to describe the movement as "lawless," "destructive to family values," and "Communist"? 
Black Lives Matter is a decentralized movement with no leadership setting a national agenda, except justice and inclusion. With the death of Georgia Rep. John Lewis this week it made your remarks all the more shocking to me: a man who led the fight for justice, whose life was guided by the Beatitudes and whose leader was Jesus.
One of his last acts in his public life was to go to the Black Lives Matter Plaza in Washington, D.C., very early in the morning, and stand proud to see that the struggle for equality and justice continues. I believe he died in great peace knowing that the work continues.  
Finally, Wes, the you're-a-commie thing went out with Richard Nixon. I fear you are stuck in the past. It is one thing to say you support the message Black lives matter, and quite another to help make that real. History and the struggle for equality is a powerful journey.  
Be still, Wes, and listen. And, if you can't, if your heart and mind are closed, then you should resign immediately.
— The writer lives in Washington 
---
Click here to sign up for the C-19 Daily Update, a free newsletter delivered to your email inbox every morning