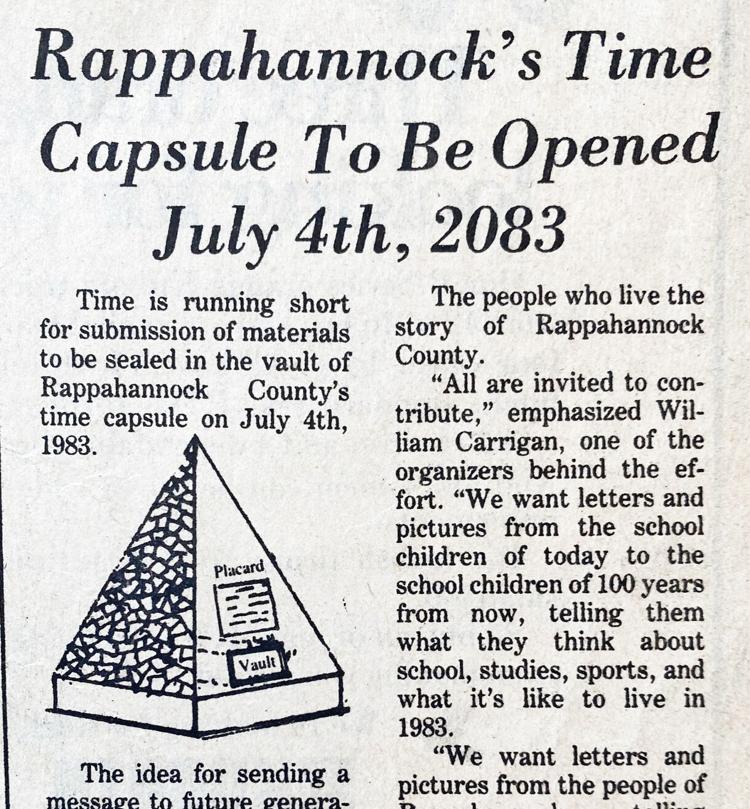 The stone pyramid adjacent to the Washington Virginia Town Hall was created by William Carrigan in 1983 as a time capsule to be opened 100 years later. Rappahannock League for Environmental Protection founder Phil Irwin was invited to contribute the following to be next seen in 2083.
Dear Rappahannock Citizen of 2083:
Greetings from a Rappahannock citizen of 1983.
There are differing perceptions of our quality of life in Rappahannock County today. Not everyone living here loves our county the way it is. There are some who would readily trade our productive farmland and tree-covered mountains for housing developments, factories, and shopping centers. 
However, there are those of us who welcome a drive to work or shop to return to a paradise that has not been paved over.
The greatest impact on our Rappahannock environment has been the gasoline-powered automobile. But even with affordable individual freedom of mobility and always improving roadways, our county has still had gradual and responsible growth. 
Some farms and forests have been subdivided into parcels for new houses, and older buildings have been restored. People began commuting to jobs in the metropolitan areas, eventually changing their vacation retreats into retirement homes. 
Many of the economic and social problems associated with urban living fade in our rural setting. We all appreciate the natural beauty that is everywhere today, and most of us are willing custodians of our environment.
We have had local land-use laws in effect since 1972 regulating zoning matters. Subdivision and erosion-control ordinances soon followed. To date, no major development, either industrial, commercial or residential has taken place. With basically an agricultural and tourist economy, its support facilities plus a sewing plant and limited commercial enterprises, mostly located in our six village areas, all agree with the visual harmony found all around us.
Creation of the Shenandoah National Park in the early 1930s provided an excellent neighbor with recreational opportunities as well as scenic and watershed protection. A substantial number of landowners have granted scenic and open space easements, voluntarily restricting subdivision and development in perpetuity.
Farmers have created Agricultural and Forestal Districts which serve to relieve farmland from development pressures. Citizens' groups have been formed for a variety of important functions ranging from planning and environmental education to minimizing the impact of electricity transmission lines.
Most gratifying perhaps is the heightened awareness among our citizens that individuals and local government can and must guard the best interests of everyone against the developer who would destroy our natural assets for personal profit and at public expense.
Presently, the demand for public services is very low when compared to neighboring counties. Public schools comprise the major share of our real estate tax expenditures. We don't need to travel far today to see the ugliness of unplanned and uncontrolled development and to learn its cost to society. We don't want it to happen here. Mistakes of that magnitude are cumulative and incurable.
You see, we're thinking of you, 100 years from now. We're thankful to those who left us a relatively unspoiled landscape. We hope that you in 2083 can be thankful that we have left you a landscape no less worthwhile.
Phil Irwin
President, RLEP