'Great, great news' for connectivity
Just before 2021 came to an end, Rappahannock County took a monumental step toward ensuring universal access to reliable broadband after receiving a substantial grant from the Virginia Telecommunications Initiative (VATI).  
"This is great, great news," said Hampton Supervisor Keir Whitson. "And now our job on the local governing body is to make sure that we get this fiber network delivered to our citizens as efficiently and quickly as possible." 
---
---
For more than half the year, the Rappahannock County Broadband Authority and Board of Supervisors, comprised of the same people, grappled with finding a private partner to qualify for a VATI grant and debated over possible effects of building a fiber network in the county. 
The pandemic exposed the need for better broadband in the county when students were forced to sit in parking lots to connect to WiFi in order to do homework, and videoconferencing and Zoom meetings became the norm for people working from home. In August, the Board of Supervisors gave approval, by a split vote, to begin the application process with All Points Broadband, a Leesburg-based internet service provider, to seek state funding to expand broadband services.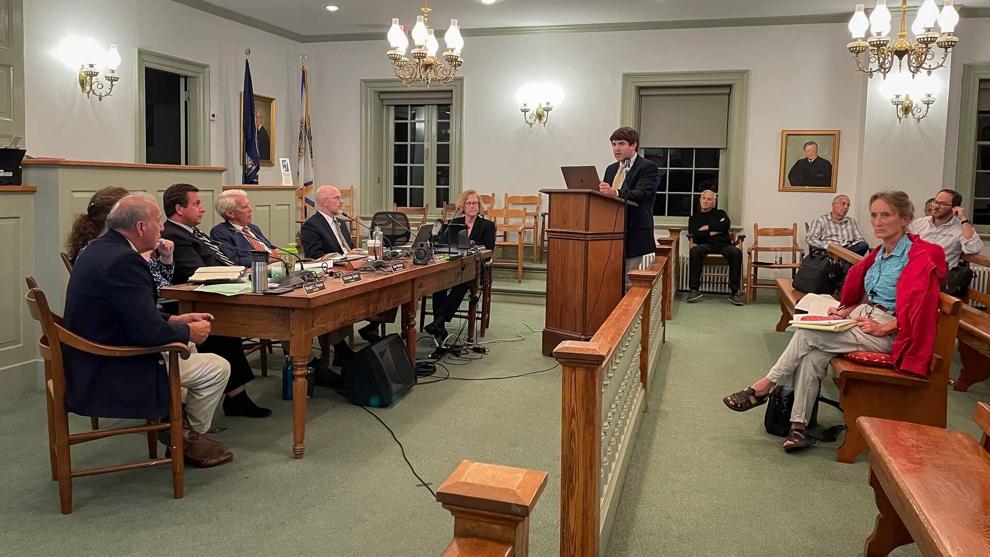 The state announced VATI awards in mid-December, with the Northern Shenandoah Valley Regional Commission (NSVRC) and All Points Broadband, along with the eight counties that are a part of the regional agreement including Rappahannock, receiving more than $95 million. Now, the Rappahannock County Board of Supervisors must vote to enter into a binding contract with All Points in order to receive the VATI funds.
After months of hearings and public comment, county residents have supported and opposed the project, with some concerned that a broadband expansion could bring unwanted development and others arguing accessible Internet is a fundamental need.
New Stonewall-Hawthorne Supervisor Van Carney, who began his term on Jan. 1, said during his election campaign he thinks universal broadband will increase enrollment in the county's public schools and allow more families to move to the county and work from home. He also said that during his successful door-to-door campaign he learned many people in the county want to see broadband expansion.
"I am looking forward to getting broadband rolling," Carney said in December, "… and get the whole county wired up with infrastructure that will genuinely last for decades, which is really critical."
Jackson Supervisor Ron Frazier, who has been critical of All Points' plan and voted against partnering with them for a VATI award, said he will likely vote to enter into a contract with the company if he receives answers to outstanding questions.
"It's an exciting time for sure. But we just got to get these problems worked out before we actually commit," Frazier said.
---
What's next
The Supervisors must decide if they want to enter into a contract with All Points and commit $5.9 million of county funds toward the project.
County resident Chuck Akre committed $3.5 million to help fund the county's portion of the project, and the Board of Supervisors set aside more than $715,000 in federal stimulus funding to help cover the cost. The Rappahannock County Public Schools will also contribute $330,000 to the project.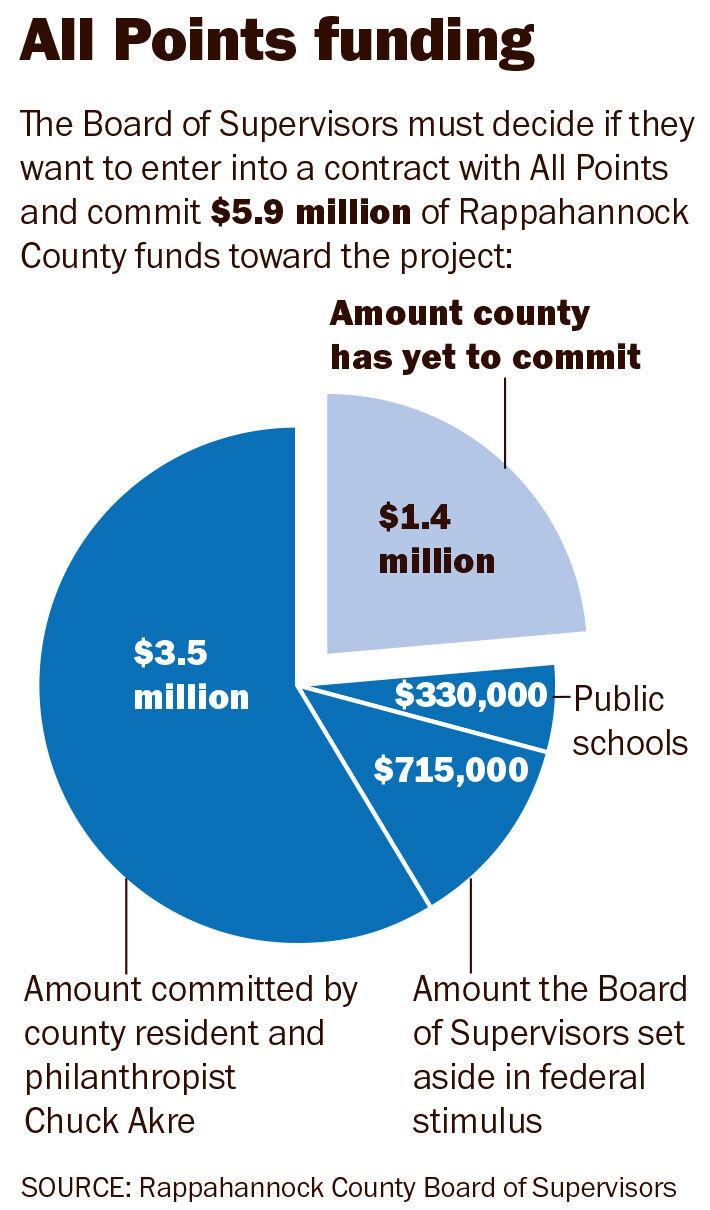 The county has about $1.4 million left to commit. Whitson and Wakefield Supervisor and Chair Debbie Donehey have promised residents that taxes will not be increased as a result of this project.
If the Board of Supervisors agrees to enter into a contract with All Points, residents can expect to pay a standard installation fee of $199 for any fiber-to-home hook-up, regardless of the distance required, for the first 12 months after service is available in the county.
"I think the good news is … we are part of this regional agreement … And so we'll obviously be in touch with the Northern Shenandoah Valley Regional Commission to talk about how we make sure that we protect our interests as part of the agreement," Whitson said. 
Donehey said that a lot of information gathering will happen in January, and then the supervisors will set out a time frame for when they will vote on the contract. An updated deployment time frame for the project will be announced in early 2022, according to a press release from the NSVRC and All Points.
Until then, the county does not know how much VATI money was allocated specifically to Rappahannock or when construction would begin.
"The time for [broadband] has never been more critical," Donehey wrote in a message after news of the award broke. "Lack of it left many of our students disadvantaged during the COVID-19, Zoom era and disadvantages continue as education requires good Internet access. Our residents currently worry about access to emergency services when aging phone lines go bad for weeks at a time. This funding makes it possible to cure these and other challenges for the foreseeable future."
---
Debbie Donehey, Wakefield Supervisor and Chair of Board of Supervisors and Broadband Authority:
WHAT WORRIES HER: "Really it would have to be how long is it going to take to get [fiber-to-the-home] installed… most people are excited… and like anything, you want it yesterday."
WHAT GIVES HER HOPE: "I hope we'll be able to get fiber to the homes of seniors and students and home-based workers as soon as possible. Less than two years would be a big win for the county."
BY THE NUMBERS: The Northern Shenandoah Valley Regional Commission and All Points Broadband received $95.3 million in funding from the Virginia Telecommunications Initiative to build universal fiber-to-home broadband networks in eight counties. Rappahannock County will have to provide $5.9 million for the project if the Board of Supervisors decides to move forward with a contract.
---

Foothills Forum is an independent, community-supported nonprofit tackling the need for in-depth research and reporting on Rappahannock County issues.
The group has an agreement with Rappahannock Media, owner of the Rappahannock News, to present this series and other award-winning reporting projects. More at foothillsforum.org.