For the second year, volunteers participating in Rappahannock County's Christmas Bird Count slogged through pouring rain to document the health of winter bird populations in the county. 
The count is part of the Audubon Christmas Bird Count, launched by the Audubon Society on Christmas Day in 1900 amid growing concern about declining bird populations. The CBC was meant to be an alternative to an annual hunting event known as the Christmas "Side Hunt," in which hunters would choose sides, and the side that brought in the biggest pile of birds (and mammals) won. Instead, in the CBC, whoever counted the most birds won. 
In 2019, more than 5 million birds were recorded during the 381 individual CBC counts across the nation. (See the Audubon website for more count results.) While the count may have started as a competition for spotting the most birds, with the steep decline in birds since the 1970s, the need for accuracy is increasingly important, as I've discussed with count participants. 
CBCs are now conducted any day from Dec. 14 to Jan. 5. This year, Rappahannock's was on the first day. The first one was conducted on a clear, frosty morning three years ago. I participated all three years, the last two on the property of Dick and Nancy Raines in Rock Mills. Like the three other properties in the count this year, it has mixed habitat and extensive naturalized areas. 
To identify trends over many years of a wildlife count, it's ideal to use the same site and the same counters every year, but this is rarely the case. This year, our count sites and teams were expanded to four within the 15-mile-diameter count circle, which is centered on the intersection of Long Mountain Road and Tiger Valley Road. A roving team, which drove along about 50 miles of roads within the count circle, was also added.
This year's count, like last year's, was held in pouring rain that turned the landscape and birds in it gray. The mist and rain obscured birds, drowned out their vocalizations and drove many to cover. As much as a quarter hour would go by without a bird being counted, then a bunch — often a mix of species — would be clustered in a stand of trees or a field. 
Still considering myself a newbie to birding, I only managed to identify a few species, ones that I see every day where I live. I was at a total loss with some sparrows. Sorting these LBBs (little brown birds, as they are often called by birders) can be difficult for even more-experienced birders. That day, with my binoculars fogged up, almost every little bird was an LGB (little gray bird) to me. 
Among the five count teams, our team scored the highest number for one species — the yellow-rumped warbler. In the winter, this brightly colored little bird is a bit drabber than during the breeding season but still sports yellow patches on its rump and sides, making it easy to ID. But in straining to see them through fogged binoculars, I could make out no yellow. Fortunately, we had several more-experienced birders to make the ID. These included Dick, who regularly monitors species on his property.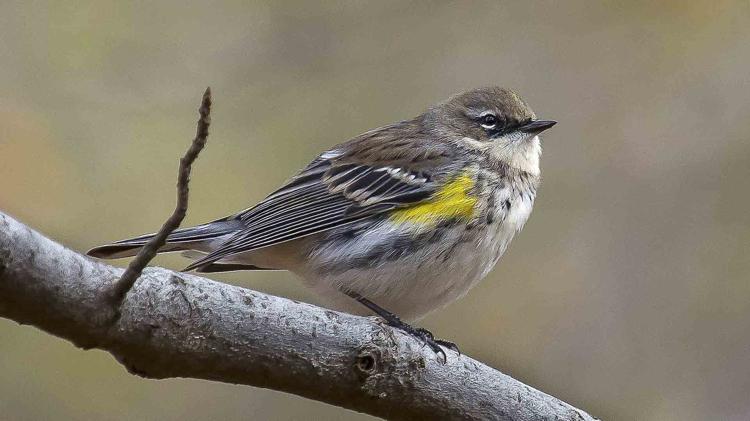 With only three years of data so far, the Rappahannock CBC is still establishing a baseline at this point, so it's too early to spot trends. Overall numbers for the three years have not changed much, but Dick did point out some highlights in this year's counts in the email he sent to our team, with the results attached. Despite the rainy weather, this year was "by far our best year so far: 65 species!" he wrote. Over the three years, 72 species have been counted. Totals for individual birds for each year were, respectively, 1,648, 2,227 and 2,028, for a grand total of 5,903. 
This year, seven new species were added to the Rappahannock count list: gray catbird, hooded merganser, killdeer, red-headed woodpecker, house sparrow and American tree sparrow, and rufous hummingbird. The hummer was a pleasant surprise to me, since, although this species has widened its winter range in the past few decades, they still are relatively rare in Virginia. 
This year's count also recorded a "big jump" in the American robin and a "small rebound"inthe "tufted titmouse," Dick noted. According to the recent North American study about disappearing birds (published in the journal Science last September), the titmouse is among common "backyard' birds suffering steep declines, and I've been seeing fewer where I live.
Species totals for the Rappahannock count in 2017 and 2018 were 58 and 53, respectively. The top ten species by total number counted over the three years are white-throated sparrow (1,292),Canada goose (507), song sparrow (496), ring-necked duck (268), dark-eyed junco (259), American goldfinch (231), red-winged blackbird (228), mallard (213), northern cardinal (192) and mourning dove (181). 
While the white-throated sparrow's total over the three years is more than double the next-highest species (Canada goose), it's worth noting that, as the North American study showed, their numbers have also been in decline. For this local count, the numbers recorded for the species has fluctuated wildly over the three years: from 359 in 2017 up to 644 the next year, and then down to 289 this year. Again, it's too early to determine trends, but this is something to keep in mind in future counts.
In a recent phone conversation, Rappahannock CBC coordinator Victoria Fortuna said she and her team of organizers have decided to expand data collection in the next count by welcoming observations from those observing birds at feeders within the count circle. The Rapp CBC team plans to release more information about next year's count this fall.
© 2020 Pam Owen
---
Talks on naturalizing
One way to help birds is to plant native plants. This Sunday (Jan. 26), the Piedmont Chapter of the Virginia Native Plant Society kicks off its annual winter series of nature talks with a pair on using native plants. The speakers are horticulturists certified by the Virginia Nursery and Landscape Association (VNLA). The first talk, by Julie Borneman, is on incorporating native plants into all aspects of Virginia's landscape, not just the backyard. It focuses on what a native plant is and how to install native plants and collect local seeds. Borneman also serves on the Rural Economic Development Council for Loudoun County. 
The second talk, by Matt Bright, includes practical ways that homeowners, gardeners, and others involved in conservation efforts can create meaningful habitat and improve ecological value. Bright also addresses how to deal with environmental degradation on a small scale and how manageable small-scale restoration can have broader positive environmental impacts. Also a certified Virginia Master Naturalist, Bright serves as the conservation manager at Earth Sangha Wild Plant Nursery and helps with restoration projects in the Washington, DC, area and the Dominican Republic. 
A Q&A session follows the presentations. The program, which is free and open to the public, is 2–4 p.m. at Emmanuel Episcopal Church Parish Hall, 9668 Maidstone Road, Delaplane. No reservations needed; refreshments provided. For more upcoming talks in this series and other VNPS events, go to vnps.org/events.