Even the smallest backyard naturalizing project can boost biodiversity and offer better opportunities to enjoy nature, as I was reminded recently in Gid Brown Hollow.
As a side gig, I do a little pet sitting. One mid-June morning I was walking the two mixed golden-lab retrievers of a Gid Brown Hollow couple. My own dog, Mollie, joined us as we walked around the perimeter of the couple's yard, part of which they had allowed to revert to nature by not mowing it.
The two retriever mixes stuck with me as I walked a narrow, mowed path between the wild patch and the forest edge, while Mollie was working her way around the same patch in the other direction — following her nose, as she usually does. I was enjoying the mix of grasses and wildflowers that were attracting bees, butterflies and other insects.
While the dogs' view was obscured by the taller grasses and wildflowers, my height enabled me to see down into much of the patch from above. As I was mentally checking off the plant species growing there, and their wildlife visitors, I suddenly realized a tiny, spotted fawn was curled up in the grass, just a few feet from the retrievers and me. Most white-tailed deer fawns are born in June, and this fawn looked like it was only a few weeks old at most. It lay still and quiet, the dogs' oblivious to its being there.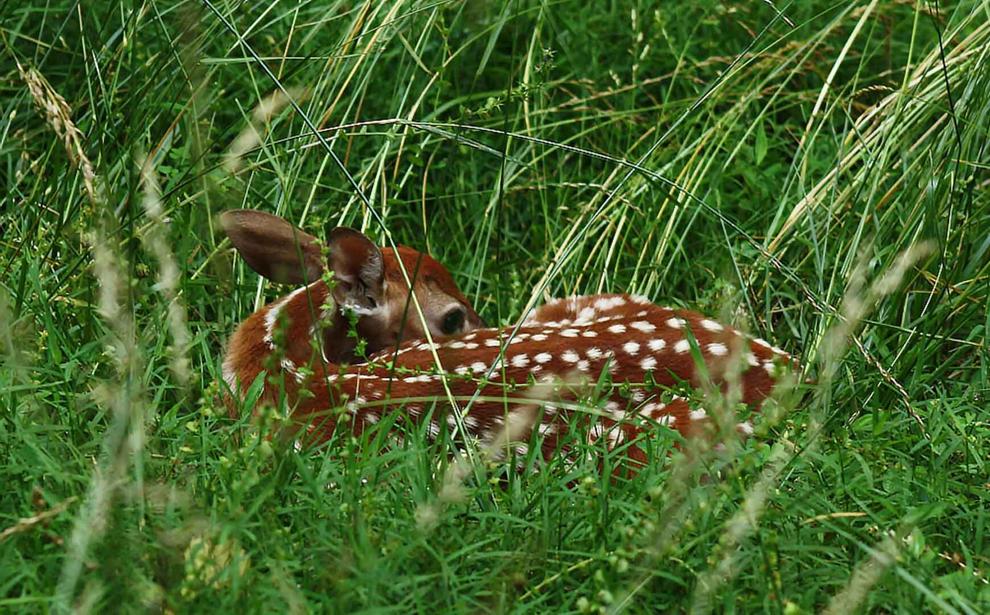 I rounded up the dogs quickly and quietly, managing to get them back into the house before they discovered the fawn. Then I took my camera, with my telephoto zoom lens attached, and went back to grab a few shots of the fawn from a distance before going back into the house. 
When the dogs needed to go out later that day, I first checked to see if the fawn was still there and was relieved that it was gone, hoping its mom had come to collect it. I emailed my discovery to one of the landowners, and she responded that she had seen a fawn down at the bottom of their driveway, along Gid Brown Hollow Road, and had been concerned for its safety. She was relieved to know that perhaps the same fawn had been sheltered by her naturalized patch of lawn.
The next day, at the bottom of the property, a doe shot out of the undergrowth and then ran back in. Was she the mother of the fawn, perhaps trying to lure the car away? The following day, I saw three does, two with a fawn each, traveling not far from one another across the road. With all the deer babies, the neighborhood reminded me of the ones where I grew up in Fairfax County — incubators for Baby Boomers. 
Needing to forage in order to deliver milk to their babies, white-tailed does often leave their fawns in tall grass or other cover, especially when the fawns are really young. Most of their predators, such as bears and coyotes, primarily hunt by smell or by visually detecting movement. Fawns have virtually no smell, and if they stay still, they can even escape predators that come within a few feet of them.
So what should you do if you find a fawn? "If You Find a Fawn, Leave it Alone" (tinyurl.com/findfawn) is the aptly named article on the Virginia Department of Wildlife Resources (VDWR) on the subject, which goes on to explain how does manage their young: "Does will return several times each day to move and/or feed their young. You probably will not see the doe at all since she only stays to feed the fawn for just a very few minutes before leaving it alone again."
Fawns can be orphaned, but it would be hard to determine if they truly are. But, the article warns, if any wild animal has been injured or "truly orphaned, do not take matters into your own hands." Instead, call the toll-free wildlife conflict helpline for the number of the closest licensed rehabilitator — 1-855-571-9003, 8 a.m. to 4:30 p.m., Monday through Friday — or visit the VDWR website for more information.
---
Getting a start on naturalizing
Naturalizing projects — from tiny gardens to hundreds of acres of grassland, shrubland and forest — yield exponentially larger biodiversity than a mowed lawn or field, which are often referred to as "green deserts" by ecologists. At the very least, just letting some of a lawn go wild, as this Gid Brown Hollow couple did, can reap big rewards for wild species as well as for those of us who like to observe them.
Keeping such areas open can be managed through manual removal of taller plants, such as trees, or through occasional mowing or burning before or after the breeding season of its wild inhabitants.
These days, there are tons of good references on how to naturalize all kinds of property. To learn more about why planting native species is important to wildlife, start with entomologist Doug Tallamy's seminal tome on backyard habitats, "Bringing Nature Home." A good primer for Virginia habitat projects is VDWR's free, downloadable guide Habitat at Home.
The best way to support diverse wildlife on a property is to plant a variety of native plants. One of my favorite guides for finding which plants attract which wildlife in our area is "Native Plants for Wildlife Habitat and Conservation Landscaping — Chesapeake Bay Watershed," by the U.S. Fish & Wildlife Service, also downloadable for free.
---
---