Bird conservation in the United States dates back to 1818, when Massachusetts passed the first state law to protect nongame bird species. The interest in protecting birds has grown exponentially since then, but with the recent plummeting of bird populations, current conservation measures are not enough. 
As I wrote about in my Nov. 7 column, the results of a study by prominent ornithologists, published in the September issue of the journal Science, showed the number of birds in the United States and Canada has declined by 29 percent. The reasons are varied and complex, but human activities have a major role. Grassland birds have been hit the hardest, along with migrating birds, many of which are grassland species. 
Amy Johnson is the director of Virginia Working Landscapes  a conservation program driven by landowners and based at the Smithsonian Conservation Biology Institute (SCBI). Johnson also leads a team of SCBI researchers, helped by citizen scientists and landowners within the VWL network, that have been studying grasslands. The results of one of these — a three-year, ground-breaking study of birds inhabiting Virginia grasslands shrublands (grass mixed with other plants, including shrubs) in winter — were published in the August issue of the Journal of Wildlife Management. They showed that planting native grasses and timing management (mowing, burning, etc.) of grasslands were key to the survival of birds overwintering there. 
In a recent interview, Johnson said that she found the results of the bird-decline study published in Science "overwhelming" — that despite all that is being done toward bird conservation by organizations and individuals concerned about bird losses, "this is still happening." But, she said, the results also "gave me incredible motivation to change the way I'm thinking about how we're using science to inform on-the-ground management," including ramping up VWL's outreach to the public.
Changing the downward trajectory of bird populations will take not only take continued dedication of scientists like Johnson but also major changes in land management. While government, industry and owners of working lands have a role, this is an all-hands-on-deck situation, and all of us need to pitch in. (See below for suggestions.)
© 2019 Pam Owen
---
Take action!
The following suggestions are based in part on a list from the Cornell Lab of Ornithology — an amazing resource for bird-related information — and other sources. 
Garden with native plants, whether planting a window box or hundreds of acres of habitat, native plants provide the best shelter and food for birds. Along with providing food through seeds and fruit, native plants attract insects that birds feed on. More than 90 percent of North American birds rely on the larvae from butterflies, moths and other insects to feed their young. 

Remove nonnative invasive plants, which are taking over native habitat, squeezing out native plants while not providing the same food value, including hosting insect larvae.

Manage lands for biodiversity. As Johnson and her fellow researchers found, grasslands and shrublands are best left undisturbed year-round, but if management is required, avoid the peak bird-breeding season, May 15-July 1. Mowing during that time can lead to up to 94 percent mortality of baby birds on these lands, Johnson says. To help overwintering birds, and breeding birds get a good start in the spring, rotate winter management of these lands, or parts of them. 

Support changes in land-use laws that help birds and other wildlife populations.

"Embrace your patch." As Cornell Lab explains, by consistently managing your favorite patch of habitat, migratory birds will have a familiar stopover to eat and take shelter.

Avoid using chemicals, particularly neonicotinoids, which not only can affect birds directly but also can destroy the insects that are important to their diets. 

Help fund conservation organizations. Many national and local organizations focus on bird conservation directly or include that as part of their mission (see a list in the following sidebar).

Become a citizen scientist: Many bird-conservation organizations welcome the help of citizen scientists to collect data and restore and manage native ecosystems. For many projects, expertise is not required and anyone from kindergarteners to seniors can participate. (See the list of organizations.)

Drink bird-friendly coffee, meaning coffee grown in a way that supports birds and local communities.

Make windows safer to avoid the deaths of an estimated 599 million birds from collisions with windows in the U.S. alone. Turn out lights at night and explore safety options during the day, including window tape and "zen curtains," Cornell Lab suggests.

Keep cats indoors to help save an estimated 2.6 billion birds that die in the U.S. andCanada each year when they are caught by cats. Cats also benefit, living safer, longer, healthier lives indoors.

Help a child discover birds, forging a connection with nature that not only enriches the child's life but helps save bird in the future (see Cornell Lab's website for programs it offers). 

Buy a migratory bird stamp (aka Duck Stamp). As Cornell Lab points out, not only has wonderful illustrations of birds and other wildlife, "fully 98 percent of the stamp's face value goes toward protecting and maintaining land in the majestic National Wildlife Refuge system—more than 500 areas across the United States."

Use less plastic, to save birds, other wildlife and ourselves. As Cornell Lab points out, "discarded plastic does not biodegrade and winds up in the ocean, where it accumulates toxins and disrupts food chains."
---
Conservation organizations
Cornell Lab of Ornithology: The Lab offers great information on birds and how to identify species on its All About Birds website. With partnering organizations, it also supports many education and monitoring projects. Much of the data bird researchers use to determine population trends comes from data collected from citizen scientists through the projects, most notably eBird.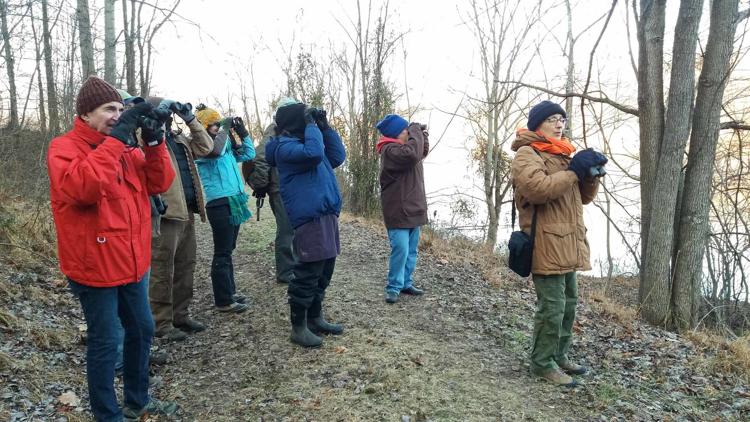 The largest citizen-science project in the world, eBird data contributors can track and share their sightings "anywhere, any time." Celebrate Urban Birds is for those in urban and suburban areas to get involved with birds and community activities related to them, from learning about them to collecting data on them. Other Lab projects are conducted annually: 
National Audubon Society: The roots of the National Audubon Society date to the late 19th century. It was founded to focus on saving water birds (ducks, geese, etc.), which were being slaughtered in alarming numbers. Audubon offers a wealth of information about birds and their conservation and has six local chapters in Virginia. In 1900, it launched its first Audubon Christmas Bird Countas an alternative to an annual hunting event in which hunters competed to kill as many birds (and mammals) as possible. Volunteers need not be a member to participate in the CBC. (Check the national website for locations.)
American Bird Conservancy: which focuses on achieving conservation results for birds and their habitats throughout the Americas: "We innovate, build on sound science, and work in partnership to achieve four goals: halt extinctions, protect habitats, eliminate threats, and build capacity for bird conservation."
Virginia Society of Ornithology: VSO's mission is to "encourage the systematic study of birds in Virginia, to stimulate interest in birds, and to assist the conservation of wildlife and other natural resources." Its main goals are encouraging the systematic study of birds in Virginia, stimulating interest in birds, and assisting the conservation of wildlife and other natural resources. Working with the Virginia Department of Game and Inland Fisheries, it's compiling the Second Virginia Breeding Bird Atlas and invites citizen scientists to help.
Virginia Master Naturalists: Become a better citizen scientist through training and hands-on experience in conservation. Our local chapter, Old Rag Master Naturalists, partners with most conservation organizations in the area, from federal and state agencies to local nonprofits, on a wide range of projects, including many related to birds and their habitat. 
Virginia Working Landscapes: Even if you don't have a lot of acreage, you can acquire and share information through the VWL network. VWL welcomes help from landowners and citizen scientists for bird surveys, and the organization's website is loaded with information on how to help birds, particularly grassland species. Two of the best resources are the downloadable pamphlet "Field Management Guidelines for Virginia's Grassland & Shrubland Birds" and the "Wildlife on Working Landscapes" story map (online at arcg.is/rqqST), which summarizes the results of VWL grassland studies. If you have any questions, contact SCBIVWL@si.edu.
Other Virginia conservation organizations: While not specifically focused on bird conservation, two other organizations offer projects and outreach programs supporting birds, particularly through conserving habitat and planting native plants: the Piedmont Environmental Council and the Virginia Native Plant Society. Go to eco-usa.net/orgs/va.shtml for a list of more Virginia conservation organizations.